Missy Elliot, Vanilla Ice, 2Pac, and Warren G serenade us as we barrel through the darkness toward a fancy cocktail paired with even fancier food.
My friend and I dance down Highway 101, heading for Santa Ynez, the S.Y. Kitchen, and a Salt-N-Pepa concert at the Chumash Casino Resort. Because if you're going to drive to Santa Barbara County, you might as well throw some top-notch cuisine in there. Our taste buds are tingling in anticipation.
PHOTOS BY ROB STARK, COURTESY OF S.Y. KITCHEN
COCKTAIL RANGE: Bourbon, yellow chartreuse, mint, lemon, and honey meet up in the Rancher for a menagerie of mouth-watering flavor from S.Y. Kitchen Mixologist Alberto Battaglini.
Tea lights gleam from booths on the patio outside the restaurant. I look longingly, but it's too cold. I walk through the door, up to the hostess stand, tell them about my reservation, and hear a soft voice behind me. I turn around and do a double take. It's Pink. And standing next to her is Carey Hart, her husband.
OK. That's cool. I'm trying not to look again. Luckily for my embarrassment, we were getting seated.
Next came cocktails: pear, honey, lemon, and allspice come together in frothy whisky sour unison. Olive tapenade and grilled bread are placed on the table. Candles reflect their light through slatted wooden holders onto tables. Soft chatter echoes from corner tables. The kitchen and bar faintly clink from the hallway behind me. It's cozy.
Our server lists off an impressively long menu of specials, which all sound good, and it ends with what she calls the "crown jewel," a simple pasta dish decadently topped with shaved white truffles straight from Italy. It could be yours for $95.
PHOTOS BY ROB STARK, COURTESY OF S.Y. KITCHEN
YES PLEASE!: S.Y. Kitchen serves a tongue-tingling warm octopus salad with taggiasca olives, potatoes, cherry tomatoes, and haricot verts.
We settle on items from the paper menu: an octopus salad, burrata with heirloom tomatoes and arugula, and T-bone truffle sliders. Our taste buds aren't disappointed. Green beans give the octopus salad a fresh crunch, olives give it brined saltiness, and the octopus itself is succulent, slightly sweet. The sliders are bathed in rich truffle flavor, cooked medium rare, and topped with a Parmesan crisp.
Dessert is ginger crème brulee, classic tiramisu, and a shot of espresso, because it's a school night and we've got a concert to go to. Honestly, we're a little sad to leave. Another cocktail is tempting.
But the ladies that rapped their way through the first cassette tape I ever purchased—yes, cassette tapes were a thing—will be on stage soon. We're off to relive a small portion of our childhood, and we're not the only ones.
The resort isn't hard to spot with a new 12-story building under construction. The lights gleam in the darkness, and to the resort's credit, construction doesn't really affect anything other than the walkway that takes you from the parking garage into the casino.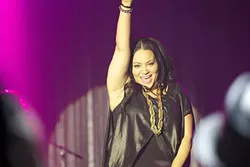 PHOTO COURTESY OF SHAWN WYATT
SALTY STYLE: After nearly 30 years of singing rap tunes, Salt (Cheryl James) can still strut her stuff in stilettos. Salt-N-Pepa played the Chumash Casino Resort on Nov. 19.
This is my first experience with Chumash Casino nightlife, and it feels like I've suddenly been transported to Reno. Waterfalls plunge from ceiling to floor behind frosted glass, machines bubble with coin and video game noises. The people in front of us make their way to a back room, and we follow, making the correct assumption that, like us, they're here for Salt-N-Pepa.
On the floor above the Samala Showroom is the casino's new restaurant and bar, The Willows, which I've heard is pretty swanky with a great atmosphere and good cocktails. We wanted to go, but we ran out of time.
As we enter the showroom, a comedian is making fun of people who are arriving late to the scheduled 8 p.m. show time. Luckily, we escape his grasp. It's an odd way to get warmed up for a concert, but he's pretty funny, and apparently he likes women with kids because they always have snacks. Who doesn't like snacks?
Then, after some quick movement: "S-S-Salt-N-Pepa's here!"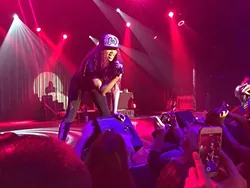 PHOTO BY CAMILLIA LANHAM
RELAX WITH PEP: Pepa (Sandra Denton) hits the Chumash stage with DJ Spinderella and Salt.
Along with DJ Spinderella, the trio takes the stage in sparkling shoes, dressed in all black. A pair of dancers, dudes, in red shirts and blue Adidas pants do their thing. This is where things start to get a little strange. Salt talks to the audience way more than she sings/raps, which is fine, just different. Spinderella throws on mixes of songs by Pharrell Williams, Guns N' Roses, and Diana Ross, among others. The ladies dance around with their male counterparts, talk about relationships with the audience, do a couple of skits, and then call the audience to get out of their seats.
We do it happily and rush the stage. Unlike some other concert venues, there's plenty of space to move around and dance, and the stage is super close. Pepa was right there. Salt was right there. And everyone's cell phones were, too. (Mine included!)
The trio calls the ladies up on stage, like a smaller band would do in a smaller venue. Then, it's the guys' turn. Some of the fellows get a little fresher than they should with Pepa, and she doesn't miss a beat, getting the red-shirts to escort all the gentlemen off the stage.
We get performances of all the favorites: "Push It," "What a Man," "Shoop," and "Let's Talk About Sex." I know all the words to all of those and so do the ladies behind me. It's good to know that I'm not the only one who can karaoke these words by heart after so many years.
Editor Camillia Lanham can karaoke on cue at clanham@newtimesslo.com.