This is the story of a story within a story.
In the San Luis Obispo Repertory Theatre's take on the delightfully hysterical Tony Award-winning musical, A Funny Thing Happened on the Way to the Forum, we have, of course, the requisite star-crossed lovers. But there's also a clever slave trying to earn his freedom and a father in search of his children who were stolen by pirates years ago. Add in a handful of courtesans, a lot of togas, and a few side stories for good measure.
Photo Courtesy Of Rylo Media Design
FREE! The crafty Pseudolous (Billy Breed) tries to win his freedom by helping his master get the girl of his dreams in SLO Rep's production of A Funny Thing Happened on the Way to the Forum.
Director Suzy Newman (Lost in Yonkers), musical director Mark Robertshaw (Annie!), and choreographer Drew Silvaggio (artistic director for the Civic Ballet of SLO) lead the 1963 show by Burt Shevelove (No, No, Nanette) and Larry Gelbart (City of Angels), with music and lyrics by Stephen Sondheim (West Side Story).
Billy Breed (The 39 Steps) stars as our cunning and comedic narrator and protagonist, Pseudolous, slave to his young master, Hero (Mike Fiore, Lost in Yonkers). When Hero falls in love with a virgin courtesan, Philia (Rachel Tietz, The Producers), who's newly arrived at the house next door, Pseudolous offers to find a way to bring the young lovers together in exchange for his freedom. Meanwhile the house on the other side of Hero's has been vacant for years while neighbor Erronius (Tom Ammon, Our Town) looks for his kidnapped children. The entirety of the show takes place outside of these three houses in Rome, complete with Roman pillars and balconies for the lovers to swoon at each other from.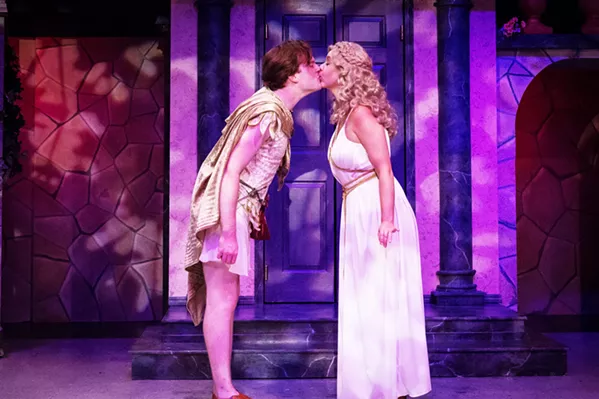 Photo Courtesy Of Rylo Media Design
YOUNG LOVE Hero (Mike Fiore) falls in love with Philia (Rachel Tietz) even though she is promised to another man.
While there's nothing new or terribly surprising here as far as the plot goes, Forum does farce, word play, and physical humor so well that in the hands of dedicated players such as the group at the SLO Repertory Theatre, the audience is in stitches from start to finish.
"Forum is a playground for actors, for the theatre sophisticate and history lover, and for anyone who appreciates a catchy tune and who loves to laugh," Newman wrote in her director's notes in the show program.
Photo Courtesy Of Rylo Media Design
AROUND THE FORUM Erronius (Tom Ammon) returns to Rome after years of searching for his long-lost children.
Standout performances from the rest of the ensemble include Elliot Peters (Lost in Yonkers) as Hysterium, head slave of the household and the perfectly under-the-surface neurotic straight man to Breed's Pseudolous. Senex (Seth Blackburn, Oliver!)) and Domina (Jacqueline Hildebrand, Oliver!) play off one another well as Hero's parents, who at this point are still married just to spite one another. Mitchell Lam Hau (recently seen in Opera SLO's rendition of Oklahoma!) absolutely shines as Miles Gloriosus, the man who Philia is promised to. He's just as vain and handsome as Beauty and the Beast's Gaston, but endearingly emotional to boot.
One by one, each and every dot in the plot gets connected, with Pseudolous narrowly avoiding one disaster after another. After all, as the company sings at the play's beginning and end, in Forum there is "something familiar, something peculiar, something for everyone, a comedy tonight!" Δ
Arts Writer Ryah Cooley is (mostly) free as can be. Contact her at rcooley@newtimesslo.com.