How many people earn a living crafting the otherworldly creatures that haunt our dreams? How many can say they've designed entire worlds?
THE BEST OF THE FEST: NEW TIMES STAFF PICKS: Crescendo, Maddoggin', and The Telegram Man,

Short films, 10-24 mins.

This year marks the third time I was asked to judge the short film category for the SLO International Film Festival. As in past years, there were a handful of absolutely excellent short films, some decent, and a good handful of purely awful ones, too. It's actually too difficult for me to pick out only a single example of what I liked best this year, so I decided I would mention three of my favorites instead of only one. Crescendo, Maddoggin', and The Telegram Man are my top picks and absolutely worth seeing if you have a chance. The three films are all filmed and produced with the highest quality of cinematography and acting, and they stood out above the rest of the films in the competition by a good margin. Crescendo is set during the 18th century in Germany and is a story about a young boy, his mother, and a horrible father. The big reveal at the end of Crescendo will make everyone in the audience smile, because I don't think many will see it coming. Maddoggin' is set in a barrio of Los Angeles, and I think it very realistically depicts the feelings of sorrow, agony, and helplessness that communities with heavy gang problems have. I couldn't help but feel like it was an important film for people in the SLO area to see because of our isolation from gang-area communities for the most part, and this film shows how difficult it can be for young men to avoid a gang life. Last but not least on my top three list is The Telegram Man set in Word War II Australia. Bill Williams has the not-so-happy job of delivering messages from the outside world to his town's residents, though, due to the time, not many telegrams are received well. It's beautifully shot, wonderfully acted with sincerity and heart, and it's a definite tear jerker. When and where:

Crescendo: Thursday, March 8, 9 p.m. at Downtown Cinemas or Friday, March 9, at 9 p.m. at the Palm Theatre.

Maddoggin': Thursday, March 8, 9 p.m. at the Palm Theatre or Friday, March 9, 6 p.m. at The Spot.

The Telegram Man: Thursday, March 8, 2 p.m. at the Palm Theatre or 6 p.m. at Joe Momma's

—Steve E. Miller
PHOTO BY STEVE UNWIN
BEFORE AND AFTER : Richard Taylor, creative director of Weta Workshop, is pictured at work on the Rugby World Cup sculpture (left) and next to the finished product. "I still spend about 80 percent of my workday down on the workshop floor, working with our team," explained Taylor. "I got into this business to make cool stuff, and I never want to imagine that I foolishly put myself in a place where I'm so busy managing the cool stuff that I don't get to make it. I take great delight in being very hands-on."
Sir Richard Taylor, co-founder and creative director of the Oscar-winning props, effects, and conceptual design company Weta Workshop, is one of a very few individuals who can make such a claim. On March 10, the New Zealand native will accept the San Luis Obispo International Film Festival's King Vidor Career Achievement Award, honoring excellence in filmmaking.
From his office in Wellington, the modest Taylor spoke with New Times about his life and work—which, from the sound of it, are pretty much synonymous. But the more you talk to him, the more you realize how enviable that work-life is.
Taylor and his wife Tania Rodger operate the company that dared to bring the intricate cultures of Lord of the Rings and The Hobbit; the lush, alien world of Avatar; and the modern mythology of The Chronicles of Narnia to startling life onscreen. They get to make ferocious-looking weapons and armor, but they also create beautiful sculptures and public art. Plus, they have their own chainmaille factory! Is it possible that Taylor quietly holds one of the most awesome jobs on Earth?
NEW TIMES When did you know you wanted to go into the work that you do now?
RICHARD TAYLOR Well, unlike most effects people in the world, I actually didn't know about the effects industry until I was in my late teens. Of course, I had seen a few movies, but growing up in rural New Zealand, I wasn't really exposed to cinema to the degree that maybe a young person would be today. I knew from a very young age that I wanted to be involved in the arts, I wanted to be a sculptor, and I was doing crude make-ups of myself at home as young as 12, 13 years old, but never really aspiring to be within the New Zealand or world film industry. It was only upon arriving in Wellington at the age of 17 and meeting my partner Tania that I discovered that movies weren't made in people's houses, they were filmed on sets, and there were companies set up to make films. When I was a kid there was only one television channel in New Zealand, a black-and-white TV channel. But there were shows on that channel such as The Thunderbirds. Thunderbirds, and everything Gerry Anderson, was incredibly inspiring to me. I quite loved the models and the characters. But it was actually a trip to Paris, when we got to go the Louvre, and I saw the art and the sculpture, that I felt really overwhelmed by a desire to do sculpture for a living in the future.
NT And you do, but in an unexpected way. A more utilitarian way, perhaps.
TAYLOR Interestingly, when my wife Tania and I were at the beginning of our career, I used to do margarine buffet sculptures, and we used to get a meal as a swap for a sculpture. And in fact, [our] first 300 commercial television and film-based sculptures were all built on margarine, because in New Zealand we didn't have access to commercial plasticine, and I didn't even know that you could buy bags of clay at that time. Our first probably six or seven years of our career were completely sculpted in margarine. When I actually met the first person from the U.S. effects industry, Dick Smith, and told him, I didn't think it was anything unusual. But it was his reaction to me working in margarine as a medium that made me realize that I had been doing something quite ridiculous! That little story, at some level, is the core of working in New Zealand: that you make do with what you've got, you improvise around what you can access. It also was very difficult to access materials, technology, or know-how outside of the country. It still is to some degree. Even today, in our workshop, we would build the equipment to do the job a long time before we think of buying it. We've got into robotic engineering in a big way for milling weapons and armor and sculptures. All but one of our machines are completely hand-built on the workshop floor. Even though they're highly complex, robotic milling machines, we'll build them before we'll buy them, because we can do it cost-effectively and also fill our needs. And that goes back to the very beginning. I started the company 25 years ago as RT Effects—Richard and Tania's effects. We met Peter Jackson five years into our business. He was still living at home with his mum and dad making Bad Taste. We became friends with him, we went on to make Meet the Feebles, Braindead—known as Dead Alive in America—and it was on Heavenly Creatures that the production leased their first computer, which was the first silicon graphics computer in the Southern Hemisphere. At the end of the production, we realized that it would be a shame for that computer to go back to the U.S. So we formed a company called Weta, and we raised the finances to buy that one computer. But I continued to run the physical effects side of our company. Weta Digital is now an independent company. I run Weta Workshop, which looks after design, armor, weapons, creatures, miniatures, prosthetics, props—basically physical manufacturing. We also have Weta Limited, which is another company I run with merchandising, apparel, and publishing. We also have a bronze-casting partnership in China, and we've made about 700 commercial bronzes for public artworks. We have a commercial chainmaille manufacturing company, which makes lightweight chainmaille for the world's film industry.

Most Valuable Players

documentary; 95 mins.

While the title is admittedly generic and initially off-putting, it's easy to fall quickly and unabashedly in love with this film. The story is simple, and the production values are pretty basic, but it's the type of movie that wants to inspire and actually accomplishes this aim without becoming obnoxious. The film tells the story of the Freddy Awards, a live television event that—without exaggeration—rivals the Oscars for production value. The kicker? The Freddys were created to celebrate excellence in musical theater productions by local high schools. And the term "excellence" is an understatement. We get to watch as these high schools knock production after production out of the park and engage in some rather bitchy rivalries (which are really quite funny), all building to a surprisingly tense Freddy Awards night in which the viewer is every bit as tense as the kids up for coveted awards. This is the documentary you can't miss. Or, you can, but you won't be doing yourself any favors by skipping out.

When and where: Thursday, March 8, 6 p.m. at The Spot or Friday, March 9, at 2 p.m. at Downtown Cinemas

—Ashley Schwellenbach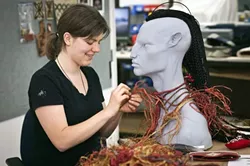 PHOTO BY STEVE UNWIN
WAR NECKLACE : Weta costume technician Claire Prebble assembles a war necklace for Tsu'tey, a character from James Cameron's Avatar. While the version you see onscreen was computer generated, Weta typically makes such items through traditional methods first. Then, 3-D modeling artists copy the physical item as closely as possible.
NT Your team worked on so many levels of Lord of the Rings. Where did you actually start?
TAYLOR I've described it as teetering on the edge of a precipice, when you're approached by the opportunity to do something of such a magnitude and gravitas as bringing a piece of hallowed British literature to the screen. But you've got to throw yourself into it at some point. Of the 158 people we hired to do Lord of the Rings, only 38 had ever worked on a film or television show before. We had 38,000 items to build for those three films over seven years, so it was a fairly large undertaking. Peter kindly gave us the opportunity to look after a chunk of the design, and then armor, weapons, creatures, miniatures, prosthetics, special makeup effects. We took on a number of departments, which created, obviously, a lot of challenges.
NT Lord of the Rings seemed like it was made for Weta Workshop.
TAYLOR The project's ultimate success is completely due to one thing, and that's Peter Jackson—the fact that this visionary, dynamic, and incredibly inspiring filmmaker chose to make the movie. But second to that, Lord of the Rings was possible because of New Zealand. Not just New Zealand the landscape, but New Zealand as an entity, as a group of people, as a population. Everyone got behind the creation of that movie, as could only happen in a small country such as this. Everyone celebrates in the success of that film. Then there is the reality we live in the capital of New Zealand, and our city airport is a five minutes' drive from where I'm sitting. Within one hour's flight, you can access almost every piece of landscape in the world, because New Zealand has such dramatic and varied landscape. And on a journey movie that takes you from Hobbiton to Mount Doom, the ability to shoot all those locations within an hour's flight of the central base of the studio is a very provocative and beneficial thing.
NT You've said that Peter Jackson treated Tolkien's narrative as historical fact that needed to be correctly adhered to—it was never fiction; it was never fantasy. The idea was, we're recreating history and we need to be honest about it. Has that mindset influenced the way you've treated other projects?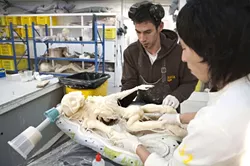 PHOTO BY STEVE UNWIN
THE BIRTH OF A MONSTER : An alien creature from Niell Blomkamp's District 9 is carefully removed from its mold by employees at Weta's mold shop.
TAYLOR The answer is unequivocally yes. When we approach any project, we approach it from a world-design level. What you see within a movie is determined by the [director's] choice of angles and shots. But beyond the path, beyond the edge of the road, or beyond the wall of the apartment block, there's a world. And if you don't give the impression and the illusion that there is a complete ecosystem beyond the edge of the screen, you in some way lessen the moviegoing experience for the audience. A good example is, on Avatar, James Cameron visualized an incredible world. But for an audience to believe that a race as unique as the Na'vi exist in a real place, you have to ground them at a level of cultural identity, at a level of physiological reality that is equivalent to, say, the Papua New Guinean people or the indigenous people living in our own world. The work that we did on Lord of the Rings is exactly the effort that we try to bring to King Kong or District 9 or Avatar.
NT How did your team go about realizing the world of Avatar?
TAYLOR With respect to the Na'vi, a wonderful book was created called the Pandorapedia from the world of Avatar, and a lot of information within that book came from years of exploring the culture of the Na'vi and developing their iconography, the way they write their language—we developed the idea that they would actually communicate written folklore through what we called totem blankets, which were woven strips of fabric that had almost Braille-like hieroglyphs, and as the Na'vi ran them through their fingers, it would recall back the mythology of their folklore—and this went to the weapons, eating utensils, how they sleep, how they dress, how they adorn themselves with jewelry, how they interact with their animals, and so on.
JOIN THE PARTY: Sir Richard Taylor will accept the San Luis Obispo International Film Festival's King Vidor Award at the Fremont Theatre in downtown San Luis Obispo on Saturday, March 10, at 6 p.m. (tickets are $15 to $20), followed by a reception in the Warden Building at 8:30 p.m. ($35 to $40). Visit slofilmfest.org for tickets or more information.
NT It's fascinating to see that level of detail; it's just like the worlds of Tolkien or C.S. Lewis or J.K. Rowling. It seems to say, "Oh, of course the world is like this."
TAYLOR All great modern mythology does. It doesn't require actors to wink at the audience. You just buy into it. You go along with the ride. And a great piece of cinema set in a science-fiction world is one in which you find the world to be completely plausible. In a movie like Avatar or Lord of the Rings, the planet is a performer in its own right within the story. As a secondary cast member, the planet becomes a significant part of the evolution of the story, to the point that it almost has a theatrical presence in the story. I felt that with Avatar—the way the landscape and the plant life and the animals interacted with the cast.
NT Is there anyone you'd like to work with?
TAYLOR When I came out of Lord of the Rings, we were sitting around at the lunchroom, and one of our team said to me, "After working with Peter Jackson, who in the world could you wish to work for?" And I said, I'd love to one day work with Peter Weir. I love Picnic at Hanging Rock and I love the films that he's made. Less than a week later the phone rang, and it was Peter Weir, just out of the blue. We'd never met him before, but he invited us to work on Master and Commander. We used to have a running joke in the workshop, when we used to only have one telephone. When it would ring someone would yell out, "Richard, it's Steven for you!"—meaning Steven Spielberg. Of course, it was incomprehensible to us when we were growing up that Steven Spielberg would ever call. But of course, one day, he did.

Arts Editor Anna Weltner can be reached at aweltner@newtimesslo.com.