Photo Courtesy Of Cody Johnson
THE REAL DEAL Texas born country singer-songwriter Cody Johnson plays Aug. 17, at the Fremont Theater.
Texas-born singer-songwriter Cody Johnson started performing in his church, formed his first band as a freshman in high school (it included his dad), was a competitive bull rider, and worked as a prison guard in Huntsville, and he's only 30 years old. If that ain't some authentic country singer bona fides, I don't know what is!
This Thursday, Aug.17, Cody Johnson, with opener Josh Ward, plays the Fremont Theater (7 p.m.; all ages; $22 presale at ticketfly.com or $25 at the door) for a Numbskull and Good Medicine Presents show.
All told, Johnson's released six self-produced albums on his own CoJo label, but he didn't get national traction until 2014's Cowboy Like Me, which debuted in the Top 10 on the Billboard Country Albums chart. Suddenly this regionally popular Texas act had Nashville's country music center abuzz.
"I got a lot of 'Who is this kid?'" Johnson said in press materials. "I love that. That was a new horizon. And I'm gonna work to make sure people know exactly who I am."
Johnson's follow-up, 2016's Gotta Be Me, reached No. 2 on the country charts and No. 11 on the Billboard Album chart, demonstrating his crossover appeal.
With a rowdy mix of country, rock, and lyrics that paint him as "a cowboy, raised on outlaw country, who drinks too much, fights too much, and won't apologize for having an opinion," he won a growing legion of fans.
"I'm a God-fearin', hard-workin', beer-drinkin', fightin', lovin' cowboy from Texas," he said. "That's about it."
He's also a self-professed "adrenaline junkie," which explains the bull riding.
"That's a very, very rough sport to be in," Johnson noted. "It's very, very rough on your body. It's very rough on your mind, and it's scary. I mean there's not a professional bull rider that won't tell you it's not scary. If it wasn't scary, we wouldn't do it."
Real cowboy music from a real cowboy? Hell yeah! Add in the rough conditions of Texas prison life he witnessed as a guard and you've got added layers of complexity in his music.
"There's a lonely style of music that a lot of those guys listen to," Johnson said. "I worked in the field for a while, and they sang old prison work songs. Some had kind of lost hope, and I can see now that you have to sing about people that don't have hope the same way you want to sing to give them hope."
Being a guard also allowed Johnson to see the fine line between success and failure.
"You're only a couple of bad decisions every day from screwing your whole life up," he said.
Opening act Josh Ward just scored his eighth consecutive No. 1 hit single on the Texas Regional Radio chart with "Change My Mind." This ought to be a great night of Texas-style country music.
Numbskull and Good Medicine Presents have also teamed up to bring you The Ragged Jubilee on Friday, Aug. 18, at the SLO Guild Hall (7 p.m.; all ages; $15 at ticketfly.com), playing a vinyl release show for their album Pyramid Scheme. The local garage-blues act lists everyone from Neil Young to Black Sabbath and Booker T as influences for their soul-jangle sounds.
Beach blanket mosh pit!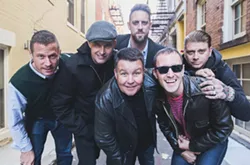 Photo Courtesy Of Gregory Nolan
BEAN TOWN PUNKS Dropkick Murphys (pictured) join Rancid, The Selecter, and Kevin Seconds on Aug. 18, at the Avila Beach Golf Resort.
Goldenvoice and Otter Productions, Inc. has cooked up an awesomely diverse show at the Avila Beach Golf Resort this Friday, Aug. 18 when punk-ska act Rancid shares headlining duties with hardcore punk/Celtic folk act Dropkick Murphys (5 p.m.; all ages; $45 to $90 at vallitix.com and Boo Boo Records). The show also features openers Kevin Seconds of the punk act 7Seconds as well as classic second wave ska act The Selecter.
Billed as part of the Boston To Berkeley Tour, the concert promises to culminate with Rancid and Dropkick Murphys sharing the stage for a joint encore. The two bands share history together. Rancid's Lars Frederiksen got the Dropkick Murphys signed to Hellcat Records after hearing a copy of the Murphys' debut EP at a friend's house.
"Rancid is looking forward to hitting the road with our brothers the Dropkick Murphys," Rancid's Tim Armstrong said in a press release. "We will end the night with DKM and us playing songs together. Look out for The Selecter and Kevin Seconds to be on certain shows. SEE YA IN THE PIT!"
'Oh black water, keep on rollin'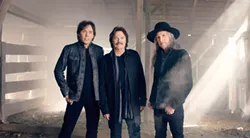 Photo Courtesy Of The Doobie Brothers
MINUTE BY MINUTE Blue-eyed soul hit makers The Doobie Brothers play Aug. 22, at Vina Robles Amphitheatre.
Whether you label it soft rock, blue-eyed soul, or pop, there's no denying The Doobie Brothers are hit makers extraordinaire. "What a Fool Believes," "Long Train Runnin'," "Black Water," "Listen to the Music," "China Grove," "Takin' It to the Streets," "Minute by Minute," "Take Me in Your Arms (Rock Me)," "Dependin' on You," and "It Keeps You Running'" are a few of their classic singles that have led to more than 48 million albums sold and four Grammy Awards won.
This Tuesday, Aug. 22, Vina Robles Amphitheatre presents The Doobie Brothers (8 p.m.; all ages; $49.50 to $89.50 at vinaroblesamphitheatre.com)
Also at Vina Robles, check out Symphony at Sunset, with soprano Alba Franco-Cancél on Sunday, Aug. 20 (7p.m.; all ages; $25). She'll join soloists Julie Davies, Gregorio Gonzalez, and Karin Mushegain in this family friendly program conducted by OperaSLO Artistic Director Brian Asher Alhadeff. Expect familiar classics, current favorites, Hollywood hits, and Broadway tunes from James Bond to Oklahoma!
New Strings for KCBX
Photo Courtesy Of Ryan Davidson
PLAYING FOR KCBX Brand new Nordic and Celtic folk ensemble The New World String Project plays a KCBX public radio fundraiser on Aug. 26, at Painted Sky Studios.
Public Radio Station KCBX 90.1FM is a regional treasure, providing exceptional programming for the entire Central Coast. With the Sword of Damocles hanging over their federal funding, they're always trying to find innovative ways to raise money to keep the commercial-free station on the air.
For instance, this Saturday, Aug. 19, they're holding a sidewalk sale outside of their studio (4100 Vachell Ln., SLO) from 9 a.m. to 1 p.m., selling items donated by listeners as well as lots of CDs and records. Go buy something!
Next weekend on Saturday, Aug. 26, The New World Strings Project will play a KCBX fundraising concert at Painted Sky Studios (8 p.m.; all ages; $25 reservations at paintedskystudios.com or by calling 927-8330).
The New World String Project is a new collaboration with John Weed (fiddle), Aryeh Frankfurter (nyckelharpa, Celtic harp), Lisa Lynne (cittern, Celtic harp), and Stuart Mason (guizouki, guitar).
"This newborn quartet presents extraordinary instruments and heartwarming music rooted in the Nordic and Celtic traditions," Mason said.
The Swedish nyckelharpa, Celtic harp, fiddle, guitar, cittern, and guizouki? Sounds wild! Mason and Weed are members of the Celtic band Molly's Revenge. Frankfurter's nyckelharpa is a keyed fiddle, and Lynne is a multi-instrumentalist known for her Celtic harp. Should be interesting!
More music ...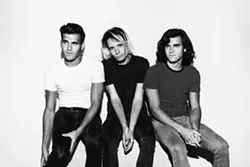 Photo Courtesy Of Andrew Thomas Lee
HEAD-FROG Atlanta-based indie act The Head plays Frog and Peach on Aug. 17, before continuing their 40-city tour in the U.K.
Atlanta-based indie rockers The Head, who are on a 40-city U.S. and U.K. tour in support of their new album Space, plays Frog and Peach this Thursday, Aug. 17 (10 p.m.; 21-and-older; free). Brothers Mike Shaw (bass, vocals) and Jack Shaw (drums), and Jacob Morrell (guitars), have been jamming together since high school, and are inspired by "trippy Brits like Stone Roses, Spiritualized, Ride, The Verve, and Echo and the Bunnymen and moody Americans like The National, Scott Walker, and early R.E.M.," according to their bio.
Roots-surf-rockabilly superstars The Cadillac Angels will play Tooth & Nail Winery this Friday, Aug. 19 (5 p.m.; all ages; free). This is a terrific retro act led by Tony Balbinot, who has a penchant for playing killer vintage equipment and has a sultry Chris Isaak-style voice.
The SLO Museum of Art and Hoapili Productions host a Hawaiian summer concert featuring Steven Espaniola this Saturday, Aug 19 (7 p.m.; all ages; $20 at santamariahula.org or by calling Yvette at 878-6793). Espaniola is an award-winning Hawaiian recording artist and multi-instrumentalist performing traditional and original Hawaiian music. "His distinctive falsetto style (leo ki'e ki'e) is complemented with his artistry on the slack key guitar and ukulele," organizers said.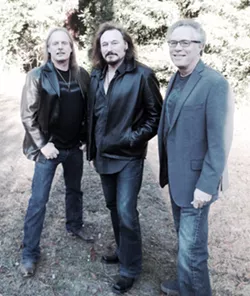 Photo Courtesy Of Bruce Guynn And Big Rain
BIG SUR BOYS Soulful country blues act Bruce Guynn & Big Rain play Aug. 19, at The Pour House.
The Deedees (Elizabeth Etta and Owen Hunt) with opening act Peter Yelda & Bob Liepman play Don's String Shop in Los Osos this Saturday, Aug. 19 (7 to 9 p.m.; all ages; $15 at the door). The Deedees are Elizabeth Etta and Owen Hunt, a father-and-daughter duo from Arkansas and Japan, featuring traditional American folk songs as well as original numbers with two guitars and refreshing two-part harmonies. Yelda's a well-known singer-songwriter and luthier, and Liepman is a terrific cello and mandocello player who also plays with Bob & Wendy, Shadowlands, and the San Luis Chamber Orchestra.
Bruce Guynn & Big Rain will be coming down out of the redwoods this Saturday, Aug. 19, to play The Pour House (8:30 to 11:30 p.m.), to deliver their patented "uplifting soulful rock country rock 'n' blues that makes you move." Expect tight musicianship and harmony vocals for this chart-topping act that enjoys both U.S. and international renown.
Photo Courtesy Of Marissa Knuckles
COYOTE FEST! One dozen acts, including Natalie Haskins (pictured) play the mostly local Coyote Festival, on Aug. 20 at the See Canyon Fruit Ranch.
You can get a big dose of local goodness this Sunday, Aug. 20, for the Coyote Festival, SLO County's country-roots and folk music event at See Canyon Fruit Ranch (2345 See Canyon Rd., near Avila Beach; noon to 8 p.m.; all ages; $17 presale at eventbright.com). Performers include The Turkey Buzzards, Bear Market Riot, Joe Koenig, Dan Curcio, Noach Tangeras, Candle, Shawn Clark Family Band, The Creston Line, Ryan Delmore, Chris Beland, Natalie Haskins, and a special guest from Texas: Jake Paleschic.
On Sunday, Aug. 20, Darrell Voss and the Real Time Jazz All Stars play St. Benedict's 18th annual Jazz Concert (2220 Snowy Egret Ln., Los Osos; 3 p.m.; all ages; $25 at stbenslososos.org, Boo Boo Records, or the Abundance Shop). The all-star group includes vibraphonist Voss as well as sax man Dave Becker, pianist Marshall Otwell, trumpeter Bob Bennett, and bassist Ken Hustad. Expect a variety of swing and Latin jazz selections and a tribute to some of the vibe masters: Lionel Hampton, Milt Jackson, and Cal Tjader.
Portland-based rock act Shoring returns to the area for a couple of shows this week, starting on Monday, Aug. 21, at Morro Bay's The Siren, where they'll play with LA act The Smoky Knights (9 p.m.; 21-and-older; free). On Tuesday, Aug. 22, Shoring plays the Frog and Peach (9 p.m.; 21-and-older; free)
The "First Lady of Country-Soul," Petrella, plays the Frog and Peach this Wednesday, Aug. 23 (10 p.m.; 21-and-older; free). The Santa Maria resident was drawn to music by her aunt and grandmother, who were lead vocalists at their church. "It was natural for me to follow in their footsteps," Petrella said in an email. "My ultimate goal is to make the genre of country soul a more popular form of music." Δ
Keep up with New Times Senior Staff Writer Glen Starkey via Twitter at twitter.com/glenstarkey, friend him at facebook.com/glenstarkey, or contact him at gstarkey@newtimesslo.com.