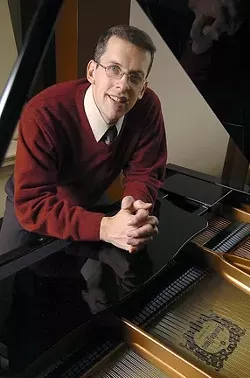 PHOTO COURTESY OF THE SLO SYMPHONY
RADIO HEAD : Brian Hermanson assumed responsibility as the Symphony's Executive Director in April.
Here's a little-known fact about the SLO Symphony's new Executive Director, Brian Hermanson: He goes through phases of musical obsession and is currently "mesmerized" by Radiohead. It might not be compatible with people's vision of the man who leads the county's largest purveyor of classical music. But it is befitting the director of an organization committed to nurturing musicians of all genres and ages.
"We're not just classical," Hermanson pointed out. "And if you put anything on a pedestal someone's always trying to knock it down. So don't put classical music on a pedestal."
Leading into the Symphony's 50th Anniversary season it's difficult not to wax poetic about the organization's contributions to the community's artistic vibrancy, and stalwart role as many children's only chance of obtaining a music education. But pedestals, and all that.
Hermanson assumed responsibility in April, about six months after Sandi Sigurdson concluded her 16-year run as Executive Director. She left behind a well-oiled machine complete with a staff and volunteer network that functions cohesively and creatively. Hermanson hails from Atlanta where he spent four years as Executive Director of the Cobb Symphony Orchestra. The move was difficult, but only because Hermanson was a newlywed and his wife, Alice Ann, had to wait for school to get out before she could join him in San Luis Obispo; she taught a middle-school orchestra, "which is a bit of a dying breed out here," Hermanson noted.
After being reunited with his wife, who is now volunteering for the symphony, Hermanson's first four months on the job were surprisingly peaceful. For the most part, programming for the 50th anniversary season had already been organized. The ever-popular Labor Day weekend Pops concert, now in its 19th year, is bringing music-lovers south of the border with Brazilian singer and guitarist Téka. Pops features a musical petting zoo, Latin dance demonstrations, and a musical program that includes "La Bamba" and "Tequila," making it about the coolest thing that's ever happened at a golf course. But that's already organized.
SNAP, CRACKLE, AND…: San Luis Obispo Symphony's Pops by the Sea takes place Sept. 5 at the Avila Beach Golf Resort. A pre-concert family celebration takes place at 2:30 p.m., and the concert begins at 4 p.m. Lawn seating costs $15 for adults, with a $3 discount for people who ride their bikes. Gallery seating costs $20, party table seating costs $25, and premium table seating costs $35. Shuttle buses are available, free of charge, from the North Coast, the South County, North County, and San Luis Obispo, but tickets for the shuttle must be reserved in advance. Parking at the golf resort costs $5 for cars with fewer than four passengers. For additional information, or to purchase tickets, visit slosymphony.com or call 543-3533.
The first priority, for Hermanson, is facilitating a music education grant financed by PG&E. The utilities giant has offered to match any private donations earmarked for music education dollar for dollar. The symphony will officially unveil the new grant at the Pops concert, and there's no doubt that the present need is dire. Currently, the organization offers a half-dozen music education programs for kids, including children's concerts, the music van, everyday etudes, free dress rehearsals, musical petting zoo, Strings in the Schools, and SuperBows.
"People are calling on us for music education," acknowledged Hermanson. "We certainly cannot replace, nor do we want to replace, the public education music component. Our goal is to hopefully create such a vibrant program that people are bashing down the doors saying we want music in schools."
The bid to make the Symphony's music more accessible extends beyond education programs for children. They've posted videos of Symphony concerts on YouTube and are taking an active stance to nurture all musicians within the county, collapsing what some critics have cited as a disconnect between classical music and contemporary audiences. Hermanson has a vested interest in promoting musicians; he was a professional musician with a Bachelor of Music in clarinet performance.
Working as an administrator gave Hermanson less time to practice and for a period of about five years, he reveals, he stopped playing. Without sufficient practice, he began to judge his abilities too harshly; it stopped being fun. He recently returned to the clarinet, remembering his love for creating music. It's a passion he'll share with the community in a series of performances over the course of the year, including a faculty recital at the Davidson Music Center on Nov. 5. Along with Susan Azaret Davies (piano), Shelly Granger (flute), Jennifer Dodson (horn), and Lisa Nauful (bassoon), Hermanson will perform Ludwig Thuille's "Sextet for Piano and Wind Instruments, Opus 6." On June 4, Hermanson will rock out to Led Zeppelin's "Black Dog" at the Cal Poly Wind Band Spring Concert, "Symphonic Metamorphosis."
PHOTO COURTESY OF THE SLO SYMPHONY
BRINGING THE HEAT : Brazilian singer and guitarist Téka brings an exotic flavor to the Symphony's 19th Annual Pops concert.
In addition to a festive Labor Day Pops weekend, the Symphony's anniversary season will include two world premieres; "For an orchestra this size to actually commission two brand-new works is unheard of," Hermanson said of the feat. And the season finale concert will feature the young musicians of the San Luis Obispo Youth Symphony performing with their older counterparts in the regular Symphony.
While Hermanson's eagerly awaiting his first complete symphony season, he's familiarizing himself with San Luis Obispo. So far, he likes what he's found. He believes that the community encourages its artists to take risks, which he cites as an essential component of the creative process. The transition from musician to music administrator to a combination of music administrator and musician was undoubtedly a challenge, but Hermanson's taking it all in stride, happy and humble from the vantage point of captain of SLO County's music powerhouse.
"The biggest thing I've learned is we have two ears and one mouth and it's important to use them in that ratio," he said. "Listening is 99 percent of any activity." That might be difficult for most people in their day-to-day interactions, but with the Symphony's iconic 50th anniversary season approaching, listening is a treat.
Arts Editor Ashley Schwellenbach plans to metamorphosize into a Twinkie. Send cocoons to aschwellenbach@newtimesslo.com.