"Just don't even think about anything," he tells me. I nod, take a deep breath in, and as I exhale, my arrow goes flying across the room, landing close to the yellow bulls-eye on the paper target.
My instructor nods in approval, but stays standing close by, going so far as to put his hand just behind the back of my head to ensure I don't make any unnecessary movements that might throw off the direction of my arrow. It's early in the evening on Monday, June 19, and I'm on the third of a series of four classes in beginning archery for adults at Central Coast Archery in San Luis Obispo. Already, my tendency to move my head back just a bit after I release my arrow has earned me the nickname "Flinch" from one of my instructors. It's a small enough movement that I didn't even know I was doing it but big enough to really mess with my aim.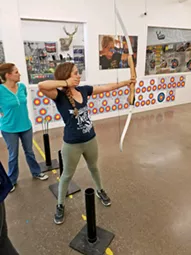 Photo Courtesy Of Ryah Cooley
LET IT GO Seconds after releasing my arrow, my hand fights to stay glued to my face rather than moving forward and throwing off my arrow's aim during an adult archery class at Central Coast Archery in SLO.
Why archery, you ask? Well, dear reader, I have a laundry list of to-dos and dreams. No, I'm not talking big-picture career stuff or travel plans, but the smaller every-day things that spark excitement in the soul and make you think, "Wouldn't that be fun?" For me there's an ongoing list of activities I'd like to try, things like stand-up paddleboard yoga, kickboxing, and archery. All of these things are offered locally and are totally within my grasp, but you know, things get put off. Also archery just seems really badass (blame it on my childhood spent reading the Alanna series by Tamora Pierce, which features a rad lady archer as the protagonist). So when a friend also expressed interest in taking the class, I finally signed up.
Our first class at the indoor archery range is spent focusing on form, learning to stand with our feet a little less than shoulder's distance apart, perpendicular to our targets with our shoulders upright, yet relaxed. My left foot is in front, since I hold the bow with my left hand and draw with my right. We start out with big rubber bands to practice drawing and releasing and by the end of that first class we graduate to real arrows and bows. We stand pretty close and just shoot sans targets for now, but I'm still disproportionately giddy about it, going back and forth between feeling Zen and really amped up as I aim, draw, and release my arrow.
Photo Courtesy Of Ryah Cooley
INDOOR ARCHERY Central Coast Archery on Los Osos Valley Road in SLO offers a safe, indoor space to learn the ins and outs of archery.
Week two, we move back a bit farther and get actual targets to shoot at! My friend Max earns a similar nickname to me, "Flick," for kind of waving his hand a bit after releasing the arrow. "Sprinkling fairy dust like Tinker Bell," the same instructor who nicknamed me notes. Ideally, you're supposed to keep your hand flat by your face, even possibly using your pointer finger to kind of grab at the side of your mouth. This is all, again, so your hand doesn't move and mess up where your arrow is headed.
Week three, we move back even farther. I get my share of bulls-eyes, but also land some arrows on my neighbor's target (oops). I'm praised for my form. But as we move back a little farther from the target each week, I'm still working on that flinch thing. At this point, I think of myself as an inconsistent shooter. Still, as we leave class with one more week left to go, my friend and I happily chat about prices for bows and make plans to maybe set up some targets in my yard. Δ
Photo Courtesy Of Ryah Cooley
STEP BY STEP Though it feels like everything happens quickly when practicing archery, many steps are involved.
Ryah Cooley is a bow-wielding Sagittarius. Send comments to rcooley@newtimesslo.com.