PHOTO COURTESY OF DIEGO'S UMBRELLA

RAISING THE FLAG, RAISING THE ROOF : San Francisco-based Diego's Umbrella brings their explosively fun "Spanish surf" to SLO's Downtown Brew on Saturday, Dec. 19.
T
alk about a unique musical hybrid! How about flamenco-Latin-Gypsy-pirate-polka? Spanish surf? Only San Francisco could be the birthplace of this kind of melodic smorgasbord, folks!
Diego's Umbrella is hard to place musically, but they're silly, skilled, and oh-so-much fun. Take it from their press materials: "Imagine dancing uncontrollably in a border town cantina while singing along to an infectious Tarantino-like soundtrack being belted out by Irish mariachi Gypsies, reminiscent of Buena Vista Social Club, Gotan Project, Flogging Molly, Sublime, Gogol Bordello, and the Clash." Wow!
And then there're the costumes, elaborate and homemade affairs that wouldn't look that out of place in Mexican restaurants on S.F.'s Mission Street. But it's the city's famous Elbo Room where Diego's Umbrella is performing right before coming to SLO Town, and the Park Chalet in San Francisco where they've played every week since 2005.
Shake off those holidays blahs and prepare to work off calories you haven't even eaten yet when Diego's Umbrella comes to Downtown Brew in SLO on Saturday, Dec. 19 for a CD release party for their sixth and latest recording, Double Panther (7:30 p.m., 21-and-over, $6 advance from Boo Boo Records and ticketweb.com, $8 at the door). Too Late for Roses opens the show.
It's roots reggae time at Downtown Brew! Groove to the pulsing rhythms and highly danceable beat of the Kicks. With lilting female vocals, saxophone solos, and guitar work that just won't quit, the Kicks' positive vibe seems to strike a responsive chord in local music fans. Hear what the clamor's all about on Friday, Dec. 18 at Downtown Brew (8 p.m., 21-and-over, $7 advance from Boo Boo Records or ticketweb.com; $8 at the door). Local reggae favorite Resination gets the dance floor rolling, and Selecta Shaggy, Ras Danny and the Ark Roots Band are special guests.
PHOTO COURTESY OF BILLY FOPPIANO
IT'S A FAMILY AFFAIR : Sizzling roots guitarists Billy and Charlie Foppiano perform as Meet the Foppers on Wednesday, Dec. 23 at Bon Temps Creole Café in San Luis Obispo.
Like father, like son
One way for a father and son to get along amiably and treat each other with respect is to play music together. That's what "Guitar Wizard" Billy Foppiano and his son Charlie have discovered, now that Charlie's back in town flashing his college degree from the Guitar Institute of Technology in Hollywood.
"As more and more music came onto Charlie's radar screen, we discovered that we actually agree about what's good. We both like the old roots music. Now it's come to the point where the best time we have together is when we're playing guitar!" Billy explained.
Billy gave up his day job 15 years ago, and has been supporting himself with his guitar playing ever since, entertaining crowds all over the Central Coast solo and together with his band, the Mighty Croon Dogs. At 22 years old, Charlie has already picked up a few of the old dog's tricks.
"Charlie brings a lot of fire and juice into the old tunes," Billy said. "He combines youthful exuberance with the careful restraint of older players. He gets that silence is an OK thing, playing one note and meaning it. It's like conversation—a sign of a person who's secure and doesn't have to be jabbering all the time."
It seems especially fitting to see multi-generational music supported by the Bon Temps Creole Café (1000 Olive St. in SLO; 544-2100), since musicians in New Orleans often bring along the next generation to share the stage when they play. Check out "Meet the Foppers," Billy and Charlie Foppiano, on Wednesday, Dec. 23 from 6:30 to 8:30 p.m.
Make a mental note: Bon Temps is a great New Orleans-flavored venue to catch live tunes on Wednesday and Thursday nights, when you can also hear the Red Skunk Jipzee Swing Band, the Creole Syncopators, the Valerie Johnson and Al B. Blue in regular rotation.
More music …
An unlikely fusion of music and civics happens twice a month at the SLO County Government Center, when song fills the cavernous space at the county planning commission meetings. Outgoing chair Sarah Christie has requested My Country, 'Tis of Thee, sung a capella by Jill Garcia at exactly 9 a.m. on Thursday, Dec. 17. Musicians and singers who want to do their part for county government can e-mail Barbara O'Donnell at dodonn10@netzero.net for a space on next year's calendar.
Love the swingin' tunes of the Ratpack era? Then you won't want to miss a holiday libation celebration featuring Three Martini Lunch at Laetitia Winery in Arroyo Grande on Thursday, Dec. 17 at 5 p.m. Sweet or dry, vodka or gin, with olives or with a twist—whatever your pleasure, the band promises you'll be swankified! Find out more at laetitiawine.com or myspace.com/threemartinilunch3.
Don't forget—the controversial documentary film about rap superstar Li'l Wayne, The Carter, screens at Downtown Brew in SLO on Thursday, Dec. 17 at 7:30 p.m. ($8 advance from Boo Boo Records and ticketweb.com, $10 at the door). Shake the hand of producer Joshua Krause, a local from Templeton who graduated from Mission College Prep. The film documents the months before and after the release of Li'l Wayne's Grammy-winning album The Carter III. Need more info? Get it at thecarterdoc.com.
Join the crowd at a singer-songwriter show at the Clubhouse on Foothill Boulevard outside SLO, one of the best local venues for acoustic music. Catch Rebecca Leobe, a Berklee School of Music grad with a unique songwriting style, and Tiff Jimber, a national touring musician with songwriting credits for TV shows, on Thursday, Dec. 17. Local folksters Chonie Vargas and Anthony Roselli open the show at 6:30 p.m.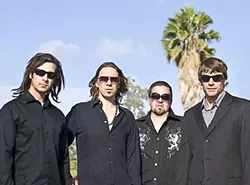 PHOTO COURTESY OF BABYLON SAINTS
RHYTHM AND SOUL : The Babylon Saints come marchin' in to Frog and Peach on Friday, Dec. 18.
The saints are marchin' to SLO Town! Not the unstoppable New Orleans' football team on their way to the Superbowl, but the Babylon Saints, an intelligent, funky quartet known as "a soulful energy force of irresistible rhythms and enticing stories," according to their press materials. Your chance to see and hear the Babylon Saints
comes on Friday,
Dec. 18
when they take the stage at Frog and Peach (782 Higuera in downtown SLO) at 9:30 p.m. Get a sneak preview online at babylonsaints.com.
Fans of Neil Young, Bob Dylan, Whiskeytown, and Wilco should be instantly familiar with Candle's rockin' folk sound. Candle presents "The Battle of the Little Gladiators: An Evening of Collaboration in Song," featuring Kevin Coons, Paul Frankel, and Ross Major at Linnaea's on Friday, Dec. 18 (1112 Garden St., SLO, pass-the-hat). Opening the 8 p.m. show are Levi Strom from Big Sur, and Hellmore.
Take a break from holiday shopping, put on your dancin' shoes, and get yourself to the Pour House (1331 Vendels Circle, Paso Robles, down the road from Firestone Brewery; 239-2868) for a lively show by Impromptu. You'll be treated to some new tunes by this high-caliber acoustic ensemble, as well as some fiddlin' and mandolinin' from a surprise special guest, on Friday, Dec. 18.
Vocalist Lynn Manzella joins the Mike Raynor Group for a holiday show at the Inn at Morro Bay on Friday, Dec. 18 at 7 p.m., rounding out the jazzy sounds of Bob Harway on piano, Dylan Johnson on bass, and Mike Raynor on drums.
Roy Zimmerman brings the sting of satire to his songs about peace, social justice, war, greed, ignorance—and even the holiday season. You can hear his songs on NPR, Air America Radio, YouTube, or right here in SLO County. Roy Zimmerman presents his show, "PeaceNick," on Saturday, Dec. 19 at 7 p.m. in a solo show at the Clubhouse (740 N. Foothill Blvd., SLO).
It just wouldn't be the holidays without the glorious sound of human voices joining in song, and there's no better treat than the Cuesta Master Chorale. Under the direction of Dr. Thomas Davies, this year's performance is called "Of Shepherds and Angels." Get ready for that holiday crowd-pleaser, Handel's Messiah (the Christmas portion), along with J.S. Bach's cantata from The Christmas Oratorio. The Cuesta Master Chorale performs at the Christopher Cohan Center at the PAC on Saturday, Dec. 19 at 8 p.m. Call 756-2787 for tickets.
Santa Maria-based singer/songwriter Meredith Hobbs takes the stage at Linnaea's in downtown SLO on Saturday, Dec. 19 at 8 p.m. She hasn't stopped writing songs since she started at the tender age of 8, so she's got quite a repertoire of highly listenable tunes.
The Basin Street Regulars of Pismo Beach have earned a reputation for playing host to talented jazz musicians from all over. This time, it's the Clint Baker Jazz Band with Carl Sonny Leyland, Dawn Lambeth, Marc Caparone, and other special guests on Sunday, Dec. 20. The Pismo Beach Vets Hall show runs from 1 to 4:30 p.m.; tickets cost $10 at the door, or $5 for members (call 481-7840 for more info). Dancing is encouraged!
PHOTO COURTESY OF ALMA DESNUDA
BARE YOUR SOUL : You'll have to dance with your clothes on at Mr. Rick's in Avila Beach when Alma Desnuda ("Naked Soul" in Spanish) plays on Sunday, Dec. 20.
Do you keep your spirit fully clothed while allowing your soul to go nude? Listen up for Alma Desnuda—that's Spanish for "naked soul." They let it all hang out with uplifting, danceable tunes with an underlying message of unity and joy. Alma Desnuda
promises to get your soul dancing naked to their folky rock, reggae-infused sound on Sunday, Dec. 20
at Mr. Rick's in Avila Beach. While your mortal body shows the signs of holiday indulgences, you may as well keep your soul in tip-top shape!
Kathy Johnston is filling in while Glen Starkey is on staycation. Warn him not to eat too much rum-soaked fruitcake at gstarkey@newtimesslo.com.
CD Review

Various Artists—Tru Thoughts Covers
The UK's Brighton-based label Tru Thoughts wants to showcase its brand of cross-pollinated neo-soul with songs you may already know. With a roster that captures the Afro-Latin soul of Quantic, the heavy funk of the Bamboos, and the left-field jazz of Nostalgia 77, it may take a second for their renditions to sink in, before the a-ha moment of identification hits. Consider the hard drum break and guitar stab that opens up Jumbonic's cover of the Strokes' "Last Night." It's a soul translation of the Strokes' jangly garage pop that you didn't see coming. Lizzy Parks' upbeat, swanky organ version of Sinatra's "It Was a Very Good Year" adds a celebratory attitude to its previous gentle reminiscing. The covers range from an instrumental jazz rendition of Eminem's "My Name Is … " (Nostalgia 77) to an acoustic version of jungle DJ Roni Size's "Brown Paper Bag" (Me & You). But the price of admission is sealed with the Hot 8 Brass Band's New Orleans take on Marvin Gaye's "Sexual Healing." The tuba bottom thump has never sounded this sexy, as a hand-clapped, sung chorus makes this a remarkable tribute.

Can You Dig It?
—The Music and Politics
of Black Action Films '68-'75
It will probably come as no surprise, the sheer heavy funkiness of the music sandwiched on the two CDs of Soul Jazz's latest compilation, Can You Dig It?. The music of these early African-American films and their eventual explosion and exploitation is also impressively diverse in its range of styles. Outside of Curtis Mayfield's conga-funked "Pusherman" and the cinematic build-up of Isaac Haye's "Shaft," a splendid supply of instrumental chase themes and hero anthems offered musicians (Earth, Wind & Fire, Bobby Womack, Roy Ayers and more) an open field of creativity. Quincy Jones drops a greased-up jazz orchestration for "They Call Me Mister Tibbs," where Willie Hutch's "Theme of Foxy Brown" hints at the coming disco-fication of funk, with strings and a barrage of background vocals keeping the groove stepping high. Best is the ample booklet stuffed with pictures and notes on every movie noted. A unique intersection of soul music and late '60s consciousness blossoming alongside a film industry in need of solid soundtrack scores, a time like this hasn't existed since.
— Malik Miko Thorne, of Boo Boo Recods and mikovision.blogspot.com, where you'll find archived reviews and soundclips.