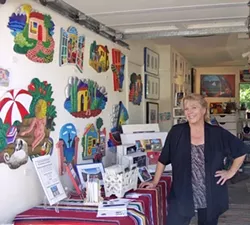 PHOTO COURTESY OF CATHERINE LEE NEIFING
IN BETTER TIMES: Catherine Lee Neifing will be offering her works at a discount in her home studio on Oct. 19 in an effort to pay for growing medical bills.
The work of Catherine Lee Neifing literally bursts with hyper-intense color, riotous color, peel-your-eyelids-off color! Her work celebrates life and exudes relaxation, often set in a sort of tropical paradise where the sun always shines.
For Cathy, however, life hasn't been so sunny lately.
"I've been having severe neurological issues for a year now and have not got a diagnosis. I've been to medical centers from Stanford to USC and in between, with no luck," she said during an e-mail interview. "Not sure I want all the gory details put in a short article. I don't want to sound weak and such, but I could really use some publicity to help sell some work, which I will be discounting a lot in order to move it to pay those med bills."
On top of everything else, Cathy also has a respiratory infection this week, hence the e-mail interview.
"I can only whisper with the laryngitis. It would be hard to hear me."
And for the record, Cathy is not a freeloader!
PHOTO COURTESY OF CATHERINE LEE NEIFING
HER LAST PAINTING: Thanks to as yet undiagnosed neurological problems and other health concerns, Cathy hasn't made a new painting since 2011. This, "Dog / Cat Window to the Sea," was her last.
"I have insurance, but obviously it does not pay for everything," she wrote, hence the big art selloff. It's a great chance to collect some originals or reproductions!
Cathy moved here in 1988 and quickly became an integral part of the arts scene. She was the first place winner of the Art at the Mall's Central Coast Plaza art competition 1989; she showed her work at the Off the Wall show at French Pavilion 1990; and had several shows at Jamaica You.
"That's where I met JACK LALANNE!" she gushed.
She also had shows at Linnaea's Cafe, Luna Rustica, Fiona Bleu, three shows at Big Sky Café, "lots of local gratis illustration jobs," she noted, for the City of Pismo Beach, HopeDance, and other local mags, "partially thanks to getting my Masters of Fine Arts degree in pictorial and digital imaging at San Jose State University in 1995."
PHOTO COURTESY OF CATHERINE LEE NEIFING
ABOVE SHELL BEACH: Many of Cathy's paintings depict local landscapes; all are colorful, cheerful celebrations of life.
She also taught art for 14 years at Allan Hancock College (painting, landscape art, computer fine art) and also at Cuesta College.
"I was part of the Creamery San Luis Artists Gallery for the few years they managed to pay the rent," she recalled. "I participated in several open studios tours (though not this year); I have donated thousands of dollars of artwork to various charities every year, including SLO Hospice, French Hospital, Central Coast Pug Rescue, and the AIDS Support Network. I also had a show at the Tribune building in 2000 and worked as staff artist at Trader Joe's for a short stint in 2005."
Clearly, she was incredibly active, and she's done so much for the local arts community. I certainly hope the community can now give back to this vibrant lady. In addition to opening her home studio on Oct. 19, she's got a major retrospective of her work on display at TD Parker Salon and Gallery.

BUY SOME ART, PAY SOME MEDICAL BILLS: The colorful work of Catherine Lee Neifing is at TD Parker Salon & Gallery (2078 Parker St., SLO) through Nov 30. On Saturday, Oct. 19, from 10 a.m. to 5 p.m., Neifing will open her home studio (521 Allen St., Arroyo Grande, at the corner of Allen and Cross Streets) to sell work at 25 to 50 percent off. Neifing has been ill for over a year, and though she has insurance, it hasn't covered all her medical expenses. "There will be original paintings, drawings, prints, and cards for sale," said Neifing. "Do your Christmas shopping early!" Prices start as little at $4.
"They had just opened in 1997 and I had their first art show there, so this show is really a retrospective!" noted Cathy. "I've not been doing much artwork for the past year due to my illness. And I haven't gotten out much. In fact, that night I saw you and your wife Anna on the way into Steynberg a couple weeks ago was the first art event I had been to in almost a year."
It's strange to discover this formerly energetic friend slowed by this mystery neurological disorder, especially an artist as prolific as Cathy, but she hasn't made a painting in nearly three years!
"The last painting I made, a duo called Dog/Cat Window to the Sea, I finished in June of 2011, and it took me seven months due to my illness. It's now at VCA South County Animal Hospital in Arroyo Grande. They took it in trade."
Cathy, ever resourceful, is not ready to lay down yet! Come support this longtime member of the arts community and don't miss your chance to get a Catherine Lee Neifing original or print at a great deal!
Contact Glen Starkey at gstarkey@newtimesslo.com.