Whenever I listen to Café Musique, I feel swept away, as if a dark mysterious stranger has appeared out of nowhere, offered her hand, and led me in a sexy and impassioned impromptu tango before whisking me into the night to a secret Gypsy encampment, where we while away the twilight, exchanging swing, folk, jazz, and wild classical songs; praying dawn will never come and this enchantment will never end. No, seriously. The group is that amazing.
Comprised of violinist Brynn Albanese, accordionist Duane Inglish, guitarist and songwriter Craig Nuttycombe, bassist Fred Murray, and their newest addition, multi-instrumentalist Eric Williams, they recently put out their fourth album, Ebb & Flow, which they'll release to the public at two consecutive parties at the Cambria Center for the Arts on Saturday, April 2, at 7:30 p.m. and Sunday, April 3, at 3 p.m. (Purchase tickets online at brownpapertickets.com, by phone at (800) 838-3006, or at the door; find more upcoming shows on their website, cafemusique.org).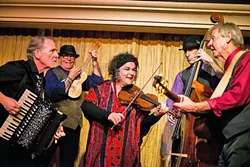 PHOTO COURTESY OF CAFE MUSIQUE
GET WILD: Genre shifting folk, swing, Gypsy, jazz, and wild classical artists Café Musique present their new album 'Ebb & Flow' at two release parties on April 2 and 3, at the Cambria Center for the Arts.
The five members recently sat down for a chat about Ebb & Flow, which actually contains four songs they previously recorded on their debut CD The Dancer, which is going out of print. These re-recorded signature songs—"Czardas," "Metsakukkia," "Crested Hens," and "Sylvi"—will be well known to fans.
"These songs have stayed with us and grown and evolved," Inglish explained, "and we've evolved musically in a lot of ways, so the album plays to some of those new dimensions. We've focused on the interplay between the accordion and the violin, on Craig's songwriting, on defining our 'wild classical' sound."
Murray noted that "the changes [of the group's sound] reflect how the band has changed," including the addition of new member Williams, who joked, "I think there's a certain sense of fun that was missing before I joined, a certain moroseness."
Café Musique, though they have songs so beautiful they'll make you cry, has never been morose, but with Williams on stage, he's upped the antics, if you'll excuse the pun.
"I'll turn around and he's turning cartwheels behind me," Inglish laughed.
"He's always smiling," Albanese finished, demonstrating the affinity shared by these players, a warmth and camaraderie that's part and parcel of the band's energy and ability to move an audience.
Williams has appeared frequently with local singer-songwriter Jill Knight, but before moving here, he worked for years in Los Angeles, playing with Taj Mahal and others.
"I worked on two of Tori Amos' albums," Williams said. "I was a studio guy. I worked on the Tracey Ullman Show for a couple years."
"Eric's filling in the spaces," Inglish explained.
"He's another lead instrument besides the accordion and violin," Nuttycombe added.
"I think of him as the missing ingredient in a chemical reaction," Murray finished. "You add him in and all this stuff starts going off."
"When Piper [Heisig, the band's former vocalist and percussionist] left the band, we initially thought we needed to find a female singer who plays percussion, but Pam Delgado [of Blame Sally] wasn't available," Albanese joked. "But we discovered instrumentally we could be very strong and we started experimenting with singing—I started experimenting with my singing—and we became more comfortable singing in the mix. You can hear it in songs like 'Ebb & Flow' and 'Circle of Fours.'"
Albanese discovered her voice and began to harmonize with Nuttycombe, a former A&M Records artist who writes all the group's original folk songs that blend with their wild classical, jazz, swing, and jazz covers, which they arrange in new and surprising ways.
"There's more texture and warmth in our playing, more maturity and feeling really comfortable with each other," Albanese revealed. "I'm the only woman in the band but I'm having a great time with my boys. They piss me off sometimes, but we have a lot of fun together."
Inglish also noted that with the departure of Piper Heisig and her potent voice, Albanese's violin "stepped in as a voice," which "filled that gap."
As part of their new collaboration with the Mesa/Bluemoon label, which released Ebb & Flow, they've recently worked on a new music video they'll soon post to their website. Filmmaker Trevor Monroe of Fox Jump Cinematics wrote and directed the video for the song "Libertango," by composer Astor Piazolla.
"Shot in Giuseppe's, the video features a number of our patrons in cameos," Inglish noted. "The story is like Ernest Hemingway sitting in the corner typing out the storyline of this passionate tango as it plays out before him."
The video is another way the group is working to extend their footprint out of SLO County.
"When we came on board with label owner George Nauful [and Mesa/Bluemoon], we discussed national and international touring," Inglish said, "but that would have required a booking agent." Instead, they've decided to "pull back" from those loftier goals and concentrate on the Western states: California, Oregon, Washington, and Colorado.
PHOTO COURTESY OF BIG BAD VOODOO DADDY
NEO SWING: Now in their 24th year, jump blues and swing act Big Bad Voodoo Daddy will bring their retro sounds to Fremont Theater on April 1.
Booking agents can take 15 percent, and as Murray noted, "Basically, the booking agents don't want to touch us until we don't need them."
This new album is more proof that their talents are limitless. They again worked with sound engineer Rick Sutton with Murray as a producer.
"They're a well-oiled machine," Albanese noted about their pair.
Murray said he and Sutton clocked around 200 hours in the process. Sounds tedious!
"It's definitely one of those 'be careful what you wish for' kinds of things," Murray said. "It's a grind, but I enjoy doing it."
The results are worth it! This is another excellent album with twists, turns, surprises, sly humor, potent emotional moments, and music to lose yourself in.
Numbskull and Good Medicine Presents swing for the fences
Numbskull and Good Medicine Presents have a bunch of big shows coming up over the next week, starting on Friday, April 1, when neo jump blues and swing act Big Bad Voodoo Daddy plays the Fremont Theater (7 p.m.; all ages; $27.50 to $38 at ticketfly.com).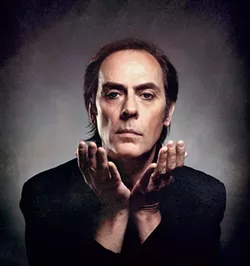 PHOTO COURTESY OF PETER MURPHY
UNPLUGGED: In a rare, intimate performance, former Bauhaus frontman Peter Murphy will perform acoustic versions of music from throughout his illustrious career, on April 2, in Fremont Theater.
It's hard to believe it was 24 years ago when this band helped lead the swing revival, introducing a young audience to sounds more aptly found in the '40s and '50s. They were regulars at the famed Derby nightclub in LA, creating a vibrant mix of early jazz, swing, and Dixieland with a contemporary energy and edge.
The original core lineup remains, including Scotty Morris (lead vocals and guitar), Kurt Sodergren (drums), Dirk Shumaker (double bass and vocals), Andy Rowley (baritone saxophone and vocals), Glen "The Kid" Marhevka (trumpet), Karl Hunter (saxophones and clarinet), and Joshua Levy (piano and arranger). Joining them on the road are Anthony Bonsera Jr. (trumpet) and Alex Henderson (trombone), for a full horn sound. I'm not sure how promoters are going to keep the Lindy Hoppers and West Coast Swingers in their seats at the Fremont!
Also on Friday, April 1, Joe Koenig will play Tooth & Nail Winery for their "Crush the Struggle" event (5 p.m.; 21-and-older; free), bringing his award-winning Texas soul to this pop-up concert, with food and wine available for purchase.
Back at Fremont Theater on Saturday, April 2, Numbskull and Good Medicine Presents brings former Bauhaus frontman Peter Murphy to town on his "Stripped" tour (7 p.m.; all ages; $20 presale at ticketfly.com or $25 at the door). This will be a rare opportunity to see Murphy in an intimate setting performing acoustic versions of his music from throughout his illustrious career.
PHOTO BY ALICE BAXLEY
PUNK'S NOT DEAD : SWMRS (pictured) bring their kinetic punk rock sounds to the SLO Grange on April 5, with opening act The Frights.
On Tuesday, April 5, head on over to the SLO Grange for a punk show with SWMRS and The Frights (7 p.m.; all ages; $13 presale at ticketfly.com or $15 at the door). SWMRS is Cole Becker (lead vocals, rhythm guitar), Max Becker (lead vocals, lead guitar), Joey Armstrong (drums, backing vocals), and Sebastian Mueller (bass, backing vocals), a group that emerged in 2015 from the dissolution of Emily's Army. These young players have a lot of heart. After Cole Becker and friend Joey Armstrong saw the Jack Black film School of Rock at age 8, they were determined to form a band … even before they'd learned to play instruments. That's punk rock!
The Frights have a new album, You Are Going to Hate This, out on Dangerbird, and it's filled with a "garage/surf/punk mess of reverb-drenched riffs and driving rhythms, with rockabilly references firmly rooted in doo-wop's past while sliding toward punk's future," according to press materials.
Next Thursday, April 7, Seattle-based indie folk singer-songwriter Noah Gundersen plays the Fremont (7 p.m.; all ages; $17 presale at ticketfly.com or $20 at the door). Look for more on him and his new existentialist album Carry the Ghost next week.
Serene sounds
Fans of contemplative music will want to hear the new James Swanagon album, The Torn Attachment, a series of duets for acoustic guitar and cornet, featuring Theo Padouvas. The two play a Steynberg Gallery concert on Saturday, April 2 (7:30 p.m.; all ages), and the concert is something of a return to SLO County for Swanagon.
"My first guitar lessons were with Gary Drysdale, who quickly turned me onto jazz and set me on a path to study and play under a plethora of amazing musicians including Ken Hustad, George Stone, and Roy Main," Swanagon explained. "I am a product of Lyle Stubson's program at San Luis High, George Stone's rigorous Cuesta College Jazz Ensembles, as well as the amazing staff at Cal Poly including Paul Rinzler and Craig Russell."
Swanagon eventually took his skills to Boston's New England Conservatory of Music in 2006, where he first met Padouvas. They reunited in the Bay Area in 2012 to record this sparse but stirring and gorgeous album. The unpretentious arrangements and interplay between the two musicians is a wonder to behold.
More music …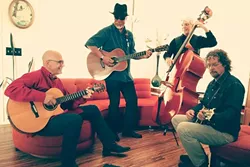 PHOTO COURTESY OF THE CC RIDERS
THE BOYS IN THE BAND: The CC Riders—(left to right) Dorian Michael, Louie Ortega, Ken Hustad, and Kenny Blackwell—will bring their eclectic mix of blues, roots country/rockabilly, and Tex/Mex music to D'Anbino's on April 1.
Honeymoon Cafe in Pismo has a new series starting tonight, Thursday, April 31, and happening monthly. "Our goal with the For the Folks Music Series is to showcase local talent, not just with providing an evening and gathering for them to perform, but also by telling their stories of what's brought them to where they are and where they hope to take their music," Ben Bellizzi explained. "For the Folks will be focusing on folk-inspired bands with original material poised to energize their audience with a more festival-like atmosphere than sometimes found at the sit-and-listen coffee shop style events." First up is Morro Bay's Turkey Buzzards, at 6:30 p.m.
Gypsy Stew continues their mini-tour of the Central Coast this week with four more shows featuring their mix of classic country, bluegrass, and roots rock, on Thursday, March 31, at Shell Café at
7 p.m.; Friday, April 1, at the Paso Robles McLintocks at 7 p.m.; Sunday, April 3, at Sculpterra Winery at 2 p.m.; and next Thursday, April 7, at Otter Rock Café at 7 p.m.
The CC Riders feature four great local players—Kenny Blackwell, Louie Ortega, Ken Hustad, and Dorian Michael—playing a mix of blues, roots, country/rockabilly, and Tex/Mex music, from lyrical ballads to upbeat sounds. See them on Friday, April 1, at D'Anbino's (8 p.m.; 21-and-older; $12).
Keep up with Glen Starkey via twitter at twitter.com/glenstarkey, friend him at facebook.com/glenstarkey, or contact him at gstarkey@newtimesslo.com.