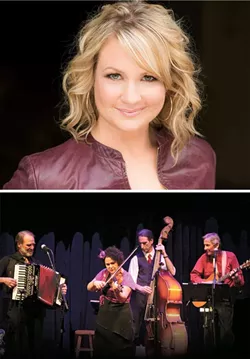 PHOTOS COURTESY OF CAFÉ MUSIQUE AND SARAH KLEEMAN
COLLABORATORS!: Café Musique will be joined by Broadway and opera star Sarah Kleeman on Sept. 5, at SLO's Unitarian Universalist Fellowship.
The bright lights of Broadway seem pretty far removed from bucolic SLO County, but some of that glitz and glamour is coming our way when famed mezzo-soprano Sarah Kleeman, of Broadway and opera fame, will team with Gypsy jazz, classical, tango, and folk ensemble Café Musique this Friday, Sept. 5, at SLO's Unitarian Universalist Fellowship located at 2201 Lawton Avenue (7 p.m.; all ages; $20 at the door or online at cafemusique.org). Santa Barbara-based harpist Laurie Rasmussen will also be joining in for what I imagine will be a remarkable musical journey.
Kleeman is a SLO native who made it big with San Francisco Opera Merola's Cosi Fan Tutte and with the Arden Theatre Company as Mrs. Nordstom in A Little Night Music. In fact, she's performed all over the country at notable theaters, such as the Weathervane Repertory Theater Company as Kate in Kiss me Kate, Violet in 9 to 5, Charlotte in Moon Over Buffalo, Darlene in Moose Capades, and many more.
Now living in NYC, she's a multi-award winner, but I think my favorite part of her extensive resume is her stage combat training. Hopefully that will come in handy this weekend with Café Musique!
The event is sponsored by Infinite Music Foundation, and while here, Kleeman will be delivering a hands-on vocal workshop on Wednesday, Sept. 10, at Cuesta College (Room 7104; 3:30 to 5 p.m.; all ages; open to the public; $10). The performance and workshop are part of local nonprofit Infinite Music Foundation's mission to provide more musical access for children.
"Kleeman will present a candid talk and vocal workshop on vocal technique, maintaining vocal resilience and emotional health, and keeping a positive performer's perspective on a demanding career as a musical theatre performer," according to press materials. "Kleeman, a New York resident, has performed Off Broadway and in numerous theatre productions across the country, and will perform in the world premier of Composer Martin Halpern's The Stronger in New York City in October."
Infinite Music Foundation is a grassroots nonprofit in SLO County that "supports innovative, regionally based music programs that foster music education, empowerment, expression, and appreciation for children of all ages."
A good cause, and some great music? Sounds like a win-win!

Sibling revelry!
Forget sibling rivalry! The Band Perry—fronted by Kimberly Perry and rounded out by her younger brothers Reid and Neil—proves that families that play together stay together.
PHOTO COURTESY OF THE BAND PERRY
SIBLINGS!: Fronted by Kimberly Perry and rounded out by her younger brothers, Reid and Neil, The Band Perry plays Sept. 7, at Vina Robles Amphitheatre.
Signed in 2009 to Republic Nashville, their eponymous debut came out in 2010, and immediately made a splash when "If I Die Young" leapt to No. 1 on Billboard's Hot Country Songs and Hot Adult Contemporary Tracks charts and has since been certified quadruple platinum! Likewise, "Hip to My Heart," "You Lie," "All Your Life," and "Postcards from Paris" also were hits for the band.
Their 2013 sophomore release, Pioneer, really cemented their fame and featured the hit singles "Better Dig Two," "DONE," "Don't Let Me Be Lonely," and "Chainsaw."
They've come a long way since Kimberly's beginning, singing in her own band as a teenager with her brothers working as roadies. Later, when they were ages 8 and 10, they became her opening act as the Mobile Music Machines, finally joining forces in 2005 and appearing on the New Faces of Country tour.
"Discovered" by Garth Brooks' manager Bob Doyle, the rest—as they say—is history.
This Sunday, Sept. 7, The Band Perry with opening act Dan + Shay play Vina Robles Amphitheatre (doors at 6:30 p.m.; show at 8; all ages; $56.20 to $92.15). Should be a great night of contemporary country.
Lite Brew
SLO Brew's got a pretty light schedule this week, starting with the second night of the two-night run by reggae act Tribal Seeds on Thursday, Sept. 4 (7 p.m.; all ages; $20 presale or $23 at the door), with New Kingston and The Expanders.
On Saturday, Sept. 6, High Voltage—A Tribute to AC/DC, returns, and I can't say enough good things about this local act (7:30 p.m.; 21-and-older; $10). They freaking rip! Even if you're thinking, "I don't really like hard rock," you'll be amazed at how many AC/DC songs you know. That band was a hit machine, and High Voltage does them proud! Rusted Stone opens. They're currently in the process of putting together their second CD of original material.
Folk-tastic!
This next show is more than a week away, but folk fans are definitely going to want it on their radar. This is the second year for the Creekside Folk Music Festival, and it's getting better and better.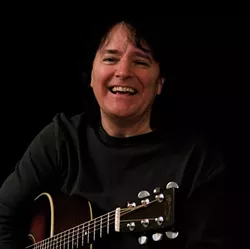 PHOTO COURTESY OF JOHN BATDORF
FESTIVAL!: John Batdorf is one of seven performers playing next week's Creekside Folk Music Festival in East Mall Creekside, Atascadero, on Sept. 13.
On Saturday, Sept. 13, from noon to 9 p.m., East Mall Creekside in Atascadero will play host to seven great folk acts (all ages; $30 at Boo Boo Records, The Barrel Room, Wilkins' Action Graphics, and at the gate the day of the event).
The day kicks off with KCBX radio personality, Picking Up The Tempo host, and musician Little Robbie Kimball from 12:45 to 1:30 p.m. If you've listened to his show, you know what eclectic tastes he has, which are also reflected in his own music.
Local performer, Americana singer-songwriter Cej (aka Carl Johnson), is up next from 1:45 to 2:30 p.m. The former lead guitarist for the Joel Rafael Band (1994 to 2004) most recently released Sleepwalker in Paradise, which was largely written over a 10-month period when he lived in Hawaii and Germany.
John Batdorf takes the stage from 2:45 to 3:30 p.m. This inveterate performer signed his first record deal with Atlantic Records back in the '70s. He's a great guitarist, songwriter, and warm and generous performer. This may be the highlight of the festival.
Jeff Pine will play from 3:45 to 4:30 p.m. He's been an active performer for three decades, crafting songs in the rock, pop, folk, jazz, country, blues, soul, calypso, and flamenco genres. He's also a noted fine artist, wildlife photographer, and environmentalist.
Two local favorites—Inga Swearingen and Richard Green—play from 4:45 to 5:30 p.m. Inga's an award-winning vocalist and singer-songwriter, and Richard, too, is a great songwriter and performer. Both are worth seeing on their own, so it will be interesting to witness this collaboration.
Dulcie Taylor, who recently won Best Songwriter in the NTMAs last weekend as well as second place for Album of the Year, plays next from 6 to 7 p.m. Her stirring narrative songs, lovely voice, and down home Southern persona are guaranteed to charm the pants off you (but seriously, keep those pants on; this is a family show).
The big headliner for the event is none other than John Gorka, a contemporary folk musician hailed by Rolling Stone magazine as "the preeminent male singer-songwriter of that has been dubbed the New Folk Movement." His most recent release on Red House records is 2014's Bright Side of Down, and it's a stunner!
Don't miss this festival, folk fans!
More music …
This Friday, Sept. 5, marks your final chance to hit Concerts in the Plaza when Big Daddy's Blues Band brings their R&B and bluesy jazz to the SLO Mission Plaza from 5:30 to 7:30 p.m.
Kate Wells (vocal/guitar/flute) will perform four of her original songs this Saturday, Sept. 6, at 1 p.m. at Wild Horse Winery in Templeton as part of the Songwriters at Play showcase that will also include headliner Dorian Michael and daughter-dad duo Alexis & Roy Donkin. Visit songwritersatplay.com for a complete listing of their showcases.
The SLO County Jazz Federation will present the Darrell Voss Quintet on Saturday, Sept. 6, at 7:30 p.m., in the new home of the Unity Hall (1130 Orcutt Rd., SLO—the entrance is on Fernwood Ave.). The quintet plays their arrangements of jazz standards from the American songbook. Tickets at the door only are $20 general admission; $15 Jazz Fed members; and $10 for students.
Some great country awaits when Traxx plays Sunday, Sept. 7, from 7 to 10 p.m. at The Dish (835 13th Street). The acoustic trio features John Krause (guitar and vocals), Carol Ann Fernandez (bass, guitar, and vocals), and Vince James (keys, guitar, banjo, and vocals. "We play a variety of covers and my original songs," Krause said.
Keep up with Glen Starkey via twitter at twitter.com/glenstarkey, friend him at facebook.com/glenstarkey or myspace.com/glenstarkey, or contact him at gstarkey@newtimesslo.com.