Modern Art Desserts
"Trees! How ghastly!" Piet Mondrian writes in his 1908 Notes of a Painter. The corresponding cry from Blue Bottle Coffee Company pastry chef Caitlin Freeman might be "Sheet cakes! How ghastly!" Though her creative confections may begin with the basic elements of dessert making, they end up as works of art.
IMAGE BY HENRY BRUINGTON
WHO'S THE GUMMIEST?: In blind taste tests, four out of five San Luis Obispo natives were unable to tell the difference between my cake and an actual section of Bubble Gum Alley.
Freeman's much-anticipated 2013 cookbook, Modern Art Desserts, presents her creations for SFMOMA's Blue Bottle Café, based on masterpieces from the museum's collection. Her many clever, inventive recipes include a red velvet Lichtenstein Cake complete with Benday dots, Warhol Gelée in the colors of Red Liz, Khalo Wedding Cookies, and a Ryman Cake inspired by the artist's (in)famous all-white paintings. But the book's definitive recipe, the pièce-of-cake de résistance, is right on the cover—the Mondrian Cake.
"Your first Mondrian Cake will be thrilling but, inevitably, it will be less than perfect," Freeman warns in her "Tips for Mondrian Success" at the end of the recipe. This reassurance in the face of the blindingly, geometrically exact cover image allows the would-be baker to relax a little and enjoy the process. After all, baking a cake is one of those precious few of life's pursuits in which you're encouraged to eat your mistakes.
Also notable is the recipe for A Trio of Thiebaud Cakes, based on Wayne Thiebaud's 1963 painting Display Cakes. Freeman recounts seeing the painting on display at SFMOMA when she was in college, and the overwhelming experience of revisiting it in "the Vault" when it's pulled for her from storage, so she can check the details of the frosting. The result is a strikingly faithful rendering of the painting in three dimensions, a kind of performance in response to Theibaud's original work.
PHOTO BY ERIN C. MESSER
LAWS AND SAUSAGES: Contrary to the famous political quip, it's always delicious to see cake being made.
The recipes in Modern Art Desserts aren't the kind of thing you'd whip up for a last-minute house party or after a weeknight dinner, neither do they pretend to be. But with sufficient time and patience, Freeman's culinary compositions are within reach of the proficient home baker. These are not the kind of photorealistic fondant sculptures that look too perfect to taste like anything other than the canvases that inspired them—these are real-life desserts with delicious and inventive flavor combinations. Freeman's genuine affection for the works of art she transmutes into pastry and the stories she tells in connection with each recipe make Modern Art Desserts more than just another foodie must-have, to be placed on the shelf of a clean, seldom-used kitchen. And even in the unlikely event that you manage to resist the allure of these challenging recipes, you will nonetheless have at your disposal one of the most appetizing art history books ever concocted.
The SLO Cake Movement
PHOTO BY ERIN C. MESSER
BUBBLE GUM SPECTRUM: All the colors of the bubble gum rainbow, from cinnamon to spearmint.
If San Luis Obispo were a cake … what kind of cake would it be?
Now, you might be thinking of the Madonna Inn Bakery's Pink Champagne cake or Cowboy Cookie's giant cookie cake. SLO has no dearth of appetizing options, but in the spirit of Modern Art Desserts and especially of the Mondrian Cake's immediate recognizability, I wanted to create a cake that would embody one of the city's iconic landmarks.
There's the Mission, of course, which so many of us sculpted in peppermint-scented clay in elementary school. The Mission's bright white face has appeared on everything from tote bags to trivets, and certainly appears prominently amid the county's visual shorthand. Its façade could be molded into parfait, its adobe walls wrought of cheesecake, its terra cotta tiles represented by a perfect 8-by-8 inch Mexican-chocolate-frosted square.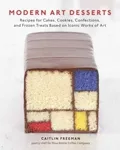 PHOTO COURTESY OF THE SLO PUBLIC LIBRARY WEBSITE
DE STIJL: Freeman's Mondrian Cake, pictured on the cover, is the cookbook's definitive recipe.
A lava cake could erupt into any one of the Seven Sisters, a SLO Historic District Victorian transform into a literal gingerbread house, the Ah Louis store could be stamped onto the smooth face of a moon cake. But none of these were quite right. I needed the Mondrian, the de Stijl movement of San Luis Obispo. That's when it hit me—a Bubble Gum Alley cake!
At this point I should add a disclaimer. Like so many products of popular media, this cake was designed and created with beauty, rather than health, in mind. The sugars I use are refined, the colors artificial, and the flour white. True to its nature as an art object, it was made at the physical expense of its creator. And thus I offer the advice generally attributed to Aristotle: In all cakes, moderation.
I began with a basic chocolate cake recipe—my favorite is Marion Cunningham's from the Fannie Farmer Cookbook ("ice water is its secret," Cunningham notes), but pretty much any will do—to mimic the dirty and uneven surface of the alley's wall. The light, airy grain of this cake naturally bubbles a bit at the surface, perfect for pocked masonry. I used a 13-by-9-inch pan, the rectangular shape of which evokes the shape of the alley. I made it according to Cunningham's directions and set it to cool on a rack while turning my attention to the real work of the Bubble Gum Alley Cake—the frosting.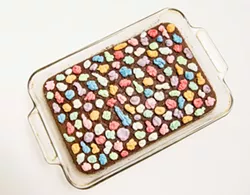 PHOTO BY HENRY BRUINGTON
BUBBLE GUM ALLEY CAKE: The finished product.
Again I called upon a classic, the basic buttercream recipe on the back of most boxes of C&H Powdered Sugar. To achieve the ideal bubble gum spectrum, I modified the proportions suggested by the back of the food coloring package to imitate spearmint, wintergreen, classic pink, cinnamon, and other, less-identifiable flavors found in the alley, most accurately summed up as "chewed gum flavor." Each of these was individually mixed and scooped into plastic sandwich bags—the lazy baker's alternative to the pastry bag. Cut off the tip of the plastic bag and voilà!, you're ready to pipe out perfect wads of masticated bubble gum.

MONDRIAN IT!: Follow the Modern Art Desserts blog, written by Blue Bottle Coffee's assistant pastry chef Leah Rosenberg, at modernartdesserts.com.
Nobody here at New Times really believed that it wasn't bubble gum until they actually tried it; the proof of the pudding, as they say, is in the eating. Its popularity proved me an honest chef, but the gross-out factor is this cake's greatest pleasure—just like Bubble Gum Alley itself.
Arts Editor Erin C. Messer takes the cake at emesser@newtimesslo.com.