A widely shared photo of a Cal Poly Lambda Chi Alpha fraternity member in blackface on April 7 continues to rock the community, sparking national news coverage and strong condemnation from administrators and students.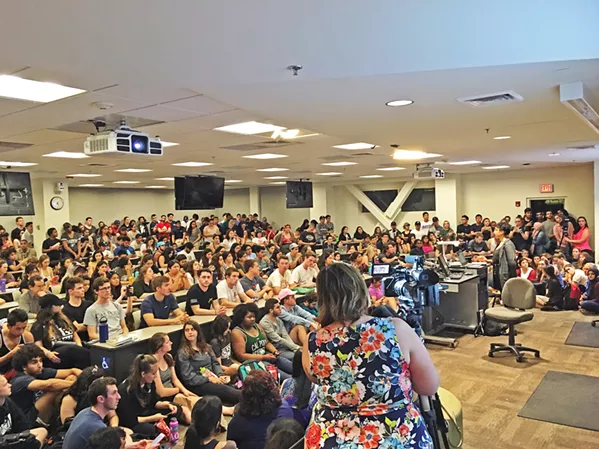 Photo By Peter Johnson
UNITED FOR CHANGE Hundreds of Cal Poly students gathered for an emergency town hall meeting on April 9 after photos surfaced over the weekend of a Lambda Chi Alpha fraternity member in blackface.
Posted to social media, the photo shows a Cal Poly student at the April 7 fraternity event with his face painted black while wearing a black shirt and a black beanie. Called blackface, the activity is rooted in racial oppression, historically used among Caucasian people to caricature African-Americans in theater and performance.
After the initial photo spread online, Lambda Chi Alpha issued a statement to the Mustang News on April 8 where it "sincerely apologize[d] for any harm caused." The group explained the member in blackface as related to "a competition between teams in which each team was represented by a different color ... similar to high school spirit rallies."
But soon after, a second photo from the event surfaced showing several fraternity members donning bandanas and fake tattoos with the caption, "She want a gangster not a pretty boy." That photo drew further scrutiny from the community as evidence the frat party was racially themed.
The incident coincided with PolyCultural Weekend, where prospective students visit the Cal Poly campus to be introduced to various multi-cultural organizations.
On April 9, Cal Poly placed Lambda Chi Alpha on interim suspension as it investigates whether the event constituted "a violation of university policy," according to Cal Poly Spokesman Matt Lazier. An interim suspension means the fraternity is temporarily barred from holding any events and activities.
Hundreds of Cal Poly students packed a campus lecture hall the evening of April 9 for an "emergency town hall meeting." Every seat was filled, and students sat together on the floor while latecomers spilled out the door into the hallways.
Taking turns, students—mostly students of color—stood up and spoke with raw emotion about the incident and their longstanding frustrations with what was described as a hostile climate for minority students at Cal Poly. Many demanded consequences for the fraternity.
"This event is really inexcusable. They're college students. They could've looked this up. They should've known, honestly," one student said. "And I haven't seen Cal Poly do shit. All they keep saying is 'sorry.' I'm really tired of 'sorry.' This is the time for action."
Second year student Leilani Hemmings read aloud a statement on behalf of the Cal Poly Black Student Union.
"We are appalled by and adamantly condemn the actions of Lambda Chi Alpha," Hemmings said. "Particularly alongside PolyCultural Weekend, this incident perpetuates the long-standing question of what work Cal Poly SLO is doing to support the admission and even more importantly, retention of marginalized students."
Students expressed frustration at the school administration for delaying discipline of Lambda Chi Alpha, feeling like the photos were strong enough evidence of misconduct.
"There's no [need for an] investigation," one student said. "An investigation is when you don't know shit. You know what they did, so you don't need to investigate anything. You need to kick their asses off campus."
Others pointed out that it's not the first time the Cal Poly Greek community has engaged in racial or cultural insensitivity. In 2013, Greek organizations held a "Colonial Bros and Nava-ho's"-themed party that drew criticism.
"This continuously happens. Nothing has changed," a student said.
Cal Poly President Jeffrey Armstrong issued a statement to the campus community on April 9 condemning the party.
"Like many of you, I have seen the images that circulated on social media and find them to be painful and embarrassing," Armstrong's statement read. "Hurtful actions, be they intentional or otherwise, have no place at our university and yet, regrettably, we experience them. ... They must stop. ... The responsibility for change lies with every one of us at this university." Δ