Five Cal Poly students may face disciplinary action for staging a protest against U.S. defense contractor Raytheon at a recent on-campus career fair where the company had a booth, according to students involved.
At the April 19 event in the Cal Poly recreation center, a group of about eight walked in front of Raytheon's table at the fair, stood, and held a banner that read, "Divest from war. Stop the war machine." The demonstrators, who identified as the SLO Peace Coalition, then sang a protest song.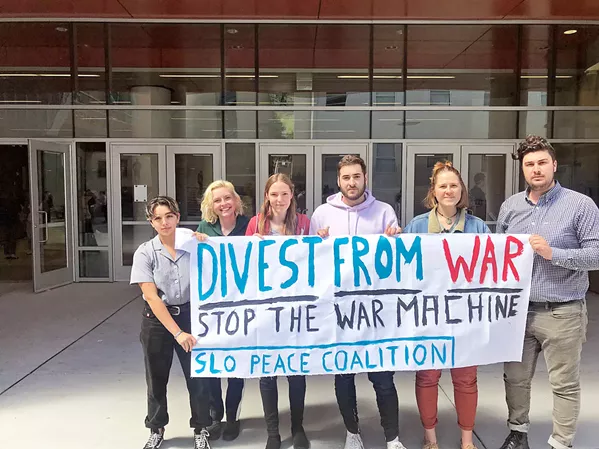 Photo Courtesy Of Facebook
NO PROTESTS ALLOWED Five Cal Poly students are reportedly under investigation for staging a protest against defense contractor Raytheon at a recent campus career fair.
"We see right through your lies," they sang. "You're killing all across the world for that war money and we proudly rise up until you put your weapons down."
The protest lasted 18 minutes without incident or interruptions, according to video footage of the event.
Since the protest, five participating students received emails from the Cal Poly Office of Student Rights and Responsibilities—which investigates and issues discipline for student misconduct—stating that the protest violated the school's code of conduct for free expression, according to two involved students.
Alleged violations include holding an "unauthorized sign" and "willfully disrupting and obstructing a university event," according to third-year student Kelsey Zazanis, who said she received an email from the university a few days ago.
"It's just strange," Zazanis said. "It was super casual. Not once during this were we asked to leave."
Students told New Times that Cal Poly has suggested barring the protestors from walking at graduation as punishment.
Cal Poly Spokesman Matt Lazier could not confirm any active misconduct investigation due to privacy laws. But in an email he said a student or employee who staged "a disruptive protest" could be subject to a "review to determine whether it violated a university policy" and could lead to "appropriate disciplinary action." He reported no arrests or criminal charges filed in connection to the protest.
"Cal Poly supports the free speech rights of all its campus community members and visitors," Lazier said. "To ensure that the exercise of the right of free expression does not interfere with university functions, imperil public safety, obstruct or damage university facilities, or cause individuals to become audiences against their will, the university maintains and enforces campus regulations regarding the time, place, and manner of the exercise of free expression by individuals and groups."
Protest participants said that the demonstration wasn't disruptive. They also said they feel the school is reacting to the fact that the protest targeted Raytheon, which has a close relationship with the university. Raytheon paid at least $2,000 to Cal Poly this year to be a "career partner." Retired CEO William Swanson is a member of Cal Poly President Jeffrey Armstrong's leadership cabinet and is the chairman of the Cal Poly Foundation.
"We've been fighting to make a better campus for years, and we've never faced sanctions before," said protester and recent grad Matt Klepfer. "In some ways, this protest was going after something new ... challenging the role of the university as it relates to the university's donors and corporate sponsors."
Students also compared crackdowns on their protest to other recent free speech issues on campus, like the two incidents of students donning blackface.
"They make such a huge deal about protecting free speech and the fact they aren't protecting ours makes me wonder if that's sincere," Zazanis said. "It seems like retaliation and a specific manipulation of the rules."
The protesters launched a change.org petition asking Cal Poly to drop the case. It had 493 signatures as of press time. Δ