If art is supposed to reflect life, then 4,000 Miles is the best kind of art. While it doesn't whisk you away to some strange new world, this Cal Poly production is on stage today through Nov. 11 and showcases something just as fascinating: the intimate power of empathy and how the everyday moments help us heal.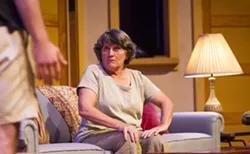 Photo By Jayson Mellom
GRANDMA KNOWS BEST Vera (Erma Stauffer, pictured) suspects something is going on when her grandson, Leo, shows up at her doorstep late one night in 4,000 Miles.
"This play is so honest and tender. The language is poetic and yet real," director Alvin Schnupp said. "The switching moments of comedy, sadness, comedy, show how life really is."
Exhausted and dirty from the road, 21-year-old Leo (Garrett Lamoureux) opens up the play by rolling into Greenwich Village at 3 a.m., toting only a worn bike and bags filled with unwashed clothes. A startled 91-year-old Vera (Erma Stauffer) grabs her dentures and opens the door to greet her grandson. After bluntly asking Leo, "Are you high right now?" it becomes obvious that this is an unexpected visit. There are few reasons he should be appearing on her doorstep in the middle of the night, especially when his girlfriend lives just a few blocks away.
Tired Leo has been on a cross-country biking adventure for months. Yet somewhere between Seattle and New York, he'd stopped communicating with his family entirely. While the cellphone-less Leo is certainly an off-the-grid guy, Vera worries that something more is lurking. She starts to get concerned when her closed-off grandson is slow to give answers.
Leo and Vera's family traits show as they get into headstrong, sassy bickering. Why hasn't Leo called home? Why isn't he talking to his girlfriend? Why is he biking all alone? After a bit of back and forth, Vera concedes and promises not to tell Leo's mother that he's hiding out in Manhattan. In return, Leo promises to stay over a few days and not pitch a tent on some random city street corner. The two awkwardly pause after their agreement. But the tension soon melts with a spontaneous, genuine bear hug—and a month-long stay in New York begins.
"Leo and Vera's relationship is complex and loving, if filled with a few irritations," Schnupp said. And this flawed, yet down-to-earth humanity is reflected in every detail of the show.
Photo By Jayson Mellom
ALL YOU NEED IS LOVE An unexpected summer living together turns into a bonding experience for grandson Leo (Garrett Lamoureux) and his grandmother Vera (Erma Stauffer).
The stage is a humble collection of the homey, dusty pieces you'd expect at a grandparent's house. With mid-century armchairs and bookshelves overstuffed with family photos, it's easy to imagine Vera building up this decades-old nest around her. A few things hint at the play's 2007 setting (like her family-gifted MacBook), but the rest seems almost timeless. And despite their generational differences, Leo and Vera start to build up a connection that's half unspoken but always felt.
The two find common ground in not knowing what comes next. A wandering Leo tries to hide from his past in sprawling New York, while elderly Vera wonders how to face her fading mind and aging body. There are still growing pains as both of them argue and complain like old roommates. But when Leo opens up in the play's climax, finally revealing his bike trip's awful tragedy, his vulnerable honesty and Vera's punch-line reply show the true heart of the show.
Other renditions of the play have highlighted the dramatic tension between Leo and Vera, emphasizing the story's arguments and Vera's lack of filter. But Schnupp had a different philosophy while directing. "The conflict is already there," he said. "We don't need to scream it."
Instead, the Cal Poly production focuses on a gentler type of connection. To accent this, Schnupp added more plants to all the scenes, echoing the family relationship blossoming onstage. That constant emotional impact is what makes 4,000 Miles ultimately shine. Leo and Vera's heartbreaks and healing show the great power in our little stories. Sometimes, we just need somebody to love us.
"Our most important moments are ones of nurturing and contact," Schnupp said. "This whole story is about Leo and Vera growing together. That's why it's the last word of the play: 'grow.'" Δ
Arts Intern Sinéad Schouten is all about growth. Send comments to Arts Editor Ryah Cooley at rcooley@newtimesslo.com.