A man walks into a De La Bahia concert and sees a beautiful woman sitting alone at a table, swaying to the band's sexy Latin sounds. After mustering some courage, he walks over and asks her to dance.
When the song ends, he gushes to her, "You're such a fantastic salsa dancer! I can't believe you're here alone!"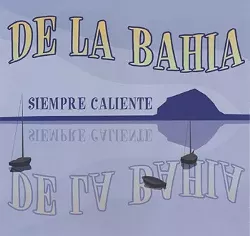 IMAGE COURTESY OF DE LA BAHIA
ALWAYS HOT! : De La Bahia will play selections from their album Siempre Caliente, as well as Latin jazz classics, at D'Anbino Cellars on April 9.
"Thank you," she replies. "I used to frequently go salsa dancing with my husband, but he died, and this was the first time I've gone dancing without him."
"Oh, that's so sad," consoles the man. "But don't you have any friends or relatives who could take you dancing?"
"I suppose," she says, "but they're all at the funeral."
That, my friends, is what's known as salsa addiction!
America may have brought the world the lamentably titled "freak dancing," but the original sexy-time dance hails from Cuba, which in the 1920s began exporting passion-filled salsa along with its rum.
It really began gaining popularity in the United States in the '80s, and today it seems salsa has never been hotter. Cal Poly has a club devoted to it (cpsalsa.com), De La Bahia (delabahiamusic.com) was formed specifically to cater to the local salsa community, and Saturday, April 9, De La Bahia will appear at D'Anbino Cellars from 7 to 9:30 p.m. to perform original and classic salsa tunes. Members of Cal Poly's Salsa Club will be there tearing up the dance floor, and I'll be there watching, because salsa is scary and hard! You've got to do, like, three weight changes every four-beat measure, and it's muy dificil to divide three into four. Plus there's the whole swaying hip thing—fun to watch, hard to do!
Percussionist Mike Raynor formed De La Bahia in 2009 when he looked at the local salsa scene and thought what it really needed was a live salsa band that could match the heat of the local dancers.
The quintet features original compositions and playing by veteran New York saxophonist Karl Welz, along with the sounds of conguero Justin Perkins, pianist Bob Harway, bassist Dylan Johnson, and timbalero Mike Raynor.
GET YOUR DANCE ON!: Local Latin jazz band De La Bahia plays the D'Anbino Cellars (710 Pine St., Paso Robles) from 7 to 9:30 p.m. on Saturday, April 9, and members of Cal Poly's Salsa Club will be there to show you how they shake their groove thangs. Between sets, Cal Poly's Chance Siri will DJ. The cover is $10, or $5 with student ID.
"Inspired by the surprising local salsa dance scene, De La Bahia continually evolves into an ideal salsa band for both listeners and dancers, performing originals and classics in the Son Montuno, Rumba, Cha Cha Cha, and Bolero traditions,"
says Mike.
I'm listening to the band's debut CD, Siempre Caliente [Always Hot], which they recorded after being together only eight short months, and it's an intoxicating and potent nine-song collection of tracks written by Welz, who's eschewed the traditional salsa instrumentation of trumpet and trombone for a more lean, stripped-down sound driven by saxophone and piano.
I can't help but start to feel the rhythm, wondering if maybe I could learn to salsa dance. After all, there's a big incentive. What other activity allows you to walk up to a beautiful woman you've never met before, spend three minutes touching her almost anywhere on her body, and have her thank you
for it afterward?
Glen Starkey takes a beating and keeps on bleating. Keep up with him via twitter at twitter.com/glenstarkey, friend him at Myspace.com/glenstarkey, or contact him at gstarkey@newtimesslo.com.