The first traces of smoke climbed into the daylight above Cuesta Grade at about 11:15 on the morning of June 23. Traffic along 101 slowed as motorists craned to catch a glimpse of the blaze as it crept toward buildings crowning the terrace. A spotter plane whirled counterclockwise above the event, eventually joined, perhaps 20 minutes later, by a cherry-striped bomber carrying a freight of a fire-retardant compound.


PHOTO BY JESSE ACOSTA
GOING AND GONE : Dead and dying Monterey pines provide a source of ladder fuels. A common brush fire, once limited to the forest floor, can reach the canopy by climbing dried limbs.
# After one quick pass by the spotter plane, the bomber cut low and made a thunderous break through the smoke before delivering a burst of its neon magenta payload on the unconsumed grass. The aerial duo made one more drop about two minutes later, completely blanketing the ground before the northerly front of the fire.
Under Department of Corrections supervision, three 16-man teams of convicted felons, carrying axes, Kortick Tools, and gas-powered weed-whackers, marched uphill for the final containment. While the prospect of criminals brandishing deadly weapons might disturb the average county resident more than would the fire itself, the laborers all fell under the umbrella of Level One convicts. Most of those men are drug offenders or victims of the prohibition industry—take your pick—and volunteer for the duty in lieu of prison yard work.
"First they have to cut down all the fuel, so the fire has nothing to feed on,� explained a straight-faced corrections officer from his roadside vantage point. The men trucked a bloated water vein up the hill, heaving it over a bulge of rock. "That hose is heavy,� he added with a smirk.
The June 23 blaze consumed a mere five acres and burned for just more than an hour—a small-scale spark and burn that California Department of Forestry (CDF) officials often refer to as a "crackerjack� or "pinner� fire. Low humidity and relatively high temperatures over that weekend triggered a rash of small incidents across the region, but San Luis Obispo County suffered no substantial wildfire damage. Other parts of the western United States proved less fortunate.
Not 100 miles away, in the Los Padres National Forest, only a few clicks south of the town of New Cuyama, the Perkins Fire billowed dark clouds of smoke above the ridgeline of the Sierra Madre mountains for the third-straight day. A day earlier, near Reno, Nev. and Sedona, Ariz., two wildfires took their first steps in a steady march that garnered national media attention over the weekend. Alaska, however, claimed the grandest conflagration, which burned more than 80,000 acres just 60 miles outside of Fairbanks.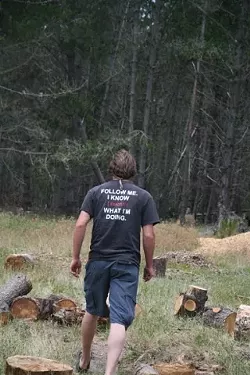 PHOTO BY JESSE ACOSTA
INTO THE WOODS : Forest inventory specialist Don Applegate led the way through a Cambria pine forest where Monterey pines suffer due to the presence of the burrowing red turpentine beetle.
# By the time firefighters finally squelched the weeklong blaze in New Cuyama on June 25, the National Interagency Fire Center (NIFC) in Boise, Idaho, reported 23 wildfires still burning in Alaska, Arizona, California, Colorado, Florida, New Mexico, Oklahoma, Texas, Utah, and Wyoming. That same day, NIFC also reported that this year's nationwide loss was in excess of 3 million acres—almost three times the average seen through that point in other years. Later the following week, a second outburst of reported fires—including 20 on June 29 alone—swallowed up an additional 600,000 acres.
"The weather is ideal right now for these types of fires,� NIFC spokesman Russ Rivera said. "There was talk of raising the National Preparedness level (a five-tier danger assessment system similar to the DHS terror alert) up to four.�
Comprehensive statistics on acreage consumption only reach back a decade, but the current tally safely trumps anything on record, according to forestry officials. Rivera attributed the recent onslaught to an enduring drought in the Southwestern United States, along with especially lofty temperatures and low humidity levels in most regions west of the Rockies.
Areas of the Central Coast most at risk include the sprawling expanses of the Los Padres National Forest—where dead or dying trees can provide ladder fuel for brush fires to reach into the canopy—and the expanses of chaparral above Cuesta Grade and in the eastern wilderness. Blazes sparked in these remote areas carry more potential to turn wild due to more arid vegetation and difficulties associated with firefighter response to isolated locations.
"What a lot of people don't realize is the chaparral fires, even though they don't burn as hot as timber fires, can spread really quickly,� Rivera explained. "Sometimes it's hard even to get out of the way.�
Along the coast, where most county residents reside, the threat of a megafire—like the 15,000-acre chaparral combustion that ripped past New Cuyama in late June—is relatively remote. The nighttime roll of the fog and cooling ocean breezes keep grasses healthy and green, reducing the flammability of wilderness vegetation. However, the specter of lesser blazes remains and, as California learned at Oakland Hills in 1991, even a well-placed crackerjack can mount a hefty death toll. That fire burned just 1,500 acres, but took 25 lives and destroyed nearly 3,000 homes.

Old loggers enjoy reminding more tony company that the greatest wildfire in American history roared in a Wisconsin forest the very night Chicago burned. And whoever heard of the Great Peshtigo Fire? National attention tends to swirl around evacuation rates rather than acreage totals, as further made evident by coverage of the June Sedona fire.

Likewise, the eastern expanses of the Central Coast may burn brighter this summer, but county firefighters' focus lies to the west. Could San Luis Obispo's coastal communities face disaster? The experts' answers in this matter run the vernacular gamut from "a scenario definitely worth considering� to "it's simply a matter of time.�

Chief among the hotspots to become a hot spot is the Parkhill neighborhood of Santa Margarita, where temperatures often leap into triple figures and native vegetation makes for a fire-prevention challenge. CDF officer Andy Anderson pointed to an abundance of ground fuels within the area and noted the complications associated with removing them.

"It's explosive in places,� agreed Santa Margarita Advisory Council chairman Charlie Whitney. "One of the problems is the brush species here are very naturally oily plants.�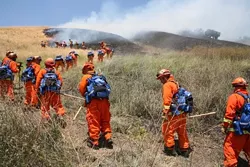 PHOTO BY JESSE ACOSTA
HEAT OF THE MOMENT : An inmate fire crew, led by California Department of Forestry officers (in the yellow suits), worked to safeguard a burned site from reigniting on Cuesta Grade.
# Whitney, also an area rancher, said that removing the dangerous brush requires either a prescribed burn permit—non-existent in the summer months—or an expensive piece of machinery known as a brush rake. For unincorporated Santa Margarita, where residents manage their own fuels, the best options seem out of reach, and most locals clear with a blade.
"This brush is tough. It can regenerate from the root,� Whitney said. Other complications include the havoc that tilling devices wreak on sensitive alluvial soils and the welfare of brush wildlife.
Santa Margarita witnessed a nearby megafire less than a decade ago and, as a result, most residents take the danger seriously. That's not so much the case across the Cuesta Ridge in the coastal community of Cambria, said Cal Poly wildfire expert Christopher Dicus.
"In Cambria, it's more of a sociopolitical issue,� Dicus said of the townsfolk's love for arboreal neighborhood design.
"Any place where people want to live amongst nature, it makes for a dangerous situation,� Anderson added. "This is a real problem all over the state.�
Cambria may possess less of an immediate fire threat than does Parkhill, but the town's layout has county firefighters in a cold sweat. Downtown Cambria's main artery is nothing more than a horseshoe loop, connected to Highway 1 at both ends. Dicus, Anderson, and other experts have speculated that a fast-moving forest fire from the right direction could easily block the only escape route and trap the population. Stocky, well-armored pine trees don't catch fire easily, but a lack of internal moisture and the low surface area of needles make for a hot blitzkrieg burn when those trees do combust.
"Cambria has been likened to Oakland Hills,� Dicus said. "It's a very scary place for fire-control personnel.�
To make matters worse, the Cambrian pines are old—many past the century mark, which is about as long as they can expect to live. As trees get older, they grow weaker, drier, and more susceptible to fire.
Despite the efforts of Fire Chief Bob Putney—who was unavailable for comment—Cambrian properties can exhibit thick brush growth in dangerous proximity to the homes. The rationale for this vegetative tangle involves both a demand for lot privacy and the steep cost and inconvenience of brush removal. This year, grasses grew even higher than usual.
Dicus explained how late seasonal rains helped guard the California coast against wildfires early in the year, but that factor could easily swing to its opposite. The most immediate byproduct of this spring's late showers is an excess of low-lying growth—the type of easily sparked, quick-burning material that firefighters classify as one-hour fuel when it dries out over the late summer months.

"Obviously, that completely negates the benefits of lush grassland,� Dicus said.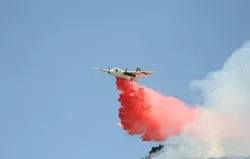 PHOTO BY JESSE ACOSTA
BOMBS AWAY : A CDF bomber dropped a payload of fire retardant compound on a field of wildfire fuel on June 23.
# Generally speaking, only a very small percentage of grassland fires actually rage out of control, but the possibility of disaster lingers. Other, more-spontaneous developments in the western forest ecosystem greatly enhance the opportunity for peril.
Sudden Oak Death—a condition proliferated via a fungal pathogen—can kill an infected tree in days, transforming a healthy forest into ready fuel. The disease recently pushed into the Willow Creek watershed, 13 miles north of the SLO county line.
"The pathogen creeps and sometimes
it leaps,� said USDA forestry scientist Susan Frankel. "The leaps we really
don't understand.�
"There's nothing physically that could stop it,� Willow Creek project manager Wally Mark added of the disease's southerly march. "We're trying to halt it at Willow Creek but we're not sure if we can.�
Live oak patches sit in the hills east of Cambria, intermingling with the pine at points to create a mixed-evergreen forest highly susceptible to fires.
Also, several species of bark-damaging beetles, already present in Cambria's Monterey pine forests, can strip weaker conifers of their armor, leaving the tree susceptible to insect infestation and disease.
"When this happens, you basically get a dead tree,� Anderson said. "Even within a 10- to 20-acre patch, if you get a fire, it will generate so much heat that, no matter how healthy the trees around are, they're still gonna burn.�
Ironically, a tradition of efficacy presents another problem. California's historic response to the threat of megafires is to provide quick and comprehensive emergency response—a West-wide policy raised from the ashes of the Great Idaho fire of 1910.
Yet, the rapid response time exhibited by local firefighters in garroting the fire on Cuesta Grade and the Wagnerian effort in New Cuyama both illustrated a long-established policy arguably as destructive as the fires themselves. Some forestry scientists believe that the western zest for stomping out fires inadvertently disturbs the forest's ebb and flow. Thoughts on how to cope with the underlying problem differ among professionals, but one frightening conclusion remains universal: In some places, fires prove simply a part of the natural order.
"Everything in San Luis Obispo County was designed to burn,� Dicus lamented.
In Cambria, for example, turn-of-the-century photos reveal a clear forest floor with Kevlar-like trunks of healthy pines sprouting up in uniform columns. Without natural purging by brush fire, dangerous ladder fuels can provide a fire access to the canopy and pull life-giving soil moisture away from the mature pines. Chumash tribes traditionally lit fires to aid the cleansing process. Modern Californians, suffice it to say, do not.
But, at this point, the discussion is largely academic. Allowing burns to rage unchecked would trigger a loss of life and property of an unimaginable magnitude. It seems, once again, that oversights of the past bind the options of the future. So CDF officials instead concentrate on quick emergency response, prompt residents to remove fuel stores whenever possible, and endlessly contemplate the what-ifs.
"We're always speculating. What if this happened? What if that happened?� Anderson said. "We're always in the process of mitigating and preparing for a disaster.�
Ultimately, however, the onus passes to community planners and policymakers to make their areas of influence less conducive to wildfire. History testifies to the fact that it's difficult to forget leaders who played a fiddle while their cities burned. ∆
Patrick M. Klemz can't play a fiddle or a drum, and prefers the safety of a concrete jungle. He can be reached at pklemz@newtimesslo.com.