Though her recent work as a painter has dealt primarily with the two-dimensional, artist Rebecca Koury is no stranger to working outside of a flat canvas. When she first received her formal art education, sculpture was her focus.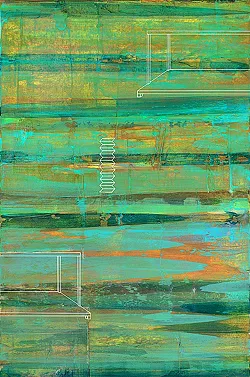 Images Courtesy Of Rebecca Koury
OCEAN HUES Coordinates, by Central Coast artist Rebecca Koury, draws inspiration from the ever-changing and evolving nature of the ocean. The white outline overlay also asks viewers to think about movement and change.
"I was kind of a maniac," she said of her early career. "I was in the studio all the time, working late nights, getting there in the early morning. I was just full of passion."
Today, the Carmel-based Koury finds herself drawn to the canvas. But her newest collection, Ocean Dreaming—set to display at COAST Big Sur from Aug. 23 to Sept. 27—finds influence from her past as a sculptor.
"Painting is usually a flat surface, although mine are very textural," Koury explained. "I think of them as being dimensional because I am creating layers and textures, and some metaphoric symbols are in there."
Koury's paintings are bright, moving, and lively, yet they also maintain something unequivocally calm about them. Coordinates blends bright aqua-blues and greens in horizontal layers on the canvas. Sporadic splashes of brown and orange make the vivid colors feel grounded in earth, evoking natural images like tree bark or the ordered chaos of the ocean. Stark, white outlines of unfolding paper and platform-like structures provide a representational and orderly contrast to the abstract, kinetic background.
The folded paper-like image, which appears consistently across the works in the Ocean Dreaming exhibit, is symbolic for Koury. In Unfoldment, a series of paintings featured in Ocean Dreaming, the image unfolds across the canvas, concertina-like, from one work to the next, creating a literal and figurative thread across the series.
"When I started the Unfoldment series, sometimes I don't know why I am getting these images, but I just go with it," she said of the geometric pattern. "For me it was all about the unfoldment of life and how we grow and expand as human beings."
Koury also finds her recent work influenced by symbols in ancient Japanese art.
"There are those platform-looking images. Those platforms are elevating. They're moving through time and space," she said. "It's about consciousness, and growing. If you look at the structures that are painted in ancient Japanese screens, they look like that."
But underlying these repeated images and symbols is always nature, Koury said.
"I relate to the natural world so well because it's tactile," she said. "Living here on the Central Coast, everything here is so dramatic. I am just looking at my window right now, looking at these amazing cypress trees—they're so textural and tactile to me."
While Koury said she chooses to remain largely apolitical with her art, she emphasized that human destruction of the natural world does influence the message she hopes to put out with her work.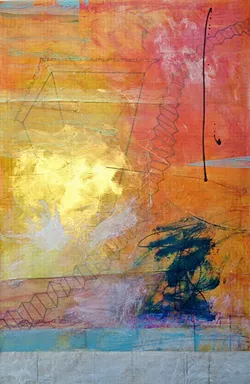 Images Courtesy Of Rebecca Koury
ALWAYS IN MOTION Unfoldment #2, part of the Unfoldment Series by Rebecca Koury, depicts movement on the canvas.
"With the show that's occurring at COAST, we've called it Ocean Dreaming. I thought, what am I dreaming?" she said. "I am dreaming of a beautiful, healthy ocean. That to me is what this is about."
As she looks to the future, though, Koury anticipates that certain changes to the environment could push her art in a more political direction.
"I've always said, if they put oil rigs here, as they did in Santa Barbara, I am certain that I would make a stand," she said. "It's so valuable; this is our home. It's a closed system. There's no planet B, this is it. That's how I look at it. Is my work apolitical? Currently it is. However, I choose to view Ocean Dreaming as dreaming of a beautiful, healthy ocean in response to pollution of the ocean."
What keeps Koury motivated as an artist is the way others interact with her art.
"That's truly where the magic is: when people respond and purchase my work, and I know that it's going to the home where it needs to be, where it's going to live and be appreciated," she said. "I believe that art is a healing tool."
Koury also said that she wants her work to be accessible to all, even for those who don't have a background in art theory and history.
"If it touches them, moves them, inspires them, that's the ticket," she said. "There's so much of ourselves that's dimensional that we don't tap into. I think that art can do that for us. Nature and landscapes also can do that for us. I think it touches us and we don't even realize it on a conscious level."
It's that subliminal and implicit side of art appreciation that has moved Koury for as long as she can remember.
"When I grew up, my dad had art books ... and I was brought to tears," she shared. "I was moved by the beauty; there was something it in that moved me. That's what it's about. It's about a feeling." Δ
Arts Writer Malea Martin is unfolding in the ocean. Send comments or arts story tips to mmartin@newtimesslo.com.