Full disclosure: I am a millennial that spends her hard-earned cash on concert tickets.
I have to say a good chunk of my cash throughout the year goes to seeing bands, singers, and artists perform. Nothing beats the rush of standing in a crowd singing to a song in unison with who knows how many thousands of people.
My about 200 bucks was well spent at the Camp Flog Gnaw Carnival on Nov. 10 to 11 in Los Angeles. Never heard of the music festival? I'm sure you've heard of Coachella, Electric Daisy Carnival, or Outside Lands Music and Arts Festival. Camp Flog Gnaw is nothing like the rest, and it's arguably one of the best music festivals I've been to (I haven't been to many; I'm not exactly loaded with cash).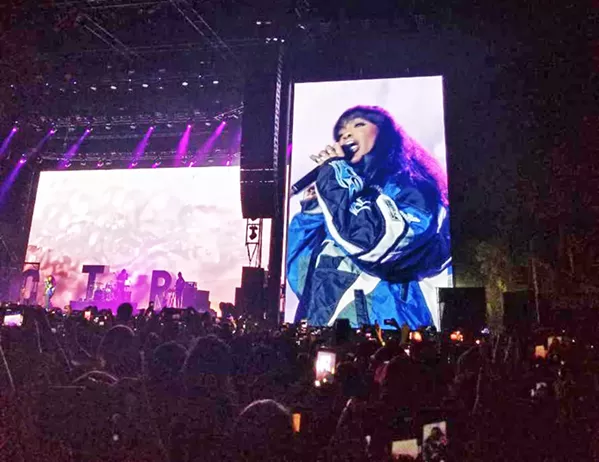 Photo By Karen Garcia
MUSIC TO ALL EARS My current music obsession is SZA. She's created an album, Ctrl, that sincerely encompasses coming of age in your 20s. I can listen to her on repeat.
The music festival and carnival is the brainchild of Tyler, The Creator. The event started in 2012 as a showcase for Tyler's musical group, Odd Future. Although Odd Future hasn't collaborated on new music since 2011, many of its members have moved on to create solo albums. Tyler and members from Odd Future garnered attention as a rambunctious group performing concerts complete with mosh pits and stage diving.
Tyler has definitely grown from that kind of eccentric performance, but he's still the odd man out from a crowd of rap, hip-hop, and pop-stars that all move on the same conveyor belt to the top of the music charts.
Camp Flog Gnaw emphasizes that originality, and it just feels so fluid. This is the sixth year of the festival, and new to the event is the location—Dodger Stadium. The festival is different in many ways, mainly in its setup. Scattered throughout the venue are carnival rides: a Ferris wheel, Cliff Hanger, swings, and Pharaoh's Fury. There are plenty of food trucks and food stands with tacos, Philly cheesesteak sandwiches, and traditional fried carnival treats.
What I noticed immediately was the younger demographic of the crowds of people that kept pouring in the venue. Maybe it was the youngsters or the entire vibe of the event, but it was very laid back. There wasn't any pushing or shoving, and it didn't feel crowded despite the huge attendance. It was a relief to walk around with friends and not feel pressured to rush to one spot or the next.
Photo By Karen Garcia
MUSIC AND FRIENDS What better way to spend some time than watching live music with friends (left to right: Karen Garcia, Adam Aslin, Johno Roberts, and Sam Chatham).
Something else worth noting: Camp Flog Gnaw is populated with kids covered in Golf or Golf Le Fleur merchandise. It's Tyler's brand that consists of bold colors, the stitched letter "G" on baseball caps, cardigans, and boat hats. I guess some people call it street wear and it reminds me of a spin on simple golf clothes your grandpa might have worn in the '90s. It's inspiring to see a young adult's vision come to life in the event and on people's clothes. Mind you, Tyler is only 27.
Now to the good stuff: the music. It's a nice mesh of R&B, pop, and alternative genres. There are two competing stages in the venue with plenty of fresh faces and end-of-the-night headliners. It makes the decision of who to see really difficult, but a few of the performers were no-brainers to me: The Internet; Flatbush Zombies; Jorja Smith; A$AP Rocky; Post Malone; and Tyler, the Creator. Aside from seeing Tyler, there are three performances that really stuck out to me: SZA, Kids See Ghosts, and Ms. Lauryn Hill. Yes, you read that correctly, I saw the infamous Ms. Lauryn Hill, who cancels or does not show up to her scheduled performances. Maybe her appearance was on account of The Miseducation of Lauryn Hill turning 20 years old, or that Camp Flog Gnaw is actually a great festival to be a part of. I will admit she was about 35 minutes late to her set, but it was worth the wait. Δ
Staff writer Karen Garcia is remembering back on the boogie when the cats used to harmonize at kgarcia@newtimesslo.com.