Five and a half years ago, Egyptian-born Central Coast resident Ahmed Fahmy made a mistake.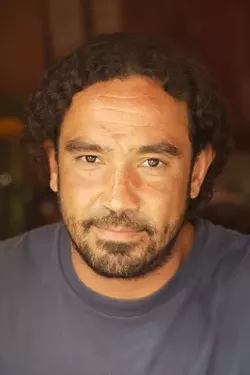 FILE PHOTO
SQUARE WITH THE HOUSE : Ahmed Fahmy paid his dues, but nonetheless found himself back behind bars in a detention facility while federal attorneys mulled over his past.
# A county judge had adjudicated and dismissed prior misdemeanor charges weeks before, but ordered the Morro Bay man to stay out of bars and away from any illegal activity while the case went under wraps. However, on April 8, 2001, police arrested Fahmy, a medical marijuana patient, along with a friend, who wasn't, and charged both with possession.
The case against Fahmy fell apart under further scrutiny. Regardless, the judge mandated a 10-day disciplinary sentence simply for Fahmy's landing back in court. He had served his time by the fall of 2001 when 3,000 miles away on Manhattan Island the case violently changed lanes.
Progress on Fahmy's bid for citizenship effectively stalled following the 9/11 terrorist attacks. In the winter of 2004, Homeland Security filed a request with San Luis Obispo County for the man's records. Within months, he would become the subject of an immigration manhunt on account of an overstayed visa.
With help from two local police departments and the District Attorney's office, Department of Homeland Security Immigrations and Customs Enforcement (ICE) agents twice appeared with a federal immigration warrant, looking to detain him. One spring day in Morro Bay, law enforcement misapplied the warrant and went knocking on the door of his separated wife while Fahmy visited their children. A lengthy standoff ensued, and the raid party went home empty-handed. Not long after, county judge Ginger Garrett struck down an effort to bring Fahmy into court to face charges for allegedly resisting arrest outside of a downtown nightclub. An ICE agent, not a judge in good standing, signed the warrant for him to appear.
Eventually, Fahmy stopped running, hired immigration lawyer Aruna Sury of the Robert Jobe Law Firm in San Francisco, and turned himself in. Deputy district attorney Eric Dobroth subsequently dropped the misdemeanor charges and handed the whole matter over to ICE, which launched its own investigation.
Meanwhile the incarceration.
On July 18 of this year, Homeland Security shipped Fahmy off to Mira Loma Detention Center in the high desert of Lancaster. There, for a month, he remained under the authority of Homeland Security and the supervision of the Los Angeles County Sheriff's Department.
The law enforcement agency forged a contract with the now-dissolved Immigration and Naturalization Services in 1996 to house alien detainees then primarily Latino at the facility. Patriot Act legislation later rebuilt the immigration control body into the leviathan known as ICE and, as a result, operations at numerous detention centers flourished.
Mira Loma today contains 15 barracks, each holding a capacity of 64 inmates detained strictly for immigration processing. Administrative officers declined to disclose the contract specifics, but the most recent public documents from 2004 put the revenue for 839 inmates at $27.8 million roughly $2,760 per head, per month.
An anomaly in San Luis Obispo, Fahmy found like company at Mira Loma. Some inmates held felony convictions. Others had little more than traffic violations on their record. Still, all like Fahmy had served their time or paid their fines, but remained in custody while ICE contemplated the timeframe and manner for their deportation.
A relieved Fahmy, who half expected to land in a domestic version of Gitmo or Abu Ghraib, discovered more bureaucracy and apathetic shrugs than firehoses and windowless interrogation rooms. Not hell on earth, but more like a month-long vacation at a DMV office lined with bars and razor wire, Depeche Mode looping on the sound system.
Every item or service request required a proper form, filed with Inmate Services. Product options proved to be extremely limited, as was access to disposable income in the meticulously controlled consumer environment.
Product punch cards and Scantrons. Pricy and entirely pop-filled vending machines. Trop cher AT&T calling cards.
"It was like military summer camp," Fahmy recounted.
Another disturbing aspect of life in Mira Loma that Fahmy discovered long before he arrived in Lancaster: uncertainty. With no stated term of sentence, the length of his incarceration lingered in agonizing doubt. One month? Two years? Stories of lengthy stays at the facility surfaced in several Southern California publications starting in 2004. Last fall, a noisy sit-in in the courtyard of Mira Loma drew television helicopters from all over greater Los Angeles. The cause: inmate frustration over sluggish ICE processes and delay tactics employed by federal attorneys.
DHS spokesperson Virginia Kice stated that the department took special action to communicate with the disgruntled detainees and expedited their cases after the demonstration.
Detainees often claim that Mira Loma also lacks the ICE presence to keep prisoners informed of their status, augmenting the element of uncertainty. Further built up by the strain, tensions in an already volatile ethnic amalgamation can reportedly trigger incidents over relatively minor issues. Fahmy reported that a period of full lockdown occurred almost every night at Mira Loma.
"We don't have the racial issues of a regular prison," retorted Mira Loma administration officer Sgt. Martha Grijalba. "Why would the inmates want to negatively impact their status?"
Rather than languish in detention, many Chicano detainees simply sign the deportation papers and scurry back later in the year often boasting of their intent, according to Fahmy. For those in the intercontinental primarily non-Latino cluster of barracks, deportation means a mandatory decade of exile followed by the near-impossibility of ever attaining another work visa.
In Fahmy's case, this scenario would likely permanently sever ties with his children, not to mention set in motion potential ramifications of returning to Egypt a state blacklisted by Amnesty International for human rights abuses accompanied by a negative report.
Some detainees sign anyway to avoid a long and costly fight. Many others take a government deal and turn informant, reportedly weaving fables in the local Arab and Persian communities, as revealed earlier this month by reports in the Los Angeles Times. Others sit patiently and wait for their day in court.
"They look to wear you down with all this bureaucracy to get you to just give up and sign your deportation papers," Fahmy said. "In the meantime, you default on your loans, you lose your house, and you lose your car. If this were happening to everybody, there would be revolution."
Fahmy reported that he already drained his entire inheritance on fighting the process.
Earlier this month, an immigration judge set bail at $5,000 to allow Fahmy to tend to his son's poor health. Homeland Security responded with a block that superseded the judge's jurisdiction. It looked as though Fahmy's stay at Mira Loma could easily extend another nine months as his attorney, Sury, prepared a lawsuit. However, on Aug. 18, the block motion crumbled under the pressure of pending litigation and the bail bond payment suddenly went through.
Fahmy often points out that his situation actually proved rather fortunate, as his stay in immigration processing lasted a mere month not the standard case with Mira Loma detainees of Middle Eastern descent. Among a laundry list of stories, he recalled a group of Lebanese-British dual citizens who witnessed their cases stalled by federal attorneys following the skirmish between Israel and the Lebanese Shiite proxy Hezbollah.
"They told them they needed to get security clearance before sending them back to London," Fahmy explained. "These things are an insult to the citizens of the world."
Staff Writer Patrick M. Klemz can be reached at pklemz@newtimesslo.com.