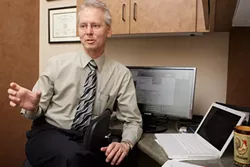 PHOTO BY STEVE E. MILLER
NUMBERS SCHMUMBERS : South County oncologist Dr. David Palchak doesn't see evidence of a significantly higher cancer rate in SLO County, despite statistics that might indicate otherwise.
B
etween 2003 and 2007 a person living in SLO County was more likely to develop cancer than they would in all but one other county in the state, according to the California Cancer Registry. During the same period, the county had the eighth highest rate of invasive cancer—cancer that spreads into healthy tissues. Why? The answer is uncertain, but some authorities contend it's the population, not the environment.
SLO County glares as a giant red blotch in a sea of calm yellow and light orange on a Cancer Registry map that color codes California counties according to a terrorism-like scale ranging from cool yellow (low cancer rates) to red (high rates). The registry's numbers are age-adjusted; in other words, the data are compensated to remove age as a factor among counties.
Between 1991 and 1995, SLO County also had the third highest age-adjusted rate of prostate cancer in the state, according to the California Department of Health Services.
Dr. John Morgan, a Cancer Registry epidemiologist, doesn't hit the panic button quickly and doesn't give much weight to the raw numbers. According to Morgan, there are a myriad of factors that might warp the data and make SLO County appear to have a high cancer rate. For one, he said, it doesn't make sense to lump the statistics for all types of cancer together. He thinks SLO County has a high cancer rate not because of environmental factors but because of demographics.
"It's not where you live," Morgan said. "It's who lives where."
In other words, if you live in SLO County, you're more likely to get cancer, on average. But if you lived anywhere else in the state, you'd probably be just as susceptible. Morgan explained that non-Hispanic whites have one of the highest incidence rates of invasive cancer than other racial groups in California. SLO County has a high population of non-Hispanic whites compared to the rest of the state—therefore the appearance of a high rate of cancer.
When SLO County and indeed the Tri-County area—SLO, Santa Barbara, and Ventura counties—is analyzed based on monochromatic, undissected incidences of cancer, the risk on the Central Coast is higher than the statewide rate (451.2 incidences of invasive cancers per 100,000 people versus 433.6 incidences per 100,000). However, when it comes to all invasive cancers—lung, colon, breast, prostate, and pancreas—non-Hispanic whites were most at risk in California.
Dr. David Palchak, a certified oncologist who's worked in the South County since 1994, shrugged that if you poke around enough in cancer data, sooner or later there might be something that looks worrisome. He turned to his laptop and punched in a quick Internet search for cancer incidences based on blood type. Sure enough, he found an article linking certain cancers to certain blood types. "Then there's the 'what are you going to do about it?' question," Palchak said.
Morgan stressed the local numbers don't necessarily indicate a higher cancer rate due to environment but instead a population intrinsically at higher risk.
There was an effort to further analyze local cancer incidences in 2001 when an independent group including the Environmental Center of SLO County reviewed cancer rates by Zip code and concluded there was a higher rate of prostate cancer in Arroyo Grande, said Pam Heatherington, now chair of the SLO County Health Commission and formerly of ECOSLO. However, "the study was debunked," and later retracted, County Epidemiologist Ann McDowell said.
But Heatherington argues the results were too quickly cast aside by epidemiologists, who claimed the high rates merely reflected an elderly population. Even now, years after the study, Heatherington sounds frustrated by the quick snubbing she and other researchers received from health officials. Unfortunately, she said, there haven't been further studies on local cancer rates.
"I remember distinctly that the Zip code statistics were more eye opening than I had ever seen," Heatherington said. She went on, "We hit so many brick walls about people explaining away any increase that was evident [in the data]."
Asked about the lack of area-specific studies, Morgan thinks there's really no reason to analyze further.
"Where do you go from here?" he said. "We have not found a problem. We have not found a cancer excess. We have found an excess of non-Hispanic whites, and I don't see that as a problem."
Staff Writer Colin Rigley can be reached at crigley@newtimesslo.com.