Imagine being a small, local farmer and being asked to pay $1 million in taxes for a single acre of a single crop.
It's a hypothetical future that Jason Callum warns could be a reality for local marijuana growers in San Luis Obispo County.
"I don't know any other agricultural farmers that have to pay those kinds of fees," Callum, president of the SLO chapter of the National Organization for the Reform of Marijuana Laws (NORML), told the SLO County Board of Supervisors at a Jan. 24 meeting.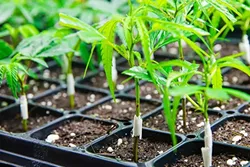 PHOTO BY JAYSON MELLOM
A SEAT AT THE TABLE: Cities and counties across California are looking to regulate and tax marijuana, and consulting companies and local growers are battling to have a say in the burgeoning industry's future.
Callum attended the meeting to urge the board against approving a $25,000 contract between the county and HdL Companies for consulting services related to developing land use, permitting, and other regulatory ordinances for marijuana. Despite the company's landing similar contracts in cities and counties across California, Callum and other growers had serious reservations about the company and the influence it might have over how marijuana would be regulated and taxed in SLO County.
According to the company's website, HdL has worked with 12 California cities to develop marijuana tax ballot measures and advised another 22 on a variety of marijuana-related issues and ordinances.
"Our professional team has direct experience with the establishment and implementation of both medical and retail marijuana regulatory programs," the HdL website stated.
A major part of Callum's concern was that HdL would advocate for $15 to $25 per square-foot tax on marijuana cultivation—similar to a tax voters approved in Monterey County, which consulted with HdL. Callum believed such taxation would be a heavy burden on local growers.
Claire Mamakos, SLO County NORML's lobbying director, raised similar concerns. She said she came to the meeting on behalf of the many growers who came out of the shadows to register their operations with the county, growers who were concerned about HdL having too much influence on future policies. She urged the board to take a harder look at HdL.
"Trust but verify," Mamakos said. "Our county is ripe for the plundering."
Assistant County Administrative Officer Guy Savage tried to reassure the Board of Supervisors, stating that HdL was one of two consultants being considered and that HdL's role would be "limited in scope" and not extend to taxation of marijuana.
"We're not focused on taxation," Savage said. "We're focusing on the permitting process."
Savage's argument wasn't enough to sway the supervisors, who voted 5-0 not to approve the contract, though they remained open to staff brining it back at a later time.
"There's a lot of questions out there," 1st District Supervisor John Peschong said.
The board did approve a $10,000 contract with another cannabis consulting company, SCI. Speaking to New Times, HdL's principal David McPherson touted his company's experience over SCI's and warned that poor decision making on marijuana regulations by a county or city could come back to hurt them in the future.
"What you do today … will shape the community," McPherson told New Times. "You can't turn that tank around once it's there."
While the county may have cooled its heels on HdL, the company has done business in the county. Records obtained by New Times indicated that the company was hired as a consultant by the city of Grover Beach. City Manager Matthew Bronson said the company helped the city draft an ordinance for regulations and permitting medical marijuana-related businesses in the city.
"HdL is one of the statewide leaders in working with local governments in developing medical cannabis ordinances," Bronson said. "Given that Grover Beach is a leader in this area, we wanted to work with HdL."
Bronson said that HdL did not have a role in the development of a tax on medical and recreational marijuana that voters approved in November 2016.
In addition to helping develop marijuana taxation and permitting ordinances, HdL also offers cities assistance with enacting those processes, such as forensic accounting and compliance reviews for marijuana-related businesses seeking permits.
The prospect of a company that both helps write and implement ordinances concerns Callum.
"That becomes a big problem, because not only are they implementing the program, but they are the gatekeepers for the permits," he said.
Bronson said that, currently, Grover Beach viewed HdL primarily as a consulting group, though he was aware of the other services it offers. Whether the city will also seek to use those services would rest in the hands of the Grover Beach City Council.
"No decision has been made," Bronson said. "Ultimately, we would seek to share those ideas and get the council's direction."
Staff Writer Chris McGuinness can be reached at cmcguinness@newtimesslo.com, or on Twitter at @CWMcGuinness.