In a gentle, short-and-sweet video address, Congresswoman Lois Capps has announced her retirement.
"I'm proud of the work that we've done together here on the Central Coast—to improve education; to expand health care; to support businesses and our veterans; to protect the environment and agriculture—and I've been so humbled and honored that you would trust me to be your representative to Congress," Capps said in the video statement, released in the morning of April 8. "But now I believe it is time to return home, back to the community and family that I love so much, and so I'm announcing that this 114th Congress will be my last, and at the completion of this term, I will retire."
The announcement sparked a wave of news coverage that highlighted her accomplishments and inevitably curled into a focus on the list of contenders—both official campaign announcements and word-on-the-street rumors—who will seek the to-be vacant seat in the 2016 election.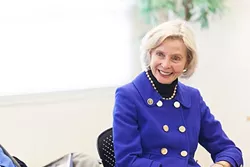 PHOTO BY KAORI FUNAHASHI
MAKING THE ROUNDS: After announcing that she'll retire after her current term, Congresswoman Lois Capps toured the Central Coast to highlight several issues she has worked on during her tenure. Here she's seen attending a discussion about a SLO County Health Department pilot program that studies the public health impacts of climate change.
Capps, 77, has represented the 24th Congressional District since early 1998 after winning a special election for a seat left vacant when her husband, Walter, died of a heart attack on Oct. 28, 1997, at 63, after serving only nine months of his first term. Capps—a retired nurse and public health official—said in the video that she decided to fill her late husband's seat in order to continue his Jeffersonian goal that intended "to restore the bond of trust between the people and their government."
For several years Capps has been named "the nicest member of Congress" by the Washingtonian's annual poll of Capitol Hill staffers—an award many Central Coast constituents have found fitting. In representing her district, which includes all of San Luis Obispo and Santa Barbara counties and part of Ventura County, Capps has worked on a widespread collection of legislative issues that include veterans' support; coastal preservation and continued efforts to block new offshore oil drilling; seismic safety studies associated with the relicensing of Diablo Canyon Nuclear Power Plant; Farm Bill provisions that address organic farming and research and specialty crops; panga enforcement; clean energy; and gun violence protection, to name a few. Capps was also a co-author and mainstay proponent of the Affordable Care Act.
In recent years, Republicans have placed a target on her back, marking the district as a battleground for their quest to get control of the House of Representatives. They're now even more focused on the seat.
Capps faced her closest election in 2014, narrowly edging out Chris Mitchum, a retired actor and self-described Reagan Republican, by 4 percent. The end of that campaign was marred by an attack ad placed by the Capps campaign and the Democratic Congressional Campaign Committee (DCCC), which took a quote from Mitchum in a video out of context, purporting him to say that he wouldn't represent the district. Mitchum filed a lawsuit against Capps and the DCCC, asserting on his website that: "They are responsible for maliciously, knowingly, and improperly manipulating my digital image and audio message so as to distort and destroy the public's accurate perception of my campaign and message and its positive support for my candidacy."
The election occurred amid ongoing fallout from a fatal hit-and-run perpetrated by then-district-representative Raymond Morua. In the early hours of Dec. 6, 2013, Morua, then 32, was on his way home from a holiday party hosted by the Santa Barbara Independent when he struck popular downtown bartender Mallory Rae Dies, 27, while she was crossing the street. Morua, who fled the scene and was later identified by witnesses after crashing into a palm tree, was found to have a Blood Alcohol Content level of .17, more than twice the legal limit. Five days after the accident, Dies was taken off of life support and succumbed to injuries sustained from the accident. The Santa Barbara County Superior Court found Morua guilty of several charges, including manslaughter and hit-and-run, resulting in a 20-years-to-life sentence.
The question of whether Morua was or wasn't representing Capps at the party became the subject of a Department of Justice inquiry and an eventual $2.5 million wrongful death settlement between the department and the Dies family.
Before Walter Capps was elected in 1996, Republicans held the district—formerly the 22nd Congressional District—for 47 years. The district has since been reshaped a few times, with the most recent incarnation being gerrymandered in such a way that gives a slight Democratic voter advantage.
A handful of contenders are already vying for the vacant seat in 2016. So far, the pack is made up of early announcements from Santa Barbara-area candidates.
Santa Barbara Mayor Helene Schneider, a Democrat, wasted no time, announcing her candidacy just hours after Capps' announcement. In a Facebook post, Schneider praised Capps for being a "tireless champion" who put the needs of the 24th District first.
That evening, Justin Fareed—the only Republican publicly interested thus far—threw his hat in the ring. Fareed, a Santa Barbara native who's a businessman and rancher, ran in the 2014 primary—when he lost to Mitchum by only half a percent—at age 25. Fareed didn't speak of Capps' tenure, but did say on Facebook that "the Central Coast needs a new leader that will stand up for us in Washington and I am excited for the challenge and opportunity."
The next afternoon, on April 9, Salud Carbajal, a Democrat and Santa Barbara County's 1st District supervisor, announced he'll seek the seat. Carbajal said Capps did well for the district, bringing in funds for infrastructure improvements and being a strong advocate for higher education and health issues.
As this article went to press, rumors were swirling about whether a few would-be heavyweight contenders will enter the race, including State Assemblymember Katcho Achadjian, who will term out in 2016 after serving his third term as the state's 35th Assembly District representative (SLO County and Northern Santa Barbara County), and Laura Capps, the congresswoman's daughter, who served as a speechwriter for President Bill Clinton.
On April 17, Achadjian officially announced his candidacy during a press conference at the Santa Barbara County Courthouse.
While the spotlight may begin shining on the question of "who's next?" Capps, who made the announcement early in her final term in order to give the candidates plenty of time to prepare, said she isn't yet finished fulfilling her service.
"I am very much looking forward to our final 22 months together in public office," Capps said in the video statement. "There is a lot of work to do, and I promise you that I will serve with as much energy and enthusiasm and passion on my last day of office as I had on my first."
In closing, Capps thanked her constituents: "I will forever be grateful that you have allowed me to be your voice in our nation and here on our Central Coast in California. Thank you from the bottom of my heart."
Contact Staff Writer Jono Kinkade at jkinkade@newtimesslo.com.
-- Melody DeMeritt - former city council member, Morro Bay