photo by Steve E. Miller
DISTRICT 1, HARRY OVITT: 2007 grants of $1,000 and more: Paso Robles High--Sober Grad. Night, $1,500 Friends of the Adobe, $2,000 Templeton CSD--Summer Concerts $2,664 Atascadero Wine Festival $1,500 San Miguel Resource Connection $1,000 SLO Mozart Festival $2,500 Templeton 4th of July Committee $1,000 Latino Outreach Council $1,000 Mid-State Heritage Foundation $1,000 Lifestyles Recovery Center $1,000 Atascadero Loaves and Fishes $1,000 Paso Robles Pioneer Day $1,000 United Service Alliance-Heritage Ranch $2,000 San Miguel Advisory Committee $1,000 Source: SLO County Board of Supervisors
# Imagine if on July 1 of every year someone gave you $26,000 with only one major string attached: The money could only be given to nonprofit groups.
If that scenario sounds intriguing, it's a reality for members of the SLO County Board of Supervisors, who, as part of their jobs, are each given control of a bit more than $26,000 in public funds every year. With inflation, the money will be $26,038 this year.
Supervisor Jim Patterson, along with others who have held the job in the past, kicks in extra money from pay raises he's deferred. And in one 2004 case, money from a legal settlement with the Albertsons grocery store chain ended up in the funds as well.
The program is called "District Community Projects Grants," and it's one of the few avenues that individual county supervisors have to essentially control the spending of public money. Checks for amounts larger than $1,000 technically need board approval, but longtime staffers can't recall an instance when it wasn't given.
Although most of the money is spent in small amounts, there's no limit. In one case, a supervisor wrote a single check for $25,000, and in another a supervisor leaving office drained her account, spending $30,000 in weeks.
Conceptually, the program is a throwback to days when political offices were expected to come complete with some walking-around money that could be spent to appease various constituencies.
Still, this isn't a story of scandal. By all accounts, the modern version comes with all i's dotted, t's crossed, and proper channels followed.
But when it was described to him, Cal Poly Political Science Professor Mike Latner said the fund, not unlike a U.S. Congressperson's power to send mail for free, is an example of a political advantage that goes to an elected official but not a challenger.
"I can't imagine there not being a political benefit to an office holder from spending money on constituents, even if it's only symbolic," he said.
To get the cash, government-certified nonprofit groups, and in some cases local government groups themselves, submit a multi-page application describing exactly how the money will be spent. The money is intended to fund one-time projects. Programs that already receive county funds through the usual budget process aren't technically eligible, although exceptions have been made. The supervisors also use the money to fund advisory groups in their districts.
At least in recent years, the SLO Mozart Festival has been perhaps the most regular recipient of supervisor grants. Though amounts vary slightly, the festival usually receives about $2,000 each year from each supervisor to benefit the festival's fringe festival concerts, which are held in communities across the county.
Curtis Pendleton, executive director of the Mozart Festival, said that the money has been crucial, making up nearly 15 percent of its fringe festival budget.
Every year, she said, the organization strives to make the case to supervisors that their donations will reap economic returns by helping position the county as a destination for cultural tourism.
For next year, she hopes supervisors' donations increase.
"We greatly appreciate the funding we are getting, but we could do so much more with more," she said.
According to county staffers, budget documents show the fund has its roots in a 1970s-era effort to share federal money with local government groups with no strings attached. Though that effort ended in the mid-1980s, the grants fund lived on.
Supervisor Harry Ovitt, who took office in 1989, said it was a fixture when he arrived.
According to the budget, the fund is intended "to fund projects for nonprofit groups and to provide operating expenses for advisor committees."
In an e-mail, SLO County Administrator David Edge noted that the purpose of the funds has to be something that the county considers a legitimate use for public funds, and he noted that generally the requests far exceed the amount of money available. Edge signs off on expenditures smaller than $1,000.
For this story, New Times requested documents showing how each of the supervisors spent--or in certain cases did not spend--the money they received, for each of the past five fiscal years.
Here's what we found:
District 1, Harry Ovitt
Ovitt, the longest-serving member of the board, represents a North County district that has Paso Robles as its center.
He's a conservative, and it shows in his spending in a literal way. More than any other member, Ovitt tends to conserve his funds, routinely carrying over large sums of unspent money into the new year. In the 2006-2007 fiscal year, for example, he carried over $18,597 in money that had gone unspent.
When he does part with the funds, Ovitt gives prominently to monuments and museums. Some of his largest donations--$5,000 to a Public Safety Monument for Paso Robles in 2003 and $4,000 to the Paso Robles Pioneer Museum in 2004--have gone that way. He also gives generously to area chamber of commerce organizations--collectively they are some of the largest beneficiaries of his grants--and local advisory boards, even ones that are outside of his district, like the Los Osos Community Advisory Council ($2,500 in 2007).
Along with virtually all supervisors, he also regularly supports the Mozart Festival's fringe concerts and other performing arts organizations. In 2004, he gave $5,000 to the Templeton Performing Arts.
Ovitt said one reason he doesn't always spend down all his funds is that he doesn't always get requests for all of it.
But another reason, he said, is that he never knows what the need will be in the future.
"You don't what the demand is going to be from year to year," he said. "I do always like to keep a reserve."

District 2, Shirley Bianchi and Bruce Gibson
Just about a year ago, Bruce Gibson took over the seat of this North Coast district that stretches from Cambria to the county line, from a retiring Shirley Bianchi.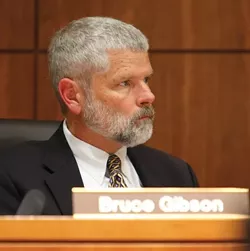 photo by Steve E. Miller
DISTRICT 2, BRUCE GIBSON: 2007 grants of $1,000 and more: SLO County Creek Day Planning Comm. $1,000 Los Osos Community Advisory Council $2,500 Cambria CSD $2,480 North Coast Advisory $1,925 SLO Mozart Festival $2,000 Cambria Parking Lot Fund $6,493 Source: SLO County Board of Supervisors
# In an interview, Bianchi said she remembers how board members took their grant-giving seriously, with each member showing clear preferences in their donations.
Bianchi's preferences included being slightly less generous with donations to various chamber of commerce groups, and being slightly more generous with what she called "people groups" than some of her colleagues.
"I figured, you know, if the business community is not going to support their own chambers, then that funding should go elsewhere," she said.
She also told a story of a gift that surprised the recipient. Up until four years ago, the board divided the grants into several funds. One was designated specifically for environmental-related gifts and another was intended for "visitors services." The money in those funds was eliminated if it wasn't spent by the end of the fiscal year, said Nikki Schmidt, the analyst who oversees the grant funds for the supervisors.
One year, Bianchi said, she realized late that she wouldn't be able to carry over several thousand dollars, so rather than lose control of the money, she added the entire amount to what she had designated for the last group that had asked--a Cayucos group that had requested a few hundred dollars for animal-waste pickup bags for the beach.
"They had applied for something like $300," she said. "I just added a zero. It just blew their minds. They said they'd never have to come back."
Schmidt confirmed: "They haven't been back since."
Among Bianchi's larger recipients were the SLO County Foster Parent Association ($2,400 in 2004) and Morro Estuary Greenbelt Alliance ($2,000 in 2004). And that year she gave the same to Cambria's chapter of the Land Conservancy.
Gibson, just finishing his first year as a supervisor, has been mostly about formal government business. Besides $2,000 to the Mozart Festival, most of his larger donations have gone to quasi-governmental efforts and advisory groups, including $1,925 to the North Coast Advisory Council, nearly $2,500 to the Cambria CSD for a summer concert series, and another $2,500 to the Los Osos Community Advisory Council.
But it's the smaller donations, which for all supervisors make up the bulk of the grants, that impress him the most.
"It's amazing to me how folks who are such dedicated volunteers, how they can make a small amount of money go such a far distance," Gibson said.

District 3, Peg Pinard/Jerry Lenthall
Sometimes the fund has caused hard feelings.
In the days before she handed off her seat to conservative Jerry Lenthall, Peg Pinard--who left in an unsuccessful bid for state Senate--went on what her successor viewed as a spending spree.
photo by Steve E. Miller
DISTRICT 3 JERRY LENTHALL: 2007 grants of $1,000 and more: Central Coast Senior $1,000 Nipomo Area Rec. Assn.--Kids Day $1,000 Judkins Middle School--Des. Imagination $1,000 SLO Mozart Festival $2,000 Latino Outreach Council $1,000 South County Youth Coalition $1,225 A.G. Harvest Festival Comm. $2,800 SLO County Creek Day Planning Comm. $1,000 A.G. High School Robotics Team $1,150 Source: SLO County Board of Supervisors
# In her final six weeks in office, Pinard spent more than $30,000, giving $10,000 to Friends of Price House and $9,000 to the Avila Beach Community Foundation in amounts marked for the Pale Kai Outrigger and Junior Lifeguard program. The rest was divided among the SLO Botanical Gardens, SLO County Youth Symphony, Music and Arts for Youth, and a handful of other arts and educational organizations.
Lenthall said her spending left him with a deficit of about $400--he said he had to borrow money from his peers to balance his budget--and had nothing to spend in his first six months before the beginning of the next fiscal year.
To Ovitt, that was beyond the pale.
"That's not right, in my mind," he said, noting that while he's likely to face a challenge this year, he doesn't intend to drain the fund before he leaves office. "Win, lose, or draw, I'll probably keep the balance somewhat the same."
Lenthall said he was inconvenienced by Pinard's spending--"Obviously I wasn't happy," he said--but suggested that any further comment be made by Pinard.
Pinard said she wasn't playing any games. She said Lenthall inherited an empty fund just like she did.


"Each supervisor is given the exact same amount of money for each year of their term," she said. "I spent no more than what was given to me."
Regardless, when he did receive his full complement of funds in July of 2005, Lenthall followed the same sort of conservative charitable path paved by Ovitt, spending just $15,000 of the money on such endeavors as a Central Coast Veterans memorial museum ($1,000), Cal Poly Student Life & Leadership ($1,000) and the Special Olympics ($1,000). He was even more frugal the next year, retaining half the funds into the current fiscal year. But so far in 2007-2008, he's loosened the belt some, spending grants of $1,000 or more on the Mozart Festival, Latino Outreach Council, Arroyo Grande Harvest Festival Committee, and the Arroyo Grande High School Robotics Team.
District 4, Katcho Achadjian
Contrary to his conservative brethren in Districts 1 and 3, Katcho Achadjian has given generously, expending most of his allotted funds in recent years. Compared to his peers, he's also giving relatively large sums to a relatively smaller number of groups. The Arroyo Grande Police Department's DARE program, the Nipomo Chamber of Commerce, the Oceano Advisory Council, and Latino Outreach Council were all recipients of grants $1,000 or more, as were various libraries.
In fact, Achadjian gave $25,000 to the Foundation for SLO County Libraries in 2004 in what was the single largest gift
photo by Steve E. Miller
DISTRICT 4, KATCHO ACHADJIAN: 2007 grants of $1,000 and more: Oceano Advisory Council $2,000 Central Coast Senior $1,000 Nipomo Area Rec. Assn--Kids Day $1,000 Judkins Middle School--Des. Imagination $1,000 SLO Mozart Festival $1,500 Friends of the Nipomo Library $1,000 Latino Outreach Council $1,000 South County Youth Coalition $1,225 A.G. Harvest Festival Comm. $2,800 SLO County Creek Day Planning Comm. $1,000 Nipomo Chamber of Commerce $2,026 A.G. High School Robotics Team $1,150 Source: SLO County Board of Supervisors
# available in the five-year database.
That gift came the same year supervisors ended up with a major bonus in their fund. In the 2003-2004 fiscal year, each supervisor got $18,380 dollars in addition to their regular allotment thanks to a legal settlement with the Albertsons grocery store chain that related to the accuracy of the chain's electronic checkout scanners.
Vince Morici, a county administrative analyst, said the entire settlement totaled nearly $800,000. A portion went to pay staff expenses for the investigation, another part went to a consumer protection fund, and the largest chunk went to the SLO County Community Foundation. But about $92,000 went to the community grants fund, Morici said, under the idea that it would be a way of getting the money back out to members of the community.
Achadjian said the $25,000 donation was part of an effort to leverage the extra Albertsons money to get a new library opened in Oceano.
District 5, Mike Ryan/James Patterson
When Mike Ryan was defeated by political neophyte Jim Patterson, Ryan didn't retaliate by spending down the grant funds. He left his successor with more than $10,000 in the 2004-2005 budget.
Although many of their recipients stayed the same--Atascadero Colony Days and Atascadero High School's Graduation Night, for example--other spending patterns changed. Money that had gone to various chamber of commerce groups stopped, and the single largest recipient in 2005-2006 was $2,000 to ECOSLO on behalf of SLO Green.
The Sierra Club, on behalf of Energy Solutions Coalition, was another new beneficiary, getting $1,000 in 2006.
Win-win for the supervisors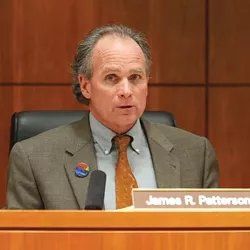 photo by Steve E. Miller
DISTRICT 5, JAMES PATTERSON: 2007 grants of $1,000 and more: City of Atascadero--Kids Day in the Park $1,000 SLO Mozart Festival $2,000 Atascadero Comm. Link $1,000 Atascadero Colony Days $1,000 Santa Margarita Lions CSA#23 Hall Rental $1,000 Source: SLO County Board of Supervisors
# To a person, the supervisors sang the praises of the program, noting that it has allowed them to help organizations in small but crucial ways with a speed and efficiency that would have been impossible under the county's regular budgeting program.
"It's much faster and less labor intensive," Lenthall said, emphasizing that supervisors in other counties have similar funds available to them and they work well.
Cal Poly political scientist Latner, however, noted that funds such as the community grants program come with rewards to the supervisors as well as the groups they support.
"It sounds like an example of an incumbent reward program," he said. "It allows incumbents to be important to their constituents in a way that challengers don't have access to."
---
Managing Editor Patrick Howe spent down his own slush fund on the parking meters in front of New Times' new offices. Contact him at phowe@newtimesslo.com.