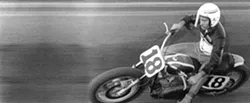 PHOTO COURTESY OF MERT LAWWILL
GRAND MARSHALL!: Mert Lawwill, a 1998 AMA Hall of Fame and 2012 AMA Legends Hall of Fame inductee, will preside as Grand Marshall at the 5th Annual Central Coast Classic Motorcycle Show on Oct. 12 at SLO's Mountainbrook Community Church.
If you dig old motorcycles as much as I do, you're not going to want to miss the 5th Annual Central Coast Classic Motorcycle Show on Saturday Oct. 12!
This year's Grand Marshall is the famed racer Mert Lawwill, the American Motorcyclist Association Grand National Champion of 1969, who was one of the top professionals on the AMA national circuit during 1960s and 1970s. He caught the motorcycle bug early.
"Eugene Theissen used to come to race in Boise once a year," Lawwill recalled in his bio. "He was the big pro in the northwestern part of the country and we worshipped the ground he walked on."
New Times conducted an e-mail interview with Lawwill, whose racing career ended in 1977, through he's still revered as a great champion. How does it feel being asked to be Grand Marshall at a show like this?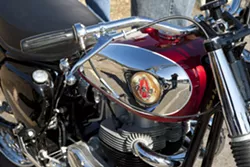 PHOTO BY STEVE E. MILLER
SEE BIKES LIKE THIS BSA!: In addition to BSAs, you'll see classic Triumphs, Vincents, Nortons, BMWs, Matchless, and more!
"I'm honored to be the Grand Marshall at this show," wrote Lawwill. "I think a lot of this is because I was respected as a complete professional racer and did a lot to help promote the sport of motorcycle racing."
Most newer bikes are safer, faster, and more dependable than old bikes, so why do the old bikes continue to fascinate us?
"I think the whole nation is in a bit of a 'retro' climate now, and we like to look back into the past so the old bikes still have a place in our memory."
Like any racer, Lawwill's been in some tight spots. What's the scariest thing that ever happened to him on a motorcycle?
PHOTO BY STEVE E. MILLER
JOIN YOUR FRIENDS: You like to talk motorcycles? So do these guys who attended last year's bike show!
"Back in 1971 at Daytona International Speedway, I blew out a tire and crashed at over 150 MPH. I felt much like a rock when you skip it across water. I hit the ground and bounced up and it was silent for a long time before I came down again, and that happened three times before I slowed down enough to be in constant contact with the ground. Then I remember turning my body around to different positions as I could feel the heat burning through my leather racing suit. Seemed like it took a week before I stopped sliding. Luckily, I only compounded my elbow and broke a wrist."
If he could have any bike ever built, what would he pick?
"There're so many good bikes available today I really don't have a special one in mind."
In his bio, he mentioned worshipping Eugene Theissen. What does he tell young riders who worship him?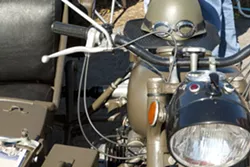 PHOTO BY STEVE E. MILLER
CUSTOMS!: You'll see bikes doctored up to look military, bikes that have customized into café racers, and more.
"I tell them to race only within their own safety zone and race without causing harm to any other racer."
After his racing career, Lawwill started into a new fledgling industry, designing mountain bikes:
"I got into building mountain bikes because I was already building racing frames for other flat track racers, and mountain bikes were just getting started back in the late '70s so it seemed a good thing to do. There is a plaque in the Mountain Bike Hall of Fame for me being the first assembly line maker of mountain bikes."
Will he be giving a talk while he's here?
"I haven't been asked to say anything yet, but if I were asked it would probably be about what I did to be in both the Mountain Bike Hall of Fame and the Motorcycle Hall of Fame."

BIKES! BIKES! BIKES!: The 5th Annual Central Coast Classic Motorcycle Show returns this weekend starting with a casual bike show at the SLO Farmers Market on Thursday, Oct. 10, then a ride and beach bonfire at Olde Port on Friday, Oct. 11, and then the main event, the bike show on Saturday, Oct. 12 at Mountainbrook Community Church for a $10 admission. You'll see dozens and dozens of classic bikes, have access to a bike swap meet, and be able to purchase barbecue.
Lawwill is a legend who's still giving back to the sport that made him famous.
"I am one of only four Hall of Fame members that are called 'Legends' in the AMA, but I'm most happy about the prosthetic hands and arms I make to get motorcycle riders who have lost a limb back on their motorcycle and be able to ride again."
Come meet this legend and see a bunch of great old bikes!
Glen Starkey takes a beating and keeps on bleating. Keep up with him via twitter at twitter.com/glenstarkey, friend him at facebook.com/glenstarkey or myspace.com/glenstarkey, or contact him at gstarkey@newtimesslo.com.