Take a stroll by the Jeff Claassen Gallery, on Morro Street in downtown San Luis Obispo, and you might just find something unexpected, an impromptu public art mural in layered shades of blue. Not to be outdone by the wall, the street-view window reveals jagged cut-outs strung across a line, like fish bones; they are, in fact, stencils created by Dan Woehrle—alias Stenzskull—whose work is on display at the gallery through Oct. 4.
In the four years that he has been patiently carving his stencils, Woehrle has never exhibited his creations before, with the exception of a group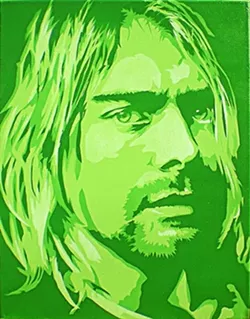 IMAGE BY DAN WOEHRLE
SMELLS LIKE GREEN SPIRIT :
show at Claassen's gallery last April. The title of his inaugural show, Cut & Paste, implies a degree of simplicity that evokes mental images of barnyard animal stencils at Michael's. But Woehrle, whose fondness for graffiti and hip-hop culture served as a gateway into the world of art, wields multi-layered stencils; his average piece is comprised of five, but he's utilized as many as 14 in a single piece.
"I had never been good at drawing or painting, or anything like that but I started getting into graffiti, and especially the Obey Giant campaign. That's what really started me into making stencils," he explained. "I just started making simple, one-layer stencils, things I liked or thought were funny, political messages. As I went on working with stencils I tried to make each piece better than the last one."
The majority of Woehrle's pieces begin on the computer, in PhotoShop, where he works to reduce a selected image into layers. From there, the various layers get printed onto cardstock, which he liberates with an exacto knife—a painstaking process. The creation of a single stencil requires anywhere from four days to a week's time, working three or four hours during the workweek and as much as possible on weekends. In addition to the fishbone stencil pieces, the front window features a stencil of Woehrle's cat, Ruca, in four stages of completion, a visual illumination of the layering process.
Cats—and an unexpected row of Meatwad incarnations (from Aqua Teen Hunger Force, for all you philistines)—aside, the bulk of Woehrle's work is
IMAGE BY DAN WOEHRLE
MORE OBEY :
comprised of portraits of famous musicians. Actually, he tends to select musicians that are a notch above famous and have entered iconic status, Bob Dylan, Kurt Cobain, Eric Clapton, and Bradley Nowell among them.
"They're people that I respect," said Woehrle. "You'll see two very different genres of music. The first is underground hip-hop. That's what I listen to now. Then, when I was growing up my dad was really into classic rock and folk music. I've grown up loving people like Bob Dylan. When I paint people it's not because they're dead that I do them, but a lot of them happen to be."
While searching online for photo-graphs that can be translated into stencils, Woehrle tries to avoid being derivative, seeking images that most people are not yet familiar with, such as photographs taken by a fan at a concert. For some musicians—Kurt Cobain, in particular—that simply isn't always possible.
Despite the thuggish visions that stencils and, particularly, graffiti, conjure, Woehrle is emphatic about the fact that he keeps his work within the boundaries of the law. It's not that he doesn't respect stencil and graffiti artists who showcase their work within public spaces; he just doesn't consider illegally showcasing his work worth the potential consequences. In fact, Woehrle's work is grounded in an internationally recognized street art tradition that boasts such figures as Shepard Fairey and Banksy as its leaders. Unlike these two influences, Woehrle has never created a manifesto for what he does, explaining that they have to justify their decision to produce illegal art whereas he simply abstains.
However, like his artistic predecessors, Woehrle's work does occasionally assume a political focus. At one point, he and a friend developed "garbage sale" signs listing the address to the White House and posted an estimated six dozen of them around SLO in an anti-Bush campaign. He reasoned that the signs weren't technically illegal graffiti because they could be easily removed and mimicked similar garage sale signs posted around town. More recently he has begun producing stickers supporting Barack Obama. In much the same way that his portraits of musicians are inspired by respect, his stickers are not intended to be a negative political commentary, but rather a show of support for someone whom he believes will make the world a better place.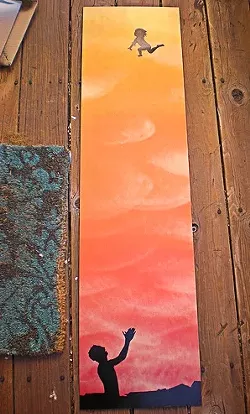 IMAGE BY DAN WOEHRLE
HIGH ACHIEVER :
In that respect, Cut & Paste is a remarkably simple show, an expression of affection for the figures that have enhanced and colored Woehrle's world, whether it be his cat, a cartoon character, a musician, or a politician. But the concept of layers should not be lost on anyone viewing his work. Whenever he stumbles across a stencil that's of a higher quality than his own, he works to unravel the process and technique that was used to construct it, always striving to improve his work. And San Luis Obispo seems willing to welcome the stencil artist into its artistic fold.
"After [the opening reception] different aged people were coming in here and saying 'Wow, this is a great change,'" said Woehrle. "We have so many people my age living here, if they gave us a legal graffiti wall I think people would love it."
INFOBOX: Stop & Go
Cut & Paste, a debut solo exhibition featuring the work of Dan Woehrle—Stenzskull—will run through Oct. 4 at the Jeff Claassen Gallery in San Luis Obispo, 1118 Morro Street. For more information call 391-0361.
---
Arts Editor Ashley Schwellenbach is street legal at least 40 percent of the time. Send random statistics to aschwellenbach@newtimesslo.com.