Blacklight poster collectors, lava lamp aficionados, and tie-dye loving fashionistas will have to shop somewhere else while investigators continue to figure out just what started a fire that gutted The Sub Dec. 26.
SLO firefighters we called out to the fire at the novelty shop in the 200 block of Higuera Street shortly before 11 a.m., when the blaze reportedly started.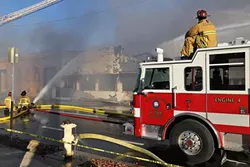 PHOTO BY DYLAN HONEA-BAUMANN
ASHES TO ASHES : SLO firefighters worked for hours to put out an aggressive fire that gutted a popular novelty store on Higuera Street Dec. 26. The cause of the blaze has not yet been determined.
"It appears the fire started near the front of the store," said SLO Deputy Fire Chief Jeff Gater.
Gater said the fire was very aggressive, due in part to the materials inside the building that fueled it. In addition to the merchandise at the front of the store, the fire hit an adjacent business, Square Deal Recordings and Supplies. The structure included both retail space and a warehouse and storage area in the building that housed cassette tapes, vinyl records, and CDs.
"It was a lot of highly combustible fuel," Gater said, adding that the building was originally built in the 1920s, heavily remodeled, and had a "challenging" floor plan.
SLO Fire Chief Garret Olson said the building was red-tagged by inspectors, who determined the fire had caused severe damage that could result in a structural collapse.
"It means it's unsafe for anyone, even fire investigators," Olson said.
It took firefighters roughly 12 hours to put out the fire, which also damaged a nearby fabric supply company. On social media, local residents reported seeing the smoke from the fire rising into the sky. One user said they could see the plume of smoke while hiking the Islay Hill open space area.
Days after the blaze, fire officials are still trying to figure out what exactly started the fire. Olsen said the investigation would likely take at least two or three more weeks. Initial indications are that the cause of the fire was accidental and possibly electrical in nature, but Olsen said all options will remain on the table until the investigation is completed.
"We're not ruling anything out," he said.
Both The Sub and Square Deal are run by the same owner. According to the businesses' website, they hope to be back in business soon.
"Fortunately no one was injured," a message on the website reads. "We have secured a new location and will be able to accept orders within the next two weeks, so check back often."
An email requesting the address of the new location was not returned.