The first Sunday of each month brings arts, crafts, and food vendors together in Shell Beach for Art in the Park at Dinosaur Caves, held from 10 a.m. to 4 p.m. It's a sunny July 2, and I arrive at the park at about the halfway mark. There still seems to be a good showing of people, some of whom congregate in the grass outside the main event throwing a football or hanging out with their dogs, while others browse the lineup of more than 75 vendors.
Photos By Trever Dias
DRESSED TO CHILL Artist E.T. McSparron holds up one of his paintings at Art in the Park.
As I'm making my way from booth to booth, I hear a sort of wooden, clicking sound and follow the noise over to Mr. Cassidy's Gifts, where an assortment of wooden noisemaker toys are available. There are brightly colored frogs in a variety of finishes, as well as dolphins, crickets, and more, each one accompanied with a dowel that can be run along a series of notches on the back of the toy to create a sort of croaking or clicking sound. Also in the business of animal-related art, artist Dennis "Bart" Theiler has his shop set up with a variety of creatures painted on driftwood. Many bird species are featured in Theiler's realistic pieces, as well as marine and land mammals.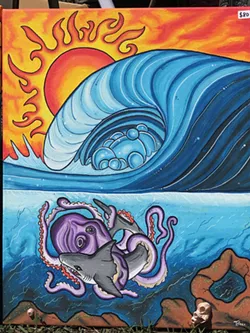 UNDERSEA BATTLE An octopus and shark go to battle in a painting by Tyler Carmos, complete with a real barnacle garnish.
Painter Tyler Carmos is also in attendance with a variety of oceanic paintings for sale. Sea creatures, pirates, and mermaids are all featured in his fun and vibrant paintings, some of which include the addition of a three-dimensional element—like a barnacle, shell, or rock—added to the scene. Not too far from Carmos is artist E.T. McSparron, whose attire is appropriately artful with vivid colors and patchwork designs. He sells his portraits and other framed paintings.
DRIFTING AWAY Dennis "Bart" Theiler paints birds and other animals on driftwood.
Art may be the main spectacle, but a variety of food vendors are also on hand, some of which offer free samples. I make a stop at a stand by La Bella Olives and Gourmet Foods, which has an assortment of preserves on display from Aloha from Oregon, like apricot-jalapeño pepper jelly and cranberry butter with port. I opt to try the balsamic cherry habanero pepper jelly, which lives up to its name with its strong cherry flavor and habanero heat.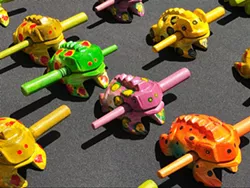 FROG CHORUS Mr. Cassidy's Gifts sells handcrafted sound-making frog toys.
Other food vendors are selling kettle corn, cups of fruit with chili powder, hot dogs, fried corn kernels, and more. I decided to finish things off with an order of pad see ew from Sister Kitchen, which is onsite offering vegetarian versions of some of their signature Thai dishes.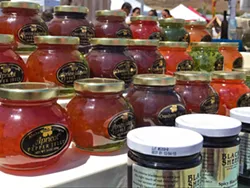 PRESERVE IT UP An assortment of Aloha from Oregon preserves are ready for purchase at Dinosaur Caves Park.
You can stop by the next Art in the Park at Dinosaur Caves on Aug. 6 from 10 a.m. to 4 p.m. Δ
Calendar Editor Trever Dias can be reached at tdias@newtimesslo.com.