Bust out your pink pussy hats and "Women's Rights are Human Rights" signs because this Saturday, Jan. 20, is the SLO Women's March Voices of Resistance Rally in the SLO Mission Plaza from noon to 4 p.m.
Photo Courtesy Of Tina Waggoner
IF YOU'VE GOT A MOTHER, YOU'RE INVITED Hot Tina headlines a multi-band Women's March fundraiser on Jan. 20, in the SLO Guild Hall.
Though there will be no actual march this year, folks will gather to hear speakers and celebrate a pro peace and pro inclusivity message. Even though you might be tempted (and certainly justified) to target Trump and Republicans, organizers respectfully request attendees refrain from "targeting any one group or person." Let's celebrate peace and inclusivity!
After we take the high road at the rally, head over to the SLO Guild Hall for a Women's March fundraiser called Grrrls in the Hall (all ages; 5 to 11 p.m.; $7 general admission; kids under 12 free; tickets at eventbrite.com or the door).
"The event will include live local bands, live DJ sets, local artisans, a kids' zone, and food and beverages for purchase," DJ Cameron Jung-Fagan said. "Bang the Drum Brewery will be there providing beer, and Lago Guiseppe Winery will be providing wine and sustainable food dishes. Other food, including Beda's Biergarten, and drinks will be available for sale as well. Should be a ragin' time for a great cause!"
Singer-songwriter Emily Franklin will open the night at 5 p.m., DJs LizA, Steph West, Mermaid, and FlutterByCam will spin between band sets; bands Extra Virgin, Platinum Disturbia, Off Center and the Holes, Captain Nasty vocalist Shawa Marie, and headliner Hot Tina will perform live music; and midway through the evening The Desert Coast Dancers will show off their moves around 7:30 p.m.
Bring some extra bucks for the bands' merch tables and continue the celebration of equal rights for all!
The natural
If I had a nickel for every time I heard a singer say they got their start singing in church, I'd be filing this story from off the Ibiza coast in the stateroom of my gold-plated yacht. If we owe churches anything, it's thanks for the musical training ground they've given America's performers.
Of course, some musicians were probably destined for greatness, church training or not, and one of them is Randy Rogers, who—yes—started singing in church, but as he said in press materials, "I could write a song when I was pretty little, 11, 12, or 13. It's like a kid who could do calculus or something. It was just something that clicked in my brain for me. I went and finished college and got a degree in public relations and then started a band."
The Randy Rogers Band plays a Numbskull and Good Medicine Presents show this Wednesday, Jan. 24, at the Fremont Theater (8 p.m.; all ages; $27 at Boo Boo Records or eventbrite.com).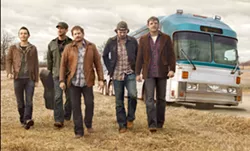 Photo Courtesy Of The Randy Rogers Band
ROAD WARRIORS Hear some deeply authentic country sounds when the Randy Rogers Band plays the Fremont Theater on Jan. 24.
The band's retained the same line-up since 2002, delivering the sort of authentic country sounds too often missing in contemporary country.
"You've just got to be true to yourself and you can't fool anybody," Rogers said. "As a whole, our body of work is pretty consistent to our live show, and the band that plays on the record is the band that you go see. As men, we've all matured and lived a lot of life together. We've had a few breakups happen to us. We've had babies. We've had life changes. We've been on the road 200 shows a year. I've been in this band 15 years, so a lot has changed. I still listen to Merle Haggard every night. I mean that hasn't changed, but a lot has changed for us musically and privately. We all are in a good spot, and we all are just as good friends as when we started."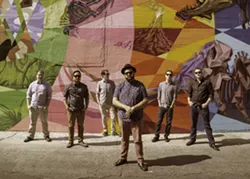 Photo Courtesy Of Soul Scratch
SCRATCH THAT ITCH Soul Scratch brings its horn-driven R&B sounds to The Siren on Jan. 19.
Come out and see the real deal this Wednesday!
Numbskull and Good Medicine also has Soul Scratch playing on Friday, Jan. 19, at The Siren (8 p.m.; 21-and-older; $10 presale at ticketfly.com or $12 at the door), a band "founded on and rooted in the principle that through the healing power of music, the world may be made into a joyous loving place where all of humanity can come together under the umbrella of love and togetherness." This is awesome horn-driven R&B with an amazing frontman!
More music ...
Photo Courtesy Of Aireene Espiritu
FOLKTASTIC Singer-songwriter Aireene Espiritu headlines the Jan. 18 Songwriters at Play showcase at SLO's 7 Sisters Brewing Company.
Folk singer-songwriter Aireene Espiritu headlines a Songwriters at Play showcase this Thursday, Jan. 18, at SLO's 7 Sisters Brewing Company (6:30 to 9 p.m.; all ages; pass-the-hat). The LA Times said, "Espiritu works in the elemental substance of vernacular American music with an uncanny ease. Whether blues, hillbilly, soul, folk, or R&B [she] demonstrates masterly command of each." Special guests include Dasha and local duo To Wake You.
Photo Courtesy Of David Jacob-strain And Bob Beach
TEAMWORK SLOfolks hosts slide guitarist and song-poet David Jacobs-Strain and harmonica player Bob Beach on Jan. 19, at Coalesce Bookstore; and Jan. 20, at Castoro Cellars.
SLOfolks hosts slide guitarist and song-poet David Jacobs-Strain and harmonica player Bob Beach at two concerts this week, on Friday, Jan. 19, at Coalesce Bookstore (7 p.m.; all ages; $20 at (805) 772-2880); and Saturday, Jan. 20, at Castoro Cellars (7:30 p.m.; all ages; $20 at (805) 238-0725 or Boo Boo Records). Expect eclectic sounds from "humorous, subversive blues, to delicate balladry, to swampy rock 'n' roll," according to press materials. "It's a range that ties Jacobs-Strain to his own generation and to guitar-slinger troubadours like Robert Johnson and Jackson Browne. Bob is a maestro on the harmonica and can match licks with the best of them. Together, they make a dynamite duo, and play a great show."
Photo Courtesy Of Brian Carroll
TEXAS TROUBADOUR Singer-songwriter Jacob Furr (pictured) and fellow Texan Ryan Tharp play the Frog and Peach on Jan. 24.
Local boogie and swampified rock act The Cliffnotes will make their Morro Bay Wine Seller debut this Saturday, Jan. 20 (6 p.m.). The group features ex-Big Brother & Holding Co. lead singer, Valerie "Fireball" Johnson, and Cliff "Crawdaddy" Stepp, who's had blues songs produced by B.B. King and alt-country songs recorded by Pure Prairie League, 49 Specials, and Virginia Squires. Add in smokin' hot lead guitarist Al B Blue, whose band toured with Curtis Mayfield and Hugh Masekela, and harmonica hooligan Joey Five'n'Dimes, who's shared stages with numerous Chicago area blues legends, and you've got one of the best dance bands on the Central Coast.
Two Fort Worth, Texas, singer-songwriters—Jacob Furr and Ryan Tharp—play the Frog and Peach this Wednesday, Jan. 24 (10 p.m.; 21-and-older; free). Both write smoky, dusty, gritty songs. Δ
Keep up with New Times Senior Staff Writer Glen Starkey via Twitter at twitter.com/glenstarkey, friend him at facebook.com/glenstarkey, or contact him at gstarkey@newtimesslo.com.