Our local music scene kicks serious booty, so eight years ago, we here at New Times had an idea. We wanted to follow in the footsteps of bigger cities and create our own music awards to celebrate all the hard work, talent, and diversity of our local musicians. The New Times Music Awards was born along with the bronze Newtie Award.
PHOTO COURTESY OF TRUTH ABOUT SEAFOOD
ROCK GODS!: Truth About Seafood (pictured) will bring their rock sound to the NTMAs on Nov. 11, at the Fremont, which also includes performance by Próxima Parada and Wynn.
This Friday, Nov. 11, you're invited to celebrate with us when the eighth annual New Times Music Awards returns to the Fremont Theater (doors at 6:30 p.m.; show from 7 to 10 p.m.; all ages; $10 available at Boo Boo Records, New Times, and the Sun in Santa Maria).
It's a great night for music fans who can cheer on winners as they're presented their awards for Best Songwriters, Best Albums, Best Country-Americana-Folk Songs, Best Rock-Alternative Songs, Best R&B-Blues Songs, Best Hip-Hop-Reggae-World-Beat Songs, Best Open Category Songs, and the Readers' Choice Award.
The show opens with a performance by The Bucket Busters, a youth percussion group led by Music Motive proprietor Steve Hilstein. The event will also feature live painting by local artist Sara Lane, who will donate her painting for auction.
PHOTO COURTESY OF THE NOACH TANGERAS BAND
COUNTRY CHANTEUSE!: The Noach Tangeras Band faces off against four other acts for Best Live Performance at the NTMAs in the Fremont on Nov. 11.
Five bands—Fialta, Wynn, Próxima Parada, Truth About Seafood, and the Noach Tangeras Band—will compete for the Best Live Performance Award.
Fialta is an amazing indie-pop quartet that's proving synth still has a place in contemporary music! This talented set of two multi-instrumentalist husband-wife pairs formed in 2011 and has released two superb albums. They were recently featured on NPR's All Songs Considered.
Wynn is one of the most potent voices in the local hip-hop scene, a hard-working emcee who may have come up on the sleepy streets of Cambria but who's found a smooth sound with lyrics that cut to the quick.
Formed in 2012 by four college friends, Próxima Parada delivers engaging blue-eyed soul, folk, and blues songs. They've since added a trumpet to their mix. Their track "Time in the Circle," which is up for a Newtie, was also recently added to Songpickr: 2016 Best Songs playlist on Spotify.
PHOTO BY JERED SCOTT
POP HEROES!: Fialta plays the eighth annual New Times Music Awards in the Fremont Theater on Nov. 11.
Truth About Seafood members are old pros of the local music scene, having formed back in 1993. Influenced by everyone from AC/DC to Stone Temple Pilots, from the Beatles to Toad the Wet Sprocket, from Queens of the Stone Age to Supersuckers, this is a band that likes to rock and has a wicked sense of humor. Check out their '80s hairband spoof video made for their award-winning song "Butcher & The Bride": youtube.com/watch?v=hoAzIEx_1hE.
The Noach Tangeras Band plays Amerciana folk roots, country, and blues delivered by Noach (pronounced No-ahk) and her potent, arresting voice. Her songs are richly painted soundscapes that transport listeners.
Come on down and join the fun! Beer and wine will be available along with a photo-op wall to get pictures with your favorite musicians.
Thanks to our sponsors Grand Central Music, Ernie Ball Music Man, Beaverstock, Rockin' R Winery, KCPR, Left Coast T-Shirt Company, Central Coast Hip-Hop, The Drum Circuit, The Krush Lounge, Central Coast Live!, Good Medicine Presents, Genesis Bronze, Pirate Radio, and Avalon Recording Studios. And thanks to you, yeah you, the person reading this. Without you, there wouldn't be a local music scene. See you Friday!
Stand with Erin and Standing Rock
It's sort of a cliché, but artists feel things deeply, which is why local songstress, banjoist, and activist Erin Inglish is loading up her touring van, filling it with donated supplies, and heading to Standing Rock to join the peaceful protest over the Dakota Access Pipeline, which threatens the water supply of the Standing Rock Sioux Reservation.
PHOTO COURTESY OF ERIN INGLISH
ANGEL ACTIVIST: Singer-songwriter-banjoist Erin Inglish plays Last Stage West on Nov. 13, before leaving to bring supplies and support to the protesters at the Standing Rock Sioux Reservation.
She's soliciting donations on her website, erininglish.com, and as of Nov. 8 she'd raised $1,442 "from local donations to buy supplies for the camp at Standing Rock, and have a commitment for the donation of six solar panels, a large amount of homemade salami, and some winter clothes (socks, jackets, hats, gloves, thermals)," Erin said. "More help is needed. A bigger list of needed supplies is on my site."
Before she hits the road around mid-November, she's been added to play a buffet and concert this Sunday, Nov. 13, at Last Stage West (5 p.m. dinner; 6 to 9 p.m. concert; all ages; $60 presale at 792-0505 or $70 at the door). A portion of the proceeds will benefit the Water Protectors at Standing Rock.
Inglish will join concert headliners The Cody Blackbird Band and special guest Tanner Scott. This event will also feature a silent auction and live onstage painting during the concert. To donate items to the auction or to find out more about aiding the Water Protectors at Standing Rock, call Amber Scott at 792-0505.
Go Erin! You're all heart, lady!
Punk, country, and blues, oh my!
Numbskull and Good Medicine Presents have teamed up to drop three great concerts this week, starting on Thursday, Nov. 10, when punk acts Guttermouth, Get Dead, and The Cryptics play Sweet Springs Saloon (8 p.m.; 21-and-older; $13 presale at ticketfly.com or $15 at the door).
PHOTO BY JEFF FASANO
THE GODFATHER: British blues icon John Mayall plays Nov. 16 at the Fremont Theater.
Guttermouth formed in 1988 in Huntington Beach, and have nine full-length studio albums and two live albums under their belts. "They're infamous for their outrageous lyrics and behavior, which are deliberately explicit, offensive, and intended to shock, though usually in a humorous and sarcastic manner," according to their bio. "This behavior has sometimes resulted in high-profile problems for the band, such as being banned from performing in Canada for a year and leaving the 2004 Warped Tour amidst controversy over their political views and attitudes towards other performers." That's punk, man!
The Randy Rogers Band brings their country sounds to the Fremont Theater this Saturday, Nov. 12 (7:30 p.m.; 21-and-older; $25 presale at ticketfly.com or $30 at the door). This is a band of road warriors, who are currently touring for their new album, Trouble.
"No matter what, trouble always finds us," Rogers said in press materials. "And that title honestly sums up the last 2 1/2 years of making this record. At times it cuts deep and you can hear the pain, but it's honest, it's real. On the flip, we like to have a good time and you can hear that too. "
Cody Johnson, touring in support of his new album Gotta Be Me, will open the show. The album debut at
No. 1 on the iTunes Country Album Chart!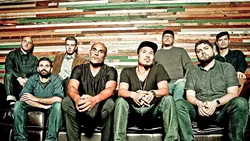 PHOTO BY PAT TELLIER
DUB ROOTS: John Brown's Body brings their reggae sounds to SLO Brew on Nov. 13.
Are you ready for this last one? We're talking about the "The Godfather of British Blues," the one, the only John Mayall on Wednesday, Nov. 16, in the Fremont Theater (7 p.m.; all ages; $25 presale at ticketfly.com or $30 at the door) with Zany Carney opening.
Mayall pioneered British blues about 60 years ago when he formed the Powerhouse Four as a 22-year-old. He went on to become a member of the Blues Syndicate later called the Bluesbreakers. He and his band backed up John Lee Hooker on his 1964 British tour. In 1965, former Yardbirds guitarist Eric Clapton joined Mayall's Bluesbreakers and things really took off.
Mayall is in something of a career renaissance having signed with producer Eric Corne's label, Forty Below Records, which released Find a Way to Care, an album that proves at 82, Mayall still has plenty to offer.
American reggae and rock
John Brown's Body brings their rootsy, horn-driven reggae sounds to SLO Brew this Sunday, Nov. 13 (9 p.m.; 18-and-older; $15 at ticketweb.com). Now celebrating two decades of original music, they've recently released Fireflies, their 11th studio album. Thrive will open.
PHOTO COURTESY OF TEKA
LATIN JAZZ LIVE: Teka (pictured) joins the Luis Munoz Jazz Quintet on Nov. 11 in the Monarch Club at Trilogy Monarch Dunes.
Also at SLO Brew, see rocker Matthew Logan Vasquez formerly of Delta Spirit on Monday, Nov. 14 (9 p.m.; 18-and-older; $12 general admission or $25 VIP balcony), with singer-songwriter Marit Larsen opening. Last year, Vasquez moved from Brooklyn to his old stomping grounds in Austin, going solo. His debut solo EP opens with an 18-minute psychedelic folk-rock track. Crazy good!
More music …
The SLO Jazz Festival's 2016 Fall Fest wraps up its four-concert series this Friday, March 11, with The Luis Munoz Jazz Quintet featuring Teka, plus opening act Black Market Trio at the Monarch Club at Trilogy Monarch Dunes in Nipomo (6 p.m.; all ages; $25 to $80 at slojazzfest.org). Munoz's latest album, VOZ, received 4-stars from Downbeat magazine and "Best Latin Jazz CD of the Year" by Mike West of JazzTimes magazine.
PHOTO COURTESY OF BLACK MARKET TRUST
GYPSY JAZZ: SLOfolks hosts Black Market Trust at Coalesce Book Store on Nov. 11 and at Castoro Cellars on Nov. 12.
SLOfolks hosts Black Market Trust and their Eastern European gypsy jazz sounds for two concerts, Friday, Nov. 11, at Coalesce Bookstore in Morro Bay (7 p.m.; all ages; $20 at 772-2880); and Saturday, Nov. 12, at Castoro Cellars (7:30 p.m.; all ages; $20 at 238-0725).
Nearly 300 students will perform at Cal Poly's annual Bandfest on Sunday, Nov. 13, in Harmon Hall of the SLOPAC (3 p.m.; all ages; $12 to $14 general or $9 to $12 students at 756-4849). Titled American Masters, the event features the Cal Poly Wind Orchestra and Wind Ensemble.
Keep up with Glen Starkey via twitter at twitter.com/glenstarkey, friend him at facebook.com/glenstarkey, or contact him at gstarkey@newtimesslo.com.