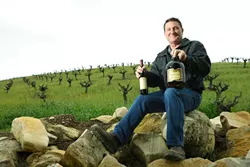 PHOTO BY STEVE E. MILLER
TRADITION : Winemaker Mike Giubbini of Rotta Winery in Paso Robles holds a 1945 jug of wine produced by the family business and one bottled in 2005.
MARCH 19 – 21, FRIDAY THROUGH SUNDAY:

The 2010 Paso Robles Zinfandel Festival


The main event on Saturday, March 20 features an impressive 50-plus wineries coming together at the Paso Robles Event Center to pour their Zinfandels and Zin blends for guests. You'll also enjoy Zin-friendly foods from ten great local restaurants and caterers. The silent and live auctions feature an array of collectible Zinfandels in different sized bottles, including the 2009 Zin-blend by blend master Mike Giubbini of Rotta Winery, crafted especially for the PRWCA. There are two ticket levels: ZIP (Zinfully Important person), $85 per person, which gets you in at 5:30 p.m., one-and-a-half-hours before the crowd to enjoy the wine and the food, an advance look at the auction lots, and a special tasting preview of the Collaborative Zinfandel Blend by Mike Giubbini of Rotta Winery that's only available for purchase at the Wine Country Auction; and the Zin Fan Del Ticket, $60 per person, which begins at 7 p.m. All ticket holders will have the opportunity to bid on auction lots that are available only through the Wine Country Auction. The event ends at 9:30 p.m. Please note that absolutely no one below the age of 21 will be allowed inside, ID is required, tickets are non-refundable, and tickets are limited so it's best to reserve yours early. A portion of the funds raised during the Zinfandel Festival will be donated to heath, education, and community programs for local vineyard workers and their families.

During the three-day-weekend, all of the participating Zinfandel producers plus other Paso wineries will provide enticing activities in open house parties. A few examples on Friday include: Adelaida showcasing local artists and providing tapas with wine tasting; Castoro will bring back their popular Zin Shuffle and Roll at 6 p.m. offering a casino tournament with Zinfandel prizes and good food with their "dam fine wines;" Clavo will feature wine, cheese, and chocolate pairings with winemaker Neil Roberts; Donati Family will host a cioppino party by the fabulous Pier 46 Seafood beginning at 6 p.m.; Jada will offer a special vertical tasting with gourmet cheese and chocolates; Peachy Canyon will be featured in a six-course winemaker dinner at Level Four Restaurant; Tobin James will host an "All-Out-Bash" with wine tasting, food, and live music; Turley will host their first winemaker dinner in the remodeled tasting room; and Vina Robles has teamed up with the SLO Film Festival and Opera SLO to present an "Evening at Moulin Rouge."

That's merely a taste of all the good things going on throughout the three day weekend. To get all delicious details visit: pasowine.com, or call the PRVGA at 800-549-9463.
If there is one wine-country appellation in California where Zinfandel, America's heritage grape, is most honored, it's Paso Robles. The Paso Robles Wine Country Alliance (PRWCA) has 33 wineries making signature Zinfandels, and most make several versions. In fact, several wineries consider Zinfandel their flagship wine, with good reason. Each year, the PRWCA brings these wineries together to participate in the annual Paso Robles Zinfandel Festival. I am enamored with Zinfandels from all over California: Napa Valley, Dry Creek and Russian River valleys in Sonoma County, and Santa Barbara County, but few appellations rival the diversity of Zinfandels here. Zin can be credited among the great varieties that helped bring fame to Paso Robles and SLO County wine country.
Zinfandel has been grown in Paso Robles since the late 19th century, yet I discovered some news that surprised me: according to the American wineries advocacy group, The Wine Institute in San Francisco, SLO County has 29,000 acres of grapevines planted. Of that acreage, more than 26,000 acres are within the Paso Robles appellation. The variety with the largest number of planted vines is Cabernet Sauvignon (38 percent), followed by Merlot (15 percent), Syrah (10 percent), Zinfandel (nine percent), and Chardonnay (eight percent), the remainder are mostly Rhone and Spanish varieties.
Zinfandel may be fourth but according to a graph by Zinfandel Producers and Advocates (zinfandel.org), new plantings of Zin grew in leaps and bounds over the past five decades: In 1962, SLO County had 472 acres compared to Napa's 949 acres; by 1983, SLO had 1,061 acres and Napa had grown to 2,089; in 2007 SLO blossomed to 2,890 acres while Napa had fallen back to 1,939 acres.
Every year, in preparation for the Zin Fest the PRWCA chooses a winemaker or vintner to serve as the "blend master." He or she crafts a Zin blend from 33 lots provided by each of the participating wineries. This year the blend master is Mike Giubbini of Rotta Winery on Paso's Hwy. 46 West. For the 2009 commemorative blend Giubbini said that each winery provided him with five gallons of their estate Zinfandel.
PHOTO BY STEVE E. MILLER
HISTORY : Rotta Winery was founded in 1908; a 1935 business permit is in the family archive.
Guibbini's maternal grandparents originally founded Rotta Winery in 1908, and he and his family live in the same farmhouse and own the winery now. The Rotta family had one of only three wineries in Paso Robles in the early 1900s. Their neighbors were Pesenti Winery and Andrew York's Ascension Winery (now York Mountain). Giubbini noted that it's still a family-run winery: His wife and son help, one of his brothers works with him full-time, and the other brother helps out when he's needed. "We're old-style here. I like to go into the tasting room on the weekends and take people who visit us on a tour of the winery," Giubbini explained. He believes the 2009 Zinfandel is of the same quality as the 2004 vintage, which he noted was a very good year.
"We made the '09 commemorative blend in an easy-drinking style, not over the top like some Zins. It's lower in alcohol at 13.9 percent, has moderate tannins, and would be nice with a ribeye steak," Giubbini explained. He made the blend with his production manager and tried several combinations to get the final result. "We tried them out on our tasting room staff and customers, using their comments to fine tune the blend to get the flavors and character we wanted."
I tried the 2009 out of barrel the other day and it's very fruity and drinking nicely although it's only three months old. It's comparable to the 2004 which was a very good year around here. The 2009 is going to be a good year for Zinfandel, but I'll tell you for sure in a year when we put it into bottle," he chuckled.
Like the other Paso wineries, Giubbini will be at Rotta offering treats all weekend: pairing their wines with cheese and other foods, barrel tasting, winery tours. During the annual Zin Fest you're guaranteed a good time wherever you travel along Paso's wine country trails.
You can reach New Times' Cuisine columnist at khardesty@newtimesslo.com