For five long years Tsuyo Onodera studied sewing in her native Japan to earn the coveted, and these days rare, title of master kimono maker. So when years later her daughter asked Onodera to teach a group of Americans how to make a kimono in five days, she initially bristled a bit at the idea.
"No," Onodera told her daughter Maki Aizawa. "It's impossible."
PHOTO BY JAYSON MELLOM
PASSING DOWN KNOWLEDGE: Karen Morgan, from SLO, left, and Mio Yamashita, right, from Menlo Park, learn the tricks of kimono making from Tsuyo Onodera, center, at SLOMA.
But on March 6, about 10 women, some who traveled from as far as Menlo Park or Los Angeles, gathered at the San Luis Obispo Museum of Art for the first of a five-day workshop to tackle the seemingly impossible task of learning to make a cotton yukata, or summer kimono, under Onodera's tutelage. Aizawa, who is also the founder of the Sonoma Cultural Exchange, which works to bring Japanese culture to other countries, assisted at the workshop by translating for her mother, who only recently started learning to speak English. While students unfurled new rolls of fabric and begin to work, eye-catching kimonos like the ornate white iro uchikake, or wedding kimono, adorned with designs of gold fans and a flurry of red, blue, green, and gold flowers hung from the walls at the museum.
Aizawa said her mom changed her mind about doing the workshop in order to preserve the knowledge of kimono making.
PHOTO COURTESY OF SAN LUIS OBISPO MUSEUM OF ART
DYE AGAIN AND AGAIN: Artist Ana Lisa Hedstrom's exhibit Folded and Flat will be on display at SLOMA through April 30. Her work is a modern take on the ancient art of shibori, a Japanese dye technique historically used to decorate kimonos. Hedstrom's pieces use indigo dyes on kozo paper, textiles, and assembled wool felt.
"It's a dying art," Aizawa said.
The workshop comes on the heels of the recent 75th anniversary of President Franklin Roosevelt issuing the order to intern citizens of Japanese descent in the West, following the Pearl Harbor attacks. At SLOMA, in addition to the kimono making workshop, a kimono art exhibit, and fashion show (featuring the creations of workshop attendees and kimonos from private collections) the exhibit Flat and Folded, displaying the art of shibori, pays homage to a dark moment in history. In a joint celebration of Japanese history and culture, the History Center of SLO County's exhibit, Tranquility Disrupted: Japanese Internment and San Luis Obispo County, tells the stories of local families taken from their homes and neighbors who looked after their land during that time, something that didn't necessarily happen in other parts of the country.
Libbie Agran, a volunteer at both SLOMA and the History Center, said the clothes we wear are an accessible way to learn about art and culture.
"The kimono is a perfect celebration of Japanese culture, despite the dark history that happened in our country," Agran said. "We learn a great deal about one another through fashion and we relate to it."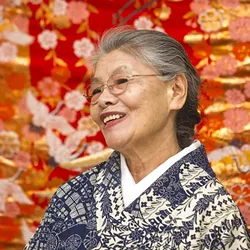 PHOTO BY JAYSON MELLOM
MASTER KIMONO MAKER: Tsuyo Onodera, a master kimono maker from Japan, teaches students at SLOMA how to make a summer kimono or yukata. Onodera will also speak at the fashion show, Art Becomes You: Kimono Style, at the museum on March 12.
Aizawa said the passing of the 75th anniversary of Japanese internment in February was a chance to admire and learn from not only the culture, but the resiliency of the Japanese people.
"Japanese people, even during the hardest times, kept their traditions alive," Aizawa said. "They were creating art with what they could in the camps from Zen rock gardens to vases for flowers made from scraps."
Ryah Cooley wants a kimono at rcooley@newtimesslo.com.
THE JAPANESE EXPERIENCE : A fashion show, Art Becomes You: Kimono Style will take place at the SLO Museum of Art March 12 from 3 to 5 p.m. with food and live entertainment. The event is $80 for the general public and $60 for members. The Art of Kimono exhibit and the Folded and Flat exhibit, showcasing the art of shibori, will be on display at SLOMA through April 30. At the History Center of SLO County, the exhibit Tranquility Disrupted: Japanese Internment and San Luis Obispo County will be on display through July 31. And at Cal Poly's Robert E. Kennedy Library, the exhibit 75 Years: Remembering Japanese American Incarceration during World War II will be on display through June 9. Visit sloma.org, historycenterslo.org, or lib.calpoly.edu for more information.