Oceano Dunes State Park environmental scientist Laura Gardner was interrupted in mid-conversation by the approach of law enforcement officers when she and a friend returned to her Grover Beach home after dining out one night last September.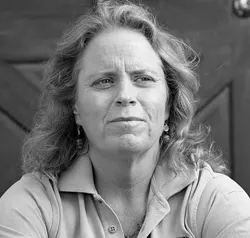 PHOTO BY STEVE E. MILLER
CHARGED UP : State Parks environmental scientist Laura Gardner was arrested, taken to jail, and charged with grand theft embezzlement after excessive use of her work-issued cell phone.
# The talkative, diminutive redhead, then 48 years old, was handcuffed and taken to the county jail on Sept. 26, 2006, where she said she sobbed, completely bewildered about why she was there. Court records show that Gardner was charged with five felony counts, including grand theft embezzlement and wire fraud related to the use of her state-issued cell phone and gas card, with bail set at $30,000.
A year later Sept. 27, 2007 her court battle is finally over and her life is in tatters. All the felony charges were dismissed, with the cell phone charge dropped "due to lack of evidence," court records show. A plea bargain eventually brought the charges down to a misdemeanor conviction and two years of probation for improper use of her state-issued laptop computer. Court records show that Gardner was fined $300 with credit for three days of jail time served and ordered to pay $650 restitution for her gas-card use. A letter that Gardner received from the California State Personnel Board noted that she can resign at any time. In the meantime, she's on unpaid administrative leave.


"State Parks wanted to get rid of me. I guess I'm too vocal," Gardner said, adding that in her six years at Oceano Dunes she closed off many acres of the offroad riding area to protect the snowy plovers.
The self-described "phone hog" admitted that she spent quite a bit of time on her work cell phone on and off the job, running up as much as 8,000 minutes in one month for work-related and personal calls.
But her phone plan included unlimited minutes, she said, and the state had no policy regarding cell phone usage.
"No one ever talked to me about it, or gave me any warning," she said.
District Superintendent Andy Zilke of Oceano Dunes State Park said he couldn't discuss the settlement because it's a personnel matter, but pointed out that Gardner wasn't prosecuted for misuse of her cell phone.
Zilke confirmed that the state Parks and Recreation Department does not currently have a policy on cell phone use, adding, "They are working on one. We have strict policies for almost everything but cell phones. It's more a matter of 'reasonable' use."
For Gardner, her experience with the criminal justice system was eye-opening and extremely difficult.
"It was humiliating. They had me in a maximum security cell for three days and four nights, giving me food through a little slot. I couldn't bring in my reading glasses," Gardner said in an interview as she munched on a fast-food taco that she said reminded her of the meat that county jail prisoners call "chopped joey."
"The thing that was so disheartening they take you to court in a red jumpsuit and shackles, with chains to your feet and arms, and handcuffs and legcuffs. I had blisters and bruises all over my ankles.
"I come from a law enforcement family. I had never been in trouble with the law, not even a speeding ticket. I had 20-something years as a public employee. But I pissed people off. I'm an 'out' lesbian, and I took areas out of riding.
"Why did they do this to me? I didn't fly with the group," Gardner noted, using a metaphor related to her work as an environmental scientist.
She said she's been warning everyone she knows, especially public employees, to be very careful about their use of cell phones, e-mail, or Internet.
That spirit of caution is being echoed in workplaces around the Central Coast and the country, reflecting the Internal Revenue Service regulations that personal use of work-issued cell phones can be considered as taxable income. The San Luis Obispo County Board of Supervisors adopted revisions to the county's cell phone policy on Sept. 25.
District Superintendent Zilke said in a phone interview that work-issued cell phones "can be one of those perks that's a double-edged sword," adding, "I know people who take every call rolled to their personal cell phone" which he called "a good practice."
He wouldn't comment on the details of Gardner's case.
"Laura can say whatever she wants. It's been adjudicated in criminal court. It's been resolved. She can get on with her life," Zilke said.
For Gardner, that's what she's hoping to do.
"I lost everything because of this. I lost my job, I lost my house, I lost my car, I lost my relationship. My brother won't talk to me," she said.
"I've lost my life. Now I have to start a new one, at 50 years old. I'm thinking of law school, or becoming a minister."
Freelance journalist Kathy Johnston may be reached at kjohnston@newtimesslo.com.