The opaque golden glow of Central Coast Brewing's (CCB) anniversary brew is like an homage to springtime. Wildflowers and green grass slip into my nose and across my tongue as I sip from a 4-ounce tasting glass.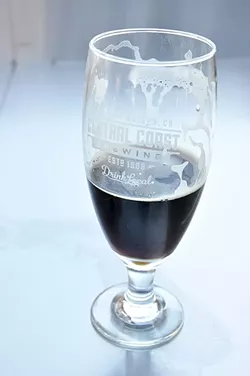 PHOTO BY CAMILLIA LANHAM
BLACK ATTACK : Central Coast Brewing's Catch 23 is a black rye IPA with plenty of roasted malt and a hoppy kick.
And four ounces is plenty for this six hop triple IPA, which rolls in at 11.2 percent.
College students jostle in behind me, wanting access to the bar I'm standing in front of on March 12, a sunny, breezy Saturday between rainstorms. The day is fresh and there's a game of giant Jenga unfolding below the patio. Beyond that are bean bags being tossed between corn hole boards, the forest green of CCB's beer truck, and a line unfolding from What the Truck's burger-feeding windows.
It's definitely festive and not a bad way for this San Luis Obispo beer maker to ring in 18 years in business. Soon, the Monterey Street alehouse will be opening a second San Luis Obispo brewing location, so there's more than a birthday to celebrate. Business must be good.
PHOTO BY CAMILLIA LANHAM
DOGS ALLOWED: Chewy the English bulldog was one of several pups who hung out at CCB on March 17, mingling with human legs to celebrate 18 years in business for the SLO brewery.
The patio is full, sound echoes off stainless steel fermentation tanks inside, and it could be a beer festival—but thankfully people aren't sloshing around like the beers in their glasses just yet.
And the dogs, all of them, are happily panting away in between legs—glad the rain stopped long enough for them to be outside on a Saturday. Just like their human companions.
Editor Camillia Lanham is happy that neighborhood breweries are a thing. Email her at clanham@newtimesslo.com.
PHOTO BY CAMILLIA LANHAM
TIMBER!: Heather Green from San Leandro looks for that perfect block to pull in a giant game of Jenga against Amy McKnight of San Dimas. The two grabbed their spouses and met in the middle for a weekend of fun in San Luis Obispo—which happened to include a stop at CCB's birthday celebration.