What really turns me on in the morning? The irresistible tease of bacon snapping in a cast iron pan, turning the whole house porky. The frenzied sizzle of eggs (laid just moments before by an early rising hen) rippling across a slick of hot, whole fat butter.
The holy promise of freshly perked Peet's Sumatra coffee with a dash of 2 percent, followed later by the tang of OJ, fresh squeezed from backyard oranges and extra pulpy. Throw in a few luscious cherry tomatoes and maybe some buttered San Luis Sourdough toast (browned, but still chewy in the center), and I am a happy camper, indeed.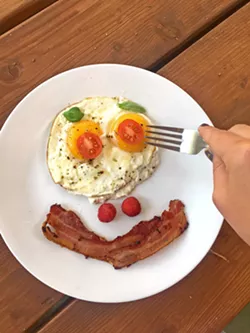 Photo By Hayley Thomas Cain
SUNNY SIDE WHAT? Whether scrambled, poached, fried with a runny yolk or simmered solid, an egg is really never just an egg. Just ask the masses: No one person takes theirs exactly the same. That would just be creepy.
What you do in your bedroom is your own business, but what about what you do around your breakfast table? My hypothesis: You can learn a lot about a person by learning about (or making) their preferred breakfast of choice. Instagram food posts aside, I still feel that breakfast—a real, satisfying hits-the-spot breakfast—is an intimate experience.
Think about it. You might know what a casual friend drinks at the bar (shot of Jame-o with a pickle back) and you might very well know what stinky brand of tuna fish your co-worker packs for lunch each week. However, their true breakfast preference?
You probably only know that if a) you're a blood relative, b) a very close friend, or c) you're sleeping with them.
This past winter, I worked as a chef at a bed and breakfast in downtown SLO—rising at 6 a.m. to prepare eggs, toast, potatoes, and sausages to mostly world travelers.
What I learned I will take to the grave. Although my superior, nicknamed "Butter Paul," had plenty of good advice: "Brown equals flavor/you want your eggs to talk to you then shut up/don't chop fruit with the onion knife/the first piece of fried ham is never as sweet as the last," other truths shocked me to my core.
For instance, some people do not prefer eggs at breakfast! On the other hand, others want only a single, shell-on soft boiled egg cooked for 1 minute 30 seconds, no more, no less. Still others pushed ripe fruit aside and scraped delicious, flaky quiche crusts into the trash, yet asked for seconds of "blackened" bacon and cinnamon raisin bread.
So, you're probably wondering why now—of all times—I've decided to dedicate an entire article to these individualistic and telling breakfast desires?
Luckily—insert rim shot here—there's a holiday for that!
"September Better Breakfast Month" may not be on your calendar, but for a number of school districts around the country, this unofficial holiday period is serious business. As school officially begins in earnest and pencil cases are swung open with gusto, we are all reminded of this oldie but goodie: "Don't skip breakfast! It's the most important meal of the day!"
Whether you're 12 or 72, this is still a true statement, in my book. But what is a better breakfast? As I asked my friends, colleagues, and fellow SLO residents, I came to find that this really is a personal question.
Findings
New Times Staff Writer Chris McGuinness is a hard-hitting news guy—and although I always prefer to imagine him swilling whiskey from a drawer while typewriters ding in the background, he is actually fueled by Diet Coke.
Photos By Hayley Thomas Cain
WAITING GAME Flavor writer Hayley Thomas Cain waits for her hen Beyonce to lay her morning breakfast (today she has made a rogue nest in Cain's windowsill). A warm, just-laid egg is always preferred.
He eats breakfast only sporadically, when time permits, seeking out a "calorie bomb" of a breakfast burrito when available. His eggs? Over easy and smothered in hot salsa.
Let's compare this to his more laid-back colleague yet equally hard-hitting Staff Writer Peter Johnson—who wakes up with a big cup of coffee, always eats breakfast without fail, prefers French toast, and takes his eggs scrambled.
I mean, one has to wonder: Are they really even in the same profession? And don't even get me started on our arts editor, Ryah Cooley, who drinks hot water with lemon upon waking and goes for chocolate chip pancakes on the weekends.
When I aimed to find out what real people ate in the a.m., I didn't expect much interest. Instead, I was bombarded by enthusiastic online responses to my simple query, "So, how do you like your eggs?"
Ashley Riddle, bartender at Luis Wine Bar in SLO, is into what I can only call "breakfast self-care," preferring to make her own perfectly soft poached eggs. I asked her how in God's name she does this.
"I bring the water up to a boil and then lower it down to barely a few rolling bubbles, crack the egg into a measuring cup, and lower it gently into the water, let it hang out for no more than four minutes and scoop with a slotted spoon," she said.
We could all learn a thing or two from her dedication.
Riddle's boss, Luis Wine Bar owner Vanessa North, is more primal. Her favorite breakfast is eaten around "brunchtime": a chicken tamale with two over-easy eggs, salsa verde, Pepper Plant, and a dollop of plain Greek yogurt.
"Maybe some fresh tomato and avocado slices if we have them around," she added.
Maybe it's my California heritage, but I, too, believe that avocado and tomato make every breakfast better.
My good friend Theresa Michelle—who likes her eggs over medium but not too wet—gave me a little breakfast TMI, boldly stating to the world: "I like to mush my food around and swirl it up in a big pile, so every bite is a perfect bite."
Whoa, girl!
Photos By Hayley Thomas Cain
WAKEY WAKEY At Cain's house, a mini cast iron skillet—the perfect size for frying two eggs—sizzles with butter and fresh cracked black pepper.
She continued, "I know the eggs are right when they are crispy looking on the outside, but you can kinda see that the inside is still swishy."
Swishy, sure! When we talk about breakfast (and especially eggs), words become elastic, molding to fit our desires. Maybe that's why there are more kinds of breakfast than there are Alaskan words for snow.
A quick primer: There's unruly, boozy brunch with your friends; pleasant brunch buffet with your mother-in-law; there's hung-over bleary-eyed breakfast feast; Sunday morning pancake breakfast that makes you feel like a kid again; quick-out-the-door-eat-in-the-car breakfast; never-went-to-bed at all breakfast; and the kind of breakfast that marks your life, literally, forever.
That's the breakfast you eat when something really great happens.
SLO's own Stacy Willis shared a memory of noshing with her husband, Wayne, just after their nuptials.
"We ate leftover cupcakes and strawberries in bed and opened and read all the cards from friends and family," she said wistfully.
Doesn't that sound fantastic?
My friend Sarah Daly, arts editor for the SLO Tribune, took my question as a chance to get a few confessions off her chest.
Yes, my child?
She actually "confessed" to not one breakfast secret, but three:
Confession No. 1: "My mother is the queen of the day-after hash/scramble. Any leftovers from the previous night's dinner—veggies, meat, potatoes—inevitably end up being pan-fried or scrambled with eggs. (Weird but true.) She's also been known to mix leftover fruit crisp with her morning oatmeal."
Confession No. 2: "The one rule regarding breakfast that we had to follow as kids was that you needed to eat (at the very least) milk, starch, and some kind of fruit. Guess what? Pie with ice cream ticks all those boxes!"
Touché.
Confession No. 3: "The classic Mexican dish chilaquiles is one of my favorite breakfast foods. I regularly order nachos at restaurants so I have enough leftover chips, beans, etc., to make chilaquiles the next morning."
Thanks Mrs. Daly, for spilling the beans! To be fair, I don't think any Hail Marys are required. My husband, too, loves chilaquiles with pickled cactus and runny eggs, and I've totally used leftover chips (that's what free chip re-fills are for).
Other responses (SLO's Lisa Messner Funk: "over easy with chorizo or corned beef/some kind of crazy carnitas hash on French bread") made my mouth literally water.
You might be thinking, "What's the deal with breakfast? I just have a big lunch."
No shade here, but I do implore that you, please, for the love of breakfast, live a little. Maybe it's not an egg that's alluring to you this morning. Maybe it's taboo: that weirdly satisfying cold pizza or leftover fried chicken, straight from the doggie bag.
This is a safe space.
As my friend and Santa Margarita native Spencer Bone so aptly concluded, "If you wake up around lunchtime, anything is really an acceptable breakfast." Δ
Hayley Thomas Cain has been known to crave cold pizza in the morning. She can be reached at hthomas@newtimesslo.com.