It was quiet on a recent June evening outside the classrooms at Cal Poly, almost deserted, as a few remaining students scurried from their last finals, feeling summer in the air, and texting plans to celebrate.
In the dated Graphic Arts building, up the stairs, and down the tiled halls, it was a different story inside the KCPR studio. The raucous, spirited jazz of Ornette Coleman bounced around the studio, while an excited, animated man with a large white mane, eye glasses hanging on his nose, and a pair of earphones clinging onto his head, cued up the next track.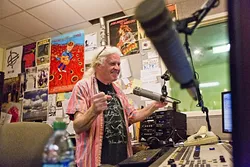 PHOTO BY KAORI FUNAHASHI
THE DISGUSTING OLD HIPPIE: ... was the DJ moniker for James Cushing, who DJed at KCPR for 18 years before he an his counterparts, the non-student community DJs on the station, were dismissed in June following the announcement of a series of changes to the station.
It would also be Ornette Coleman, as would almost every other track played that evening, because James Cushing, known on the airwaves of 91.3 Cal Poly Radio as "the disgusting old hippie," was paying homage. That morning news broke that Coleman—one of the great influential jazz composers and saxophone players, who pushed the boundaries so much he birthed the term "free jazz"—died of a heart attack in New York City at the age of 85. The news came just in time for Cushing to put a set list together for his regular Thursday evening show Miles Ahead, on which Cushing has DJed an hour-long jazz show for the last 18 years.
A break in the music brought Cushing back to the microphone. The disgusting old hippie leaned in, looked at no place in particular, and said to the audience in his methodical, sultry voice: "If it sounded a little strange to you tonight," before interrupting himself with a burst of jovial laughter, "imagine how it sounded in 1966."
The next track, "Skies of America," would be another example of the expressive wild musical mayhem that Coleman reined in so well. So, Cushing reminded the listeners out there: "If you feel like moving back and forth and jumping around, do not feel shy, because no one is watching."
A few minutes in to the track, the 61-year-old Cal Poly English lecturer and former San Luis Obispo Poet Laureate took his own advice, hopping out of his chair, bouncing and bopping around the studio, dancing, singing, yelling back at the tunes, feeling the music almost as if he were at a Cooper Square club in New York City hearing the sounds for the first time.
"Yea! There's so much going on!" he said as the music carried on. "This album came out in 1972.
"That's the same year the world first heard punk rock."
As it grew closer to 9 p.m., Cushing began to wind down. He shuffled some discs around on the machines and prepared a particular, final track. It was a special night: It would be the last time he ever set foot in the KCPR studio as a DJ. After 18 years of volunteering his time, wisdom, and esoteric love of music, Cushing was playing his last show.
A week prior, officials at Cal Poly broke the news to Cushing and his dozen-or-so peers of nonstudent DJs that they were effectively dismissed. The news came as perhaps the most sudden and surprising part of a set of changes that will be implemented to the station just three years before its 50th anniversary.
For his last track Cushing chose a fitting farewell, a ballad that gave a nod to another show he'd DJed, Lunch with Bob, where for 17 years he exclusively spun the music of Bob Dylan.
Before ceremoniously pressing that play button once more, he said goodbye to whoever was out there.
"Thank you so much for listening to this program for the last 18 years," Cushing said. "It's been one of the more ritualistically delightful experiences of my life."
He meant it.
And so he drew from Dylan's most recent album Shadows in the Night, a set of old standards popularized by Frank Sinatra.
"Thank you for sharing with me, 'The night we called it a day,' on KCPR."
And so it went, as the song filled the air:
The moon went down stars were gone,
But the sun didn't rise with the dawn.
There wasn't a thing left to say,
The night we called it a day.
The times are a-changing
When Cushing and his fellow community DJs, as they're generally called, met with leaders from KCPR and the Poly journalism department on the evening of June 2, they knew something was coming. In fact, everyone involved with the station knew that changes were on the way.
What they didn't expect was such a swift severance. It was the first move of a reform process planned for this summer, which will continue to take shape during the coming school year.
"We kind of knew what was coming since last year, and we got hints starting in January," said Sal España, the most senior of all KCPR community DJs, who joined the station when he was a student 28 years ago. España said he understood the reasons they were excused, even though it came in a rather abrupt manner.
"That's fine, that is the original purpose of KCPR, to be student run, and we just had to deal with it," España said. España was host of That Alternative 70s Show; he also DJed the popular show Audioscapes on Friday nights, but that was cut at the beginning of the 2014 school year.
A year-long, department-led inquiry considering what to do with the radio station lead up to the June announcement. The process was the result of increased scrutiny over a growing gap between what the station was and what the journalism department, which oversaw the station and owned its operating license with the Federal Communications Commission (FCC), wanted it to be.
As for what precipitated the inquiry, accounts vary. Some people familiar with the station's internal dynamics point to a series of events and conflicting philosophies that strained the relationship between students, student managers, and the journalism department. Others say that eventually KCPR was destined to follow suit with a changing journalism department and student media landscape.
Bottom line, however, was that the station's current form and the journalism department's vision for it were in discord. KCPR was heading into an existential crisis.
For years, KCPR just functioned on its own, with little oversight from the department. It was a heavily music-driven bastion "for music nerds, by music nerds," as one former DJ choosing to go by her on-air name Biba Pickles, described it.
The heavy emphasis on a student-run, music-centered organization meant mixed results and mixed programming. The station's quest to bring new, eclectic music meant a range of sounds that might include Dylan, The Pixies, MF Doom, Igor Stravinsky, or John Coltrane at the base, and extend to more out-of-the-box artists that deliver something much different than what you've ever heard on, or off, the radio.
Tune into KCPR and you might encounter anything from indy rock, underground hip-hop, contemporary classical, and avant-garde jazz to stuff that's even more on the fringes, like scream metal, no-fi, anti-folk, and dream-pop.
As for the on-air DJs, their radio presence and fluency of the equipment greatly varied between professional quality and five-minutes of rambling nonsense between songs.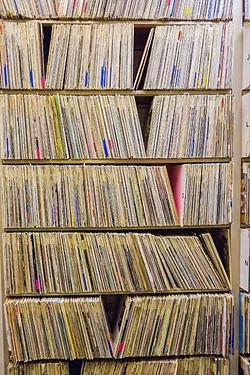 PHOTO BY KAORI FUNAHASHI
WAXING POETIC: After Cal Poly officials announced that they'll be changing the way KCPR operates in order to make it more of a "learning laboratory," many wonder what will become of the station, including the 2,000-plus records the station has in its library. "Does a journalism laboratory need a complete set of Black Flag CDs?" wonders long-time community DJ James Cushing. "What a learning laboratory needs with an extensive collection of alternative '80s LPs is not clear."
Still, opinions about the station differed as much as the music selection did. Say what you will, but KCPR gave a new, deep meaning to the phrase "something for everyone."
What may be a source of criticism for listeners is a mark of pride for many of the dedicated volunteers at the station. It was a rebellion to the standard, well-manicured radio voices and everything else they saw wrong with the mainstream music industry.
"That was also part of the charm of KCPR," España said. "You knew these weren't the morning jocks that all sound like used car salesmen, and they [student DJs] did ramble a lot."
The station used to rock the on-air line "songs you don't like by bands you've never heard of."
As for the station's at-times bipolar eclecticism, the airwaves beaming from 91.3 covered an expansive net. España summed this up with another old axiom: "If you don't like what you hear, tune in 15 minutes later and you might find something you'd like."
But, all things considered, España and many other DJs expressed a belief that KCPR serves a unique role in the spectrum of local radio, which is dominated by a corporate-owned homogeny of auto-DJed loops of Top 40 hits you've already heard a hundred times.
"It is the only place for new music on the Central Coast," España said.
The station was truly student-run, in part because the journalism department's interest in the station has waxed and waned, said Neal Losey, a Cal Poly alumnus who moved on to work in professional radio and is currently the music director and a DJ for local public radio station KCBX. Losey began at KCPR as a student from 1989 to 1993, and has DJed at the station off and on since.
"The journalism department didn't take much of an interest in it," Losey said. "There weren't a lot of broadcast majors interested in it."
While there may not have been a lot of quantifiable learning that easily fit into Cal Poly's mission, Losey and others say that those involved with the station learned a lot.
"There was no official learning going on, although every student involved with KCPR has learned a ton, in terms of learning how to run a business. You learn so much how to deal with people," Losey said. "But, it's not the kind of learning that can be tested. It all came on how much the manager was trying to get out of it."
Quality varied, reflected by the DJs and the decisions of those running the station, and for a long time the journalism department let them do their thing.
"Because of their desire to make it be more of a student-run entity, they just kind of let it be a student-run entity and didn't pay much attention to it, and the only time they would pay attention to it was when there was some trouble," Losey said.
Reprogramming
Little by little, the station's role of being a "learning laboratory," and its accordance with Cal Poly's mission, were called into question.
Mary Glick became chair of the journalism department in the fall of 2012. At the time, the make-up of Cal Poly's three student-run media entities, The Mustang Daily, CPTV, and KCPR, was being updated.
"There was a move already underway among the faculty to create an integrated student newsroom that imitated what was going on in the professional world—or to get ahead of it actually—where we were knocking down walls between print and broadcast," Glick said.
In 2013, after a year of "many, many meetings with faculty, staff, and students," the department launched Mustang News, a multi-platform news organization that integrated the newspaper and the television station and geared them to expand their online presence. The Mustang Daily became Mustang News, focused more on getting news online first, and scaled back the print edition to three issues a week.
"While we were busy doing that, KCPR was sort of humming along and doing its thing," Glick said. "And all along I was asking, 'What are we going to do with KCPR?"
Doug Epperson, dean of the college of liberal arts, agreed.
"It clearly wasn't as well integrated into the activities and the everyday routines of the department as were the other student media," Epperson said. "It was kind of segmented out on its own, rather than being integrated into the overall educational mission."
The KCPR question slowly worked its way up the list of priorities, and all along, Glick said the 2015-2016 school year was planned to be "the year of KCPR."
Then, a few racy Snapchats jumpstarted that process.
In April 2014, in the weeks leading up to the spring pledge drive, Sean Martinez and Logan Cooper, hosts of the sex talk show Getting it in!, decided that they'd do a little something on the side to raise some money for the station.
They took it to Facebook. In an April 21 post to the show's Facebook page, Martinez wrote: "Logan and I are doing a little fundraiser to support KCPR and all of the cool stuff it does.
"For only $20 dollars [sic], you can have a week of sexy snapchats featuring the hosts of Getting It In! If you've ever been curious if which [sic] one of us has a birthmark on our penis or which one of us has a tighter butt hole, this is your chance to find out!"
Cooper said they floated the idea to station management, which responded with wary support, as long as it was kept "unofficial" and at arm's length from the station.
The fundraiser proved largely unsuccessful—only one person, who Cooper said had a crush on his co-host Martinez, paid the $20 to subscribe to the week's worth of thrice daily Snapchats. Three other people who were friends with the two subscribed, for free. Cooper described the photos that were sent out via the mobile phone app Snapchat, which makes photos visible for 10 seconds and only 10 seconds before disappearing, as "tasteful nudes." He didn't argue with another description commonly used at the time of the incident: "dick pics."
The fundraiser came and went without any problems, it seemed. Then in May 2014, a story about the fundraiser hit the Internet, transforming it into a high-profile public relations mess for the station and the university.
During the fallout, Epperson gave the journalism department an ultimatum—KCPR needed to shape up or ship out.
"This is entirely unacceptable … I am beginning to believe that we should sell the radio license (we have had an offer)," Epperson wrote in an email that New Times obtained through a public records request. "What were they thinking and how could it go so far with faculty completely unaware!!!"
The idea of selling the station raised alarm and ruffled feathers. After the incident, Epperson told New Times that he only aired the threat to get people's attention, which he confirmed in a recent interview.
In another email, Epperson wrote: "Unless you [Glick and then-KCPR faculty adviser Richard Gearhart] can provide a concrete organizational plan and structure that will preclude something this extreme from happening in the future, I see no need to keep KCPR. I'm very serious about this."
A blue ribbon committee was formed, dubbed the "KCPR Evolution Core Committee," that assembled a handful of radio professionals (including Losey), technicians, professors and lecturers, alumni, and students to sort out what to do about the station.
Almost a year later, the committee released their report, The Evolution of KCPR: Recommendations Established by the Core Committee Aimed at Meeting the Academic Mission of Cal Poly. The March 2015 report was the culmination of the quest "to address a growing concern amongst campus officials, department staff, students, alumni, and the community regarding the future of KCPR."
"The legendary college radio station, founded in 1968, has been nationally recognized for excellence, has launched the careers of hundreds in the arts, entertainment, and broadcast fields, and provides Cal Poly with a true 'learn by doing' lab for students across many majors and interests," the report read. "More recently the station has been the subject of controversy, under the threat of closure by the University."
The report laments a transition that occurred in the late 1990s, when the station went from functioning "as an arm of the journalism department's news, information, and broadcast management curricula," to "more like a student-run campus club."
The report said "the department appears to have vacated oversight."
Gone was a class that all DJs were required to take, as was the "focus and attention of a Faculty Advisor." It was during that time community DJs began to fill slots at the station, in part because there weren't enough students involved to fill the air.
Staying to the left?
The new operations manual currently in the works will only be the fourth of its kind. It was last updated in 1986, making it older than most of the DJs at the station.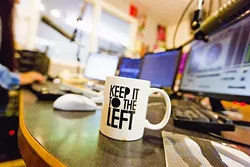 PHOTO BY KAORI FUNAHASHI
THE LEFT SIDE OF THE DIAL: In the radio world, the phrase represents the thought that the better radio stations—notably college and public radio—are found in the lower half, or the left side, of radio frequencies. That prompted KCPR to adopt the phase as a station motto.
In some ways, the station is going back to square one. Three basic changes were announced: Only students can be regular DJs; all DJs must take a 2-unit class and then subsequently enroll in a 1-unit practicum; and there would be no more graveyard shifts, instead all programming between the hours of midnight and 5 a.m. would be prerecorded.
On the surface the changes seem simple, but to the KCPR die-hards, they are drastic. No longer can a community member or alumni host a regular show; scheduling will be standardized, making it less accessible for the on-and-off DJs; and new DJs can no longer build their chops in the wee hours of the night during lower-pressure shifts considered a prime time to work out the kinks.
Cushing said that while he's sad to leave, he respects the immense amount of inquiry that precipitated the changes.
"I don't feel that I have enough information to judge their decisions," Cushing said. "I'm sure the journalism department has a complex agenda of necessities, hopes, and fears. I know nothing about that, and I'm not qualified to judge.
"The only thing I have a problem with is the way we were fired," Cushing added.
The June 2 announcement came right after the community DJs played a big role in a successful spring pledge drive, where the station exceeded its own expectations, raising more than $17,000.
Glick defended the announcement's timing. The department waited until everything was finalized, she said, and the news would have been hard to swallow however it was delivered.
"We understand that; we empathize with that. How can we do this in a way that would be more appropriate? I don't really know. I thought we were handling it in a pretty appropriate and respectful way," Glick said. "I don't know how you time that so people don't feel like the timing was wrong."
As for what the changes will bring, many wonder.
Steven Pardo, the station's new general manager, is excited for the tools that DJs can pick up in the classroom.
"I think it's actually a really positive direction for us," Pardo said. "The one thing that [the department] wants is for us to be a little bit more professional in how we do our shows."
The programming may change a bit, as Pardo said he's looking to see the station play "music that can kind of score your day as a radio station where it reflects your mood that you might be in."
The weekly themed shows brought by the community DJs will be traded for a more standardized daily schedule. Some things, though, will remain the same.
"We'll always be an alternative radio station, and that's not going away anytime soon," Pardo said.
Still, wild speculation is swirling. Some believe that the new policies will give members of the station the tools necessary to improve it, and others believe it will lose itself while broadcasting pop and pre-recorded content. Only time knows what exactly those changes will bring about.
"We're going from something that I think was working pretty well, to a whirling cloud of question marks," Cushing said in the studio after his last DJ set. "The only thing I know about the whirling cloud of question marks is that it doesn't include me."
Contact Staff Writer Jono Kinkade at jkinkade@newtimesslo.com.
-- Melody DeMeritt - former city council member, Morro Bay