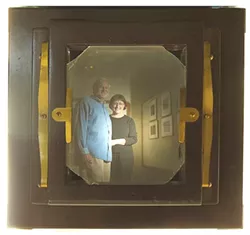 PHOTO BY STEVE E. MILLER
KICKING IT, 18TH CENTURY : This is photographer Jim Vincolisi and wife Patricia Bennett, owners of the B-W Gallery, as seen through the lens of one of their old-school cameras.
ATTN: IMPOVERISHED ART LOVERS: Arts Obispo's Open Studios Art Tour is a really big deal. Start by checking out the 6x6(x6) show and Digital Preview Exhibition, running through Oct. 23 at ARTS Space Obispo in the SLO Creamery. Located at 570 Higuera St., suite 165, gallery hours are 10 a.m. to 4 p.m. Monday through Friday, and 10 a.m. to 2 p.m. Saturdays.


The event's North County Weekend is Oct. 9 and 10, from 10 a.m. to 5 p.m. The same times will apply to the South County Weekend, Oct. 16 and 17, and the Countywide Encore Weekend, Oct. 23 to 24.

Get your free catalogue at ARTS Space Obispo and several other locations around the county. Call 544-9251. For the full list of locations or to download the catalogue, surf over to artsobispo.org.
Some of them deal in paint and canvas. Others deal in light and air. Still others, like Los Osos' Erin Perry, deal in British flags, buttons, and dead flowers. But all of this year's Open Studios artists will gladly cut you a deal this month: You show up at their studio, they'll show you their artwork, free of charge.
This 12th season marks "a year of firsts" for ARTS Obispo's Open Studios Art Tour, said artist and Open Studios director Jenna Hartzell—not least of which is this: The tour's catalogs, once priced at $25 and considered de facto tickets, are going for $0 this time. It's a risk, but one directors are hoping will bring in a big reward.
The tour kicks off in the North County, featuring artists from Cambria to Paso Robles to Santa Margarita. A preview is on display in miniature form at ARTS Space Obispo, where many of the upcoming tour's artists have recreated their work on a dinky scale of 6-by-6 inches. These fun-sized artworks are for sale, too; some—but not all!—even have dinky price tags to match.
Notable stops on the North County route include Bruce Everett's Templeton studio, as well as the artists of the Los Osos Arts Collective. But ARTS Obispo directors Hartzell and Marta Peluso also hope you'll treat the full-color catalogue like a treasure map, marking the spots that catch your eye and exploring some uncharted artistic territory.
The B-W Gallery, located off Highway 101 in the south end of Atascadero, was the first in town dedicated to black-and-white photography. Owners Jim Vincolisi and Patricia Bennett, in their third year of participation with Open Studios, will open their space to visitors. The husband and wife duo will feature the work of Jack Baber, supported by several guest photographers—among them Paul Roark, Alison Watt Jackson, Nixson Borah, Howard Steinberg, and Vincolisi himself.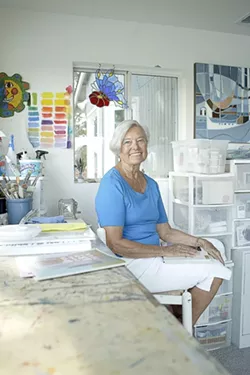 PHOTO BY STEVE E. MILLER
WATERCOLOR QUEEN : Pat Cairns, member of seven watercolor societies, prepares for the weekend's Open Studios tour.
Los Osos artist Glynis Chaffin-Tinglof's non-objective mixed-media paintings are beautiful and hard to describe, so it's best you see them for yourself.
Fellow Los Osos mixed-media artist Erin Perry seems to fancy art with a story to tell. Her repertoire includes altered books and travel journals, and several of her collage and assemblage works quote Poe. In other cases, as in The Glove and the Blade, the story is left to the viewer's interpretation. Presented with a rusty pair of barber shears, a Renaissance glove, and a coin, the task of piecing together what went on is up to viewer.
Meanwhile, artist Lori K. Oliver's beautifully trippy free motion photography will weird you out over at Templeton's Kinship Center (more on her in this week's Artifacts column). Oliver's acid-trip-reminiscent images bear titles like Go Ask Alice and Rocket Surgery. Her flashbacky stuff was inspired when a passerby at Disneyland jostled her camera, streaking a shot of the pretty lights but starting a brand-new photography technique. The results look like neon roses, shooting stars, electric clouds, or flaming rain. But the best part about Open Studios is: "It's free. Anybody can go!" Peluso said. That means families with kids. Students, Anyone.
PHOTO BY STEVE E. MILLER
STRAIGHT OUT OF A PAINTING : Oil and water media artist Jim Carlisle, flanked by award-winning other half Pat Cairns, welcomes you to his Atascadero studio.
ARTS Obispo was tired of the limitations imposed by the pricey catalog. Some groups would take advantage, sharing one catalog between the five of them, while some conscientious art lovers who couldn't cough up the dough stayed home.
Open Studios, despite its freeness, remains ARTS Obispo's biggest fundraiser, so the organization hopes the money visitors save on the catalog will still come out in the form of donations or be handed over to buy local art. And remember, the artists had to pay to open up their sacred workspaces to the public, which goes to prove there's no such thing as a free art tour. So enjoy plotting those gorgeous treasures on your free map, you cheapskate, but chances are you'll want to take some artistic lovelies home with you. And if you can't pony up, the old rule of art galleries and first dates in the '50s still applies: Look with your eyes, OK? Not with your hands.
Dynamic partnerships
In the '60s, before she ever called herself an artist, Bryn Bridenthal had a "practice husband" with a stained glass studio. His creations captured the light and kindled her imagination. It would be several decades before Bridenthal, who with sister Sher Roberts makes up half of Atascadero's 2sisters Glass, devoted herself to the medium. But it's safe to say that without the creative partnerships in her life, her work wouldn't be what it is today.
Roberts and Bridenthal are among a plethora of artistic pairs participating in the Open Studios North County weekend. Not all of them work together, or in the same medium. High school geometry teacher Annamarie Fella's mathematical compositions contrast with husband Nathan Hemenway's animation, paintings,
and puppetry.
PHOTO BY STEVE E. MILLER
ARTISTIC EFFICIENCY : Textiles artist Sandra Rude uses woodturning husband Michael's leftover wood chips to create her natural dyes.
Award-winning watercolor artist Pat Cairns and husband Jim Carlisle, who works in oil and water media, are "great admirers" of one another's art. When painting, however, the two stay tucked into their individual studios on opposite ends of their Atascadero home.
Both Cairns and Carlisle outlived their former spouses. Besides that unhappy commonality, Cairns said, the two found they shared a love of painting and travel.
The work of fellow Open Studios regulars Michael and Sandra Rude, on first glance, seems entirely unrelated. He's a wood-turner; she works with textiles. But Sandra's artistic pursuits are aided by Michael's in more ways than one. Stretching the medium as far as it allows, she aims to recreate things with cloth that have little resemblance to cloth. Her work includes a water, feather, and fire series. But in her wood series, her husband's influence is most visible; her complex woven structures mimic wood grains, and she even uses his leftover wood chips to make her natural dyes. When the two show their work together, Sandra said, "I take the walls and he takes the tables."
The work of many Open Studios duos can be described as complimentarily contrasting, with glass-fusing sister act Bridenthal and Roberts as a perfect example. A self-described "adrenaline junkie" with a rock'n'roll background, Bridenthal makes "really flashy, loud, colorful things," she said, while a quieter Roberts does "calm, beautiful things."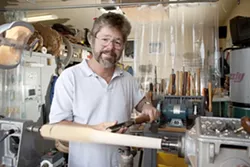 PHOTO BY STEVE E. MILLER
THE IMPORTANCE OF BEING RUDE : Wood-turner Michael Rude spend time amid a vast array of sharp objects.
Roberts is the operations manager for a software company; Bridenthal was head of publicity for several record companies during her 40 years in the music business. Bridenthal had long wanted to work with glass, but had no time for it when she was busy representing the Red Hot Chili Peppers or babysitting Courtney Love. After leaving the "Manhattan/L.A. axis," as she calls it, Bridenthal said her sister's love of paperweights gave her the idea that the two could work collaboratively with glass. Though Roberts is the one with the art degree, these days it's her sister who dedicates the most time to the expensive glass-fusing habit.
The inspiring partnerships of Open Studios are far too numerous to detail here; they include painter couple Virginia and John Mack, Cayucos sisters Ingrid and Kyanne Goelz (drool-worthy acrylic and mixed media, respectively), and mother-daughter duo Ina Mae Overman and
Mary Ellen Marcy (fused glass and fabric/mixed media).
In fact, it's darn near impossible to find one artist who doesn't take inspiration from a sister, lover, parent, or "practice husband."
Even experimental photographer Oliver, artist of the accidental, attributes partial credit to her sister Julie. Back in the days of film cameras, Julie accidentally snapped eight to 10 images of the contents of her purse. At least, she's pretty sure that's how those wacky pictures showed up on the roll. The shots "made a very unusual and artistic compilation," Oliver recalled, which her sister then framed and treasured as unintentional art.
In fact, "now that I think about it," Oliver mused, "she was ahead of my time."
Brand-spanking-new New Times arts editor and lover of free things and simple pleasures, Anna Weltner is a cheap date in the best way possible. Send comments to aweltner@newtimesslo.com.