They came barreling down the track in scandalously short skirts and tiny T-shirts, body checking and shoving like a bunch of hockey players.
Photo by Steve E. Miller
These pictures are from Central Coast Roller Derby's last season and recent practices.
# Coming into the bend, they hunkered down, scrambling to tighten up their formation. Then, in a flash of booty shorts and striped stockings, they were gone, racing up the other side of the oval and leaning hard against gravity to stay vertical in the turn.
Central Coast Roller Derby will open up its third season on Feb. 23, with the aptly named bout "Love Hurts," featuring the Sweethearts versus the Heartbreakers. Like similar groups all over the country, Central Coast Roller Derby has seen surprising success, raising more than $10,000 for various charities in the last two years and bringing in crowds of as many as 800 people. It's no wonder the sport is so popular: With absurdly costumed women skating fast and knocking each other down for charity, what's not to love?
"It's the most fun I've ever had," said Crystal "Scurvy Pete" DeNapoli, a two-year veteran of Central Coast Roller Derby. "I'm going to do this as long as my feet work."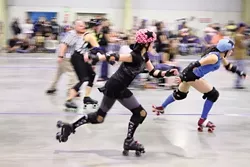 # Clearly, this isn't your mother's roller derby--unless of course, your mom is on the team. Derby is still a spectator sport, at least equal parts athleticism and camp, but unlike the '70s incarnation--which was a made-for-TV spectacle on par with professional wrestling--the players aren't pros. They're moms, accountants, dental hygienists, and hairstylists. The game itself is still full contact on four wheels, but in this modern roller derby, the spills, the crashes, the pain, the wins, losses, and the girls are real.
Some leagues require strict uniforms, down to the matching skates. Central Coast Roller Derby doesn't. The players' outfits are a mishmash of stripes, polka-dots, knee-socks, and frills in black and pink--probably prissier ensembles than any of the girls would be caught wearing outside the rink. But the uniforms are secondary to the daunting task of organizing practices with about 40 girls--only 10 of which will get to start in the upcoming game. League president Berta "the Hurta" Watford said that they've had to temporarily close their Skating 101 workshops, which feed players into the league.
"The response has been huge," she said. "We might open it back up, but right now we've got such a huge list of people waiting, that it just wouldn't be fair."
Watford said that the league is trying to join the Women's Flat Track Derby Association. Until then, the Central Coast league, which only has two teams, is closed off to new skaters. The problem, Watford said, is too few coaches. In a sport that sanctions hip-checking, proper training is essential to keeping players safe. The Sweethearts and Heartbreakers are also a little more mature than you might guess. The average age is somewhere around 30, but with at least a handful older than 45, injuries are a real threat. And although the game is fairly simple, most of the players came to the league without the most basic of skating skills.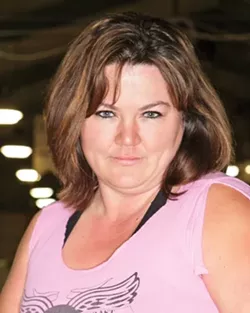 Photo by Steve E. Miller
NAME: BERTA THE HURTA: AGE: 35 OCCUPATION: bookkeeper NUMBER: 73 POSITION: blocker GAMES PLAYED: 14
# The move to a bigger league would allow them to play more teams, and would qualify them for tournaments. Since its modern revival in Austin, Texas, about seven years ago, roller derby has grown tremendously with seriously competitive leagues in most major and mid-sized cities in the country--all cities with a sense of humor, that is.
The rules are pretty simple. Five girls from each team are allowed on the rink. The girls are divided into three positions: jammers, pivots, and blockers, who are each assigned a place in the pack. The pivots stay at the front and regulate the speed of their team. They're also the last line of defense against the other team's pivot, and you can identify them by a stripe on their helmet. The jammer wears a star on her helmet, and her sole job is to score points by skating past the pack. The blockers make up the bulk of the pack. Their job is to keep the other team's jammer from passing, but they can also help their own jammer by blocking blockers or clearing a path. It may seem a little complicated, but it all comes together when you see it live.
On the track, the players move fast and skillfully as a group. The spills tend to happen as the cluster moves out of the turns and stragglers go skittering off the track, sparking gasps and roars from the audience.
Despite the threat of hardcore spills, derby is an escape for the players. They're initiated with derby names that often refer back to their real lives but evoke a more "hell on wheels" feel: Helen Highwater, for example, or Berta the Hurta. They embrace these stage names so wholeheartedly that some of the players don't even know each other's real names.
"A lot of us are shy or conservative," confessed Rachel "Lacey ThunderWare" Osborne. "This is a chance to get away from ourselves."
For all the attitude and bad behavior the sport seemingly endorses, the players will tell you that it's ultimately about love. Sure, it's violent, and the fishnet-stocking-sexuality that dominates the rink is a tad less than G-rated wholesome, but it's all in fun. And unlike a housewife with a secret stripper pole at home, this is something the kids can have fun watching. At a recent practice, at least one mom and no less than three kids hung out on the bleachers.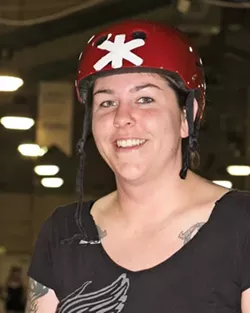 Photo by Steve E. Miller
NAME: LACEY THUNDERWARE: AGE: 30 OCCUPATION: escrow assistant NUMBER: 16 POSITION: pivot GAMES PLAYED: 14
# Family fans and escapism aside, the most eye-opening aspect of the game, even to the players, is the camaraderie.
"I was surprised," Osborne said about closeness between teammates. "I didn't think that girls could be so cool. We're definitely a family, we all treat each other that way."
Even on the track, the derby girls are supportive and good-natured. The general sentiment, supported by the league's motto, is that lacing-up and running into each other is "cheaper than anger management."
"That's why we're all so nice," Watford explained. "Cause we hit each other all the time."
Photo by Steve E. Miller
NAME: WONDER ROLLER: AGE: 30 OCCUPATION: environmental planner NUMBER: 57 POSITION: jammer AVERAGE POINTS PER GAME: 45 GAMES PLAYED: 11
#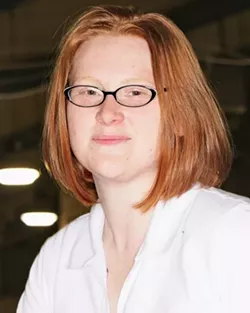 Photo by Steve E. Miller
NAME: SCURVY PETE: AGE: 27 OCCUPATION: blood worker NUMBER: -1 POSITION: blocker GAMES PLAYED: 4
#
Photo by Steve E. Miller
NAME: EVIL-A: AGE: 26 OCCUPATION: mom/wife NUMBER: 9 POSITION: power blocker GAMES PLAYED: 8
#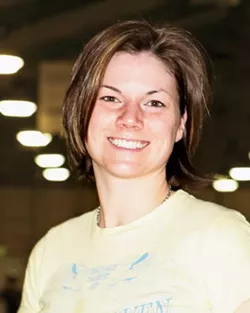 Photo by Steve E. Miller
NAME: MACK ATTACK: AGE: 27 OCCUPATION: dental hygienist NUMBER: 12 POSITION: blocker GAMES PLAYED: 11
#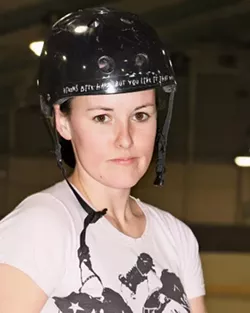 Photo by Steve E. Miller
NAME: RESIDENT VIXEN: AGE: 30 OCCUPATION: bartender NUMBER: 5'5" POSITION: jammer AVERAGE POINTS PER GAME: 40 GAMES PLAYED: 11
#
Photo by Steve E. Miller
NAME: HILLFIRE: AGE: 26 OCCUPATION: hairstylist NUMBER: x POSITION: jammer AVERAGE POINTS PER GAME: 50 GAMES PLAYED: 10
#
See them in action
Central Coast Roller Derby plays its first game of the season on Feb. 23 at Skate Mor skating rink, next to the fairgrounds in Paso Robles. Tickets are $12 in advance through VALLITIX or www.vallitix.com. Tickets at the door are $15, and kids younger than 10 get in free. Doors open at 6:30 p.m., and the game starts at 8. For more information, check out www.centralcoastrollerderby.com.
---
Kylie Mendonca has been known to hip-check editors. Contact her at kmendonca@newtimesslo.com.