Lee Johnson, 89, considers himself lucky to be alive.
A resident of South Shore Village, a small community on the southwestern shore of Lake Nacimiento, Johnson and a dozen others staying in cabins were trapped by the flames of the burgeoning Chimney Fire on Aug. 14.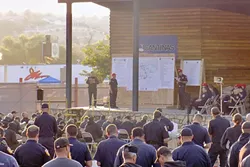 PHOTO BY PETER JOHNSON
FIRE SEASON: Hundreds of firefighters attend an Aug. 17 Chimney Fire briefing at the Paso Robles Mid-State Fairgrounds. The fire has burned 7,300 acres south of Lake Nacimiento with 25 percent containment as of press time.
Evacuation orders were called that afternoon once the fire started spreading toward the shoreline, but many residents felt frozen in their tracks, hesitant to abandon their properties while also determining the safest escape route.
Around 8 p.m., Cal Fire allowed the residents to evacuate the area by land, via the Deer Creek Bridge a few miles east by the Ranchos Del Lago community.
A caravan of five vehicles departed South Shore at 10 p.m. after its passengers had packed up their most valuable belongings.
"When we get out there, the whole surrounding area was in a blaze," Johnson said.
Then, as they approached the Deer Creek Bridge, Johnson discovered an obstacle.
"The crossing was blocked by a huge oak tree that was ablaze," he said. "And there was no help at the bridge."
One member of the clan, 37-year-old Brandon Fisher of Santa Ynez, quickly mobilized an operation to clear the way.
"We had a chain, and a couple of able-bodied college kids to help move the debris," Fisher said. The men wrapped the chain around the oak and pulled.
"The oak split in half," Johnson recalled. "And one half of it moved to left, and the other to right, so we could drive right in between. ... If not for Brandon and the others, I don't think we would have made it out."
While South Shore Village members and their properties escaped the Chimney Fire unscathed (as of Aug. 17), other communities along Lake Nacimiento haven't been so lucky. The Chimney Fire has torched 30 homes and 10 outbuildings, mostly within the Cal Shasta community, according to Cal Fire.
The blaze didn't stop at the lakeshore; it's burned in a southward direction to cover 7,300 acres as of press time.
At an Aug. 17 morning briefing, Cmdr. Glenn Patterson told firefighters that high-end projections for the fire's spread are 29,000 acres. The blaze is only 25 percent contained with more than 2,000 firefighters working to stop its progress.
Fire officials told New Times that the highest point of concern is at the southeastern corner of the fire, near Lime Mountain, where many of the 238 threatened structures are located. Hot, dry, and windy weather conditions are pushing the fire in that direction.
"We hope to strengthen and improve the control lines down there, and hopefully the weather will cooperate with us," said Bennet Milloy, a Cal Fire public information officer.
On Aug. 17, weather conditions were definitely not cooperating. Humidity was only 8 to 10 percent and temperatures in the mid-90s.
"It's incredibly low humidity," Milloy said.
Base camp for the Chimney Fire is set up at the Paso Robles Mid-State Fairgrounds. What was recently the venue for carefree fair-goers and festive music is now a critical resource for the firefighting effort.
"The fairgrounds is a really good facility," Milloy said. "A place of this size helps accommodate everything."
With more than 10,000 firefighters deployed across California fighting eight major wildfires, resources are stretched thin. The projected date of containment is said to be Aug. 29.
"[The Chimney Fire commanders] don't have everything they asked for," Milloy said. "There's finite resources at peak fire season."
• Edit note: In the Aug. 18 news brief, "Chimney Fire scorches 30 homes," South Shore Village resident Lee Johnson's age was misprinted. Johnson is 89.