The whole idea seemed kinda silly when I heard about this eatery, although I was amused by the clever name for a shop that specializes in fresh potato chips. On my first visit to Chipwrecked in Pismo Beach, I learned another surprising fact: Chef Sarah Paddack had no previous professional cooking experience. But followers of this column know I never let a lack of experience prejudice my critique. I judge every eatery on good taste, quality of products, and passionate people doing something extraordinary, just as the Paddack family has done with their unique chip shop.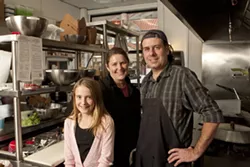 PHOTOS BY STEVE E. MILLER
FAMILY OF CHIPS : There are 10 different flavors of freshly made potato chips on the menu at Chipwrecked, all made by the family team of (left to right) Larkin, Sarah, and Dan Paddack.
SLO COUNTY RESTAURANT MONTH: If there's one month I love dining out most, it's January. From Jan. 2 to 31, nearly all of our finest local restaurants work with the SLO Visitors & Conference Bureau to offer a three-course prixe fixe dinner for $30 per person. In some cases the menu is set, but more often there are choices within each of the courses, and some offer a flight of wines paired with it for a reasonable additional price. There are some restrictions, certain nights excluded by some participating restaurants, and they don't allow substitutions. You can learn all of the details and plan your reservations by visiting sanluisobispocounty.com. The list of restaurants, some of which have provided their menu, are found on the opening page, or call the SLOVCB at 1-800-634-1414.

Participating restaurants listed by city:

• Arroyo Grande: Rooster Creek Tavern

• Atascadero: Colby Jack Café

• Avila Beach: Gardens of Avila at Sycamore Mineral Springs

• Cambria: Black Cat Bistro; Robin's

• Cayucos: Hoppe's Bistro & Wine Bar

• Morro Bay: Blue Skye Café; Galley Seafood Grill & Bar; Windows on the Water

• Paso Robles: Artisan; Bistro Laurent; Buona Tavola; Enoteca Restaurant & Bar; Estrella; Il Cortile; Paso Robles Inn Steakhouse; Robert's; Thomas Hill Organics Market Bistro

• Pismo Beach: F. McLintocks Dining House; Giuseppe's Cucina Italiana; Great American Grill at Hilton Garden Inn; Lido at Dolphin Bay; Marisol at the Cliffs Resort; SeaVenture; Splash Café; Spyglass Restaurant; Steamers of Pismo

• San Luis Obispo: Alex Madonna's Gold Rush Steakhouse; Apple Farm; Big Sky Café; Buona Tavola; Café Roma; Copper Café at Madonna Inn; Gennaro's Grill & Garden; Luna Red; Mama's Meatball; Mother's Tavern; Novo; Palazzo Giuseppe; Splash Café Artisan Bakery; Upper Crust Trattoria; Vieni Vai
I knew none of that when I arrived, however. The small dining room has a handful of tables and a large window to view the kitchen, all of which is quite clean and tidy. I was even more impressed the moment I saw co-owner Dan Paddack place fresh potato slices into the fryer to prepare my order. I started with the Capricia ($3.95/$5.95) topped with grated parmesan, basil chiffonnade, and fresh lemon juice. It was excellent with the fresh ranch dip (75 cents), the most delicious version I've tasted in years. Then I savored the chips with the Port Astoria tuna salad ($8.95) mixed with red onion, cucumber, celery, apple, basil, pine nuts, and lemon, a delicious array of crunchy texture and fresh bright flavors. Normally I prefer tuna salad done simply; I don't like the versions I mock as kitchen sink tuna, but Sarah has created a very novel and tasty fish sandwich.
"Cast away all past chip experiences and get ready to be chipwrecked," the menu states, and their creative nautical menu promises many unique flavor combinations you may not have thought of trying before.
"Even if it's something you have had before, we up the ante," Sarah said with a smile.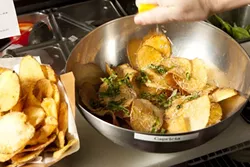 I admit that she would prove I could actually enjoy a dessert potato chip when I revisited a few weeks later to try another treat before introducing myself. Previously I had asked Dan if they made a nacho version, and he said they had done it as a special.
"Tell us what you like on nachos and we'll create a version for you now," he promised on my next visit, and then made an excellent batch of fresh potato chips generously loaded with crispy chopped bacon, shredded cheddar cheese, and sliced green onions ($4.25/$6.50).
There are no slouches among this hard-working family; even their 10-year-old daughter Larkin helps out wherever she's needed. A modern pre-teen, she works the cash register and explains the various sandwiches and chip combos like a seasoned sailor. After finally shoving away those irresistible nacho-style potato chips, I handed my card to Sarah and asked what inspired their ingenious chip shop. Not only do the Paddacks operate this unique gem on Pomeroy near the pier, they take care not to compete with the neighboring businesses.
"One of the things I'm very conscious of is not competing with other vendors," Sarah said frankly. "If someone wants coffee, I suggest the coffee place just down the street."
Explaining that Chipwrecked was her mother's idea because she's a "potato chip nut," Sarah recalled that the downtown Pismo Beach location seemed perfect for creating a new adventure for the family: "It took us a while to figure out everything; it's all about the process. The washing and brining changes the texture and the taste, that's why we don't have sweet potato chips. We wanted the chips to be crispy without being burnt. It's all been a big learning curve. I'm learning to take what I do and standardize it. Once we find the right taste combination, we stick with it."
Nearly everything is made fresh; she even caramelizes the onions to make the French onion dip. Sarah invited me to try the dessert chips, which I immediately turned down. Just one chip of each special, she tempted—and it was a wise decision to accept. I tried the eggnog—her themes run with the seasons—with eggnog seasoning and a Southern Comfort syrup (she cooks the alcohol out of it) that was delicious. The cheesecake-flavored potato chip was amazing, perfectly spiced with a decadent cream cheese dip, and my favorite of the two. The menu always features the USS Intrepid: applewood bacon and dark chocolate on a sea salt chip ($3.95/$5.95). All chip orders are available in small and large, and every salad and sandwich comes with a side of the chips that best complement it. Any of these delicious, flavorful chips can be ordered ahead for take-out to serve at a party, or anytime you're craving the best potato chips around.

Contact Cuisine columnist Kathy Marcks Hardesty at khardesty@newtimesslo.com.