PHOTOS BY DENNIS PEARSON
THE LITTLE TRAIN THAT COULD : Dioramas, like this one featuring an HO-scale train, will fill the Oceano Depot on Jan. 29 and 30.
Does the name Darius McCollum ring a bell? If it does, you might be obsessed with trains. McCollum certainly is. For the past three decades, he's taken NYC trains and buses on joyrides and impersonated Metropolitan Transportation Authority workers. His first joyride came in 1981 when he piloted the E train to the World Trade Center. All told, he's racked up 23 transit-related arrests. Choo-choo!
There's a better and less illegal way to indulge your train obsession when the SLO Model Railroad Association and the Oceano Depot Association join forces to host the fourth annual Model Railroad Days on Saturday and Sunday, Jan. 29 and 30, from 10 a.m. to 4 p.m. at the historic Oceano Depot.
You'll be able to see layouts of various scale model trains, participate in contests, enter raffles, and see historical displays. You can even wear your engineer's cap and overalls, and no one will make fun of you. Probably.
Even if you don't hang out around train tracks or have a basement filled with elaborately detailed mountain passes, miniature cities, small train depots, water towers, and tiny telephone poles, you still might enjoy seeing inside this subculture's world.
According to organizers, "The entire depot will be open to display its unusual artifacts from Oceano and the adjacent railroad. Although this [free] event will act as a fundraiser and member development event for both organizations, the real intent of Model Railroad Days is to share the history of trains and love of modeling with the community. Local train buffs, modelers, historians, and kids of all ages are encouraged to spend one or both days at the depot!"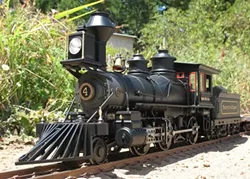 PHOTO BY DENNIS PEARSON
RIGHT ON TIME : A No. 4 Baldwin Locomotive Works steam engine rides its tiny tracks in down-to-the-rivet detailed glory.
In addition to operating HO- and N-scale model train layouts, "Big toy trains will also be on display for the kiddies, and they will receive free AMTRAK gifts. A model train yard sale will feature great deals on new and used model railroad items. Attendees that weekend will be able to take advantage of new member specials if they sign up for SLOMRA membership on site. There will be food, drinks, and popcorn for sale by the depot volunteers. Tours of the entire depot, including the waiting room and office, will be offered. The depot's recently restored 1907 wooden caboose, which houses the depot's own HO layout, will also be open."
If you do run your own model trains, bring your engines in on Saturday for a free "Test, Tune Up, & Lube" for N-, HO-, and O-scale engines. And if you fancy yourself a model engineer, "Rail fans of all ages will be able to test their track switching and car movement skills on the club's new 'Time Saver' layout. Attendees will be able to learn and practice on the Time Saver on Saturday and compete for prizes on Sunday."
It's going to be train geek heaven, people!

ALL ABOARD!: On Saturday and Sunday, Jan. 29 and 30, the SLO Model Railroad Association and the Oceano Depot Association join forces to host the fourth annual Model Railroad Days from 10 a.m. to 4 p.m. at the historic Oceano Depot, located at 1650 Front St., between Highway 1 and the Union Pacific railroad tracks in "downtown" Oceano, just south of the track overpass. The event is free to attend.
If, on the other hand, you don't appreciate such geekiness because you're too cool for model trains, before you pass judgment, may I draw your attention to one Neil Young, rock god, who's such a model train enthusiast that he invented a Trainmaster Command Control. Seriously! Young was part owner in Lionel and was instrumental in the design of the Lionel Legacy control system. He also was named co-inventor on seven U.S. Patents related to model trains. It's a hobby he shares with his disabled son Ben.
Kind of gives new meaning to the lyrics to his song "Train of Love": Train of love/ 
Racing from heart to heart/ 
Running late
/ Still in the lonely part
/ This train will never run me down/ 
But only take me where I'm bound/ 
It's part of me and part of you/ 
I'll always be a part of you. ∆
Glen Starkey takes a beating and keeps on bleating. Keep up with him via twitter at twitter.com/glenstarkey, friend him at Myspace.com/glenstarkey, or contact him at gstarkey@newtimesslo.com.