Just getting to the Brickyard Theatre feels like an elaborately staged adventure. First, go to a softball field in Atascadero and wait. Look around anxiously for other playgoers. (Hint: They love floppy hats.) Soon, vans roll up. Driven by fancy chauffeurs, they are discreetly marked "The Brickyard Theatre." Don't ask questions, just hop in. Before you know it, you're at the residence of veteran directors Anet and Charley Carlin, which undergoes an annual transformation from ordinary house into the best little community theater in town.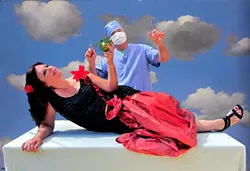 PHOTOS COURTESY OF ANET CARLIN
CHARLES PERFORMS SURGERY ON THE WOMAN HE LOVES : Charles (David Norum) serenades his patient Ana (Cynthia Anthony), whom he loves, before operating on her.
By this time, you'll be feeling exquisitely out of place, as if you had been wandering around the middle of nowhere, just minding your business, and fell into a magic portal by accident—but are enjoying yourself far too much to worry about getting back to reality, making you perfectly primed for Sarah Ruhl's colorfully surreal black comedy The Clean House.
Marlena Mack is Mathilde, a sassy Brazilian maid who refuses to clean. Mathilde hates cleaning. She likes dancing and jokes, but cleaning? Cleaning can suck it, as far as she's concerned. Mathilde's boss, Lane, a humorless doctor played by Mary-Ann Maloof, does what any concerned, humorless doctor boss would do: She puts Marlena on meds.
(This premise, and even Lane's quote, "I didn't go to medical school to clean my own house!" was culled directly from a conversation Ruhl overheard at a cocktail party.)
Enter Virginia (Christine Hance), Lane's sister. Having married into money, Virginia doesn't need to work—and the idleness is driving her mad. She drops by the house to find its owners away, the place in shambles, and a cheerful Mathilde luxuriating with a magazine.
Virginia is shocked—how could Lane ever give up the sacred right, the spiritually cleansing ritual, of cleaning her own home? How must it feel, not knowing how long it takes for dust to collect under her bed? If her messes are always being dutifully erased, how can she even recall making them? How can she feel she's made any progress at all?
But the present problem is that Lane's messes aren't being dutifully erased, so a plan is hatched—Virginia will secretly come over and do all of the cleaning for Mathilde.
Playwright Ruhl's magical realism-informed dialogue never thinks to distinguish between the mundane and the absurd, something director Anet Carlin plays with to great effect. But the production's success rests just as much upon the shoulders of the three central women of the show.
As Mathilde, Mack overflows with charm and uncomplicated joy. Her accent is convincing and—rare for a local actor—consistent.
PHOTOS COURTESY OF ANET CARLIN
SNOWY BEACH : Charles, played by David Norum, voyages to Alaska in search of a healing yew tree, in Sarah Ruhl's black comedy The Clean House.
Mathilde's monologues, which meander in and out of Portuguese, don't necessarily narrate the play so much as provide us with a glimpse into her own life. Her parents, for example, were the funniest people in Brazil, and everything out of their mouths took the shape of a joke. When Mathilde's father thought up the perfect joke, he told it to her mother, who laughed so hard it killed her.
Haunted by his guilt, her father shot himself. Having little money, Mathilde moved to the United States to clean houses, though she really dreams of being a comedian. She often ruminates on the machinations of the joke, concluding, "The perfect joke is somewhere between an angel and a fart."
Hance is wonderful as Virginia, a sort of pleasantly manic housewife whose idle imagination often wanders innocently into the territory of the morbid. She feels inferior in the presence of her successful big sister, and their scenes together hint at the sort of childhood the two must have had, the whimsical Virginia likely always being shushed by the know-it-all Lane.
Maloof brings the requisite clinical coldness to her portrayal of Lane, but mixes it with a strain of vulnerability, which comes to the forefront when her husband, Charles (played by David Norum), also a doctor, comes home with a fun-loving Argentinean (another foreign accent successfully executed) woman named Ana (Cynthia Anthony) and the happy announcement that he has found his soul mate.
Up until now, the absurdity has been of a gentler sort, like when Mathilde tells Lane to "pretend I'm your nurse!" or when Lane begins to crack up at how strange the word "poor" sounds when repeated ad nauseum. (Read into that what you will.) But when Charles and Ana enter the picture to share the good news of their affair, everyone gets swept into the gigglefest—with the exception of Lane, who, in her spotless abode, is left to reconsider the meaning of words like "love" and "messy."
A home is a perfect setting for this play, though the Carlins have done such a professional job making theirs into a theater, you almost forget they really live there. It's tempting to stick around in the fantasy world that this couple, and their considerable production staff, have created.
But the vans are already idling outside, and reality is honking.

Arts Editor Anna Weltner can be reached at aweltner@newtimesslo.com.
*This article was altered on Sept. 13 to include portions that were cut from our print edition.