It wasn't a dark and stormy night when SLO resident Lisa Deyo decided to found her own dance company. It was actually on a Russian train chugging away from St. Petersburg, a glass of champagne in hand, and flushed with success from a highly praised performance, that Deyo made the momentous decision.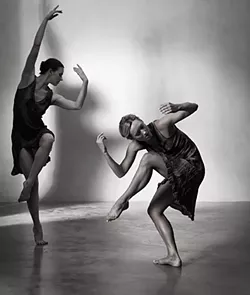 PHOTO BY BARRY GOYETTE
EVOCATIVE : Choreographer Lisa Deyo works to capture genuine human feeling in her work.
Deyo was originally invited to Russia as part of a project that Civic Ballet founder Lori Lee Silvaggio started in order to pair local dancers with overseas performance opportunities. Deyo passed her audition and began assembling a group of local dancers to accompany her on her journey as ambassador of the arts. About a month before the group was scheduled to leave, they learned that there had been a potentially embarrassing misunderstanding about their performance; the Russians were expecting a professional dance company, and Deyo had recruited students and other non-professional dancers.
"But we pulled it off," she said with a proud grin. Afterward, while the group was celebrating, Deyo realized that she had never enjoyed dancing so much.
In the six years that have passed, her company, Deyo Dances, has performed at the Spanos Theatre, the SLO Little Theatre, ARTS Space Obispo, and even Vons. Dancing couples wound their way through the slick aisles, beginning—as any supermarket dance should—in the produce section.
Deyo draws from a deep and varied pool of local talent, welcoming fun, gifted, and professional performers, regardless of their studio affiliation. In a city where most dancers identify with one of two studios—Academy of Dance or American Dance—or as a student dancer at Cal Poly, it's rare for a choreographer to indiscriminately harvest talent. But that's what Deyo does. She's even recruited comrades from her days as a Hubbard Street dancer who travel to SLO to participate in her shows. And the two primary studios are involved in the production as well; Deyo Dances rehearses in an Academy of Dance studio and Deyo borrows Ballet Theatre of SLO's nonprofit status for her performance.
"I've got working professionals. I've got students. I've got mothers. I've got fathers," said Deyo. The melding of artists of various experience levels is particularly suited to Deyo's choreography style, which she aptly describes as "very human."
"I think for a lot of people dance seems to be an elitist thing and one of the most basic human urges is to move," she explained. She utilizes whatever style of movement best expresses what she wants to say during a particular segment of dance, most frequently employing ballet because it happens to be her favorite style.
For her performances July 24 to 26 at the Spanos Theatre, Deyo choreographed three distinct dances: "Cartoon Girl Goes to the Circus," "Five Women and a Bench," and "Suite," which premiered at the Spanos Theatre in June of 2006.
PHOTO BY BARRY GOYETTE
UP CLOSE AND PERSONAL : Dancers from all backgrounds come together to embody Deyo's vision in dance.
The first, about a girl who runs away and attempts to join the circus, is based on a bas-relief sculpture that tickled Deyo's imagination. The piece stars Harmony True as Cartoon Girl and Drew Silvaggio, Artistic Director of Civic Ballet, as a lecherous ringleader who forces Cartoon Girl to tango for a place in the circus. The circus folk are broken into three categories—the fluffies, the assistants, and the blue people, who shuffle and perform obediently to music that is full of pomp and bravado, and also a little sad. The costumes are the epitome of makeshift circus chic, with red clown noses, blue ruffled collars and beanies, and lots of leggings and gloves, some purchased at Ross, some made out of shirts pulled from the trash can, and some from a clown company where—Deyo delightedly states—employees make you tell them a joke before you can place your order. The conclusion is satisfactorily romantic.
"Five Women and a Bench" is fairly self-explanatory, featuring five women telling each other stories through solos, each responding to the emotions expressed by the previous dancers.
"I wanted to do a conversation for women, and I don't know why," said Deyo. "Maybe because my women friends, I really need them."
The first dancer tells a story of heartbreak, which the second attempts to comfort. The third and fourth dancers, one of whom is Deyo, are crustier, more sarcastic. And the final, and youngest, dancer is indomitable in youth, convinced that she will never be ensnared by the same net that captured her elders.
And then there's "Suite," which Deyo said has received some tweaking since its debut in 2006.
"[Suite] is all about the awkwardness in intimacy, for better or worse," Deyo explained. "It kind of shows how we go through life and have these interactions or we don't, and how that impacts our life." The dance flows more like a series of vignettes, alternately poignant and funny, featuring couples in various stages of relationships—or lack thereof; children experiencing first love in first grade, that same couple as adults meeting somewhat uncomfortably and sweetly in an elevator, the lonely man who retains hope.
"Suite" is just plain fun at times, and funny; it invites you to smile and relate. Perhaps because Deyo militantly avoids the perceived elitism of dance, her performances are a lot like theater, full of gestures and expressions, a narrative worth seeing through to the end.
In total, the three dances are about an hour long with two 15-minute intermissions between each performance. Deyo wants audience members to express their opinions during the intermissions, whether critical or complimentary.
"I want them to see their life in what I'm doing on stage," said Deyo. "Because I want the audience to own it. It's not for the people in it. It's for the people watching it." Of course, Deyo knows that the dancers' movements translate differently depending on their mood, and her dancers are kept happy and high-spirited—if the tone of rehearsals is anything to go by.
At the end of the day, whatever happens on the stage, and whatever the audience thinks about what happens on stage, Deyo doesn't have any choice but to do whatever she can to do justice to the visions in her head.
"This is how I communicate," she explained. "This is how I function." Her mind filters through the world—its colors and conversations—and releases them in dance.
INFOBOX: Three shows in one
Deyo Dances will be performing "Suite," "Cartoon Girl Goes to the Circus," and "Five Women and a Bench" on July 24, 25, and 26 at 8 p.m. Tickets cost $22. For more information visit www.pacslo.org or call 756-2787.
---
Arts Editor Ashley Schwellenbach might be a cartoon girl, but she's never danced from a bench. Egg her on at aschwellenbach@newtimesslo.com.