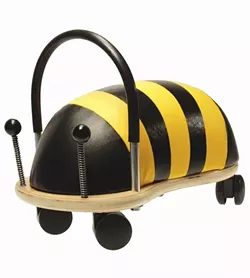 B
uying for baby may seem like one of the easiest gift assignments. After all, they won't express displeasure with the item, they won't return or re-gift it, and the mere act of tearing into wrapping paper primes them for what's inside.
Baby gifts do, however, take some thought. There are concerns about age appropriateness, and whether or not the item contains lead or other toxins. There are even more questions if you're trying to buy green or eco-friendly gifts. And if you think you can walk into a toy store and buy a gift without a plan, think again.
At Tom's Toys in the Santa Maria Town Center, it's hard to concentrate on a single item. There are toys that whirl and purr.
A plush kitty jumps at the legs of shoppers and then rolls around the floor in hysterical laughter. Shelves of items vie for attention. With Sit'n'spins and activity centers to consider, the challenge isn't in finding a gift—it's in deciding which one to buy.
Manager Mike Sothcott recently rushed around with bells on his shoes and a Rudolph the Red Nosed Reindeer nose over his own.
"A lot of people will get something for a baby, and if they're not in the loop, they don't know what to get," he explained. "A lot of times they will get a stuffed animal, and I gently discourage them and show them something more appropriate."
He explained that stuffed animals have glass eyes, making them unsafe for babies with a habit of putting everything in their mouths. That doesn't mean a cuddly teddy is out of the question, however. Sothcott emphasized the Tolo line of baby toys, which includes stuffed animals with sewn eyes.
Tolo is a European line of baby products that are high quality and simple in design, but baby safe.
"They are well-made and come in exquisite gift boxes. That often keeps them out of the price range for a lot of people, but the owner got a really good deal on them and was able to offer them at a lower price," employee Trisha Sothcott said.
For instance, the Tolo Bears Musical Play Gym usually sells for $126.99 and is now selling for $39.99. Bear Friends was $29.99 and is selling at Tom's Toys for $9.99.
Other items selling well include the IQ Tiny teether and clutchball. In lime green and orange, the balls are easy to grip, soft, and squeezable. Tom's Toys also offers toddler-safe remote control cars made from the basics, oversized and with soft rubber. And of course the Glow Worm is always a classic, Sothcott said.
"Baby toys have to be more safe than almost anything else, because they are going to put everything in their mouth," he noted, repeating a familiar challenge.
Santa Maria-based Prince Lionheart has spent several years producing items built to help people grow up happy and safe. Surprisingly, one of their most popular items right now isn't a play toy.
"Our biggest selling item is our wipe warmers, because it's winter, it's Christmas. They keep wipes warm, and our parents flock to them," said Michele Hollenbaugh, senior project manager at Prince Lionheart.
Hollenbaugh explained that their new line of potties is a big seller right now. Besides baby care products, Prince Lionheart also offers a selection of items for play, like the Wheely Bug, a child safe ride that encourages gross motor skills. Available as a bug, cow, bee, or mouse, the Wheely Bug is entirely non-toxic and contains no PVC. The plywood base is made from renewable plantation timber.
The company's big selling play toy is the Balance Bike, a transitional riding toy that teaches balance, coordination, and steering—skills needed to transition to a two-wheeled pedal. Perfect for ages 2 to 5, the Balance Bike features a height-adjustable padded seat with a 100-percent birch wood frame and solid rubber hand grips. It retails at $80.
"For me, as a mom, I always try to buy those kinds of gifts at Christmas, the Santa gifts, and the Balance Bike sales really pick up at Christmas," Hollenbaugh said.
The important thing to remember when buying a baby a gift is that it doesn't take much more than the basics to keep him or her happy. One of the most popular gifts of the season is the Sophie the Giraffe Teether. The soft rubber toy offers lots of angles—on ears, legs, and horns—for a teething baby to chew on. And it also has a squeaker to keep the baby amused.
Baby Einstein specializes in quality toys that are—say the cliché with me—fun and educational. Introduce little ones to classical music from composers like Mozart, Chopin, and Vivaldi with Baby Einstein Takealong Tunes. This baby-approved music maker allows kids to switch through seven classic songs, and it features a colorful light display. Or opt for the Learn and Groove Musical Table from Leapfrog, suitable for ages 6 months and older. Babies can learn about the alphabet, colors, and opposites with sparkling lights and more than 40 songs.
To offer baby a little exercise, there's Fisher Price's Rainforest Jumperoo. The baby jumper will keep active tykes busy with toys and lights. For crawlers, there's the Baby Einstein Animal Exploration Tunnel, a 4-foot-long crawlspace that includes a chirping red bird, an apple teether, a mirror toy, and other stuff to keep babies busy—so you can finally cross them off the list and start shopping for the older folks in your life.
Shelly Cone is Arts Editor at New Times sister paper the Santa Maria Sun. Contact her at scone@santamariasun.com.