PHOTO BY STEVE E. MILLER
MERRYMAKERS : Chef David Whitestine (left) and co-owners Wendy and Leonard Cohen deserve high praise for their beautiful new destination and fine menu in downtown SLO.
Like bees swarming over sweet nectar, San Luis Obispo foodies are abuzz over SLO's hottest new restaurant, appropriately named Ciopinot. Named after the classic San Francisco shellfish stew and the wine variety that brought worldwide fame to Central Coast wine regions, the name was derived from cio for cioppino and pinot for Pinot Noir. It's pronounced "cha-pe-no," according to the owners of the new eatery, Leonard and Wendy Cohen. Leonard noted, "Cioppino and Pinot Noir: It's a food-and-wine match made in heaven."

Locals have known and respected the Cohen family at their quintessential SLO County restaurant, the Olde Port Inn in Avila Beach, founded in 1971. Leonard is the second-generation owner there. So it was hardly unexpected when I arrived at his new Ciopinot on Wednesday night and found the bar and dining room scene bustling with the energy of enthused patrons. The scene was a virtual who's-who of San Luis Obispo County notables who had come there to dine that night.



CIOPINO: 1051 Nipomo St. SLO, 547-1111 Dinner nightly
On our second visit to the busy eatery, Leonard seated me and my constant companion Dan Hardesty in the catbird seat where we shared hellos and hugs with nearly everyone walking in. There were local vintners, winemakers, and restaurateurs, doctors and firemen, and Diablo Canyon engineers at nearby tables, all sharing with us their excitement and anticipation about dining in the new hotspot.
What's rare about this restaurant, said Leonard, is it's the first one in San Luis Obispo that's devoted to seafood. Come to think of it—it's the only restaurant devoted to a specific wine variety, Pinot Noir, in all of its various permutations, including Pinot Gris, Pinot Blanc, and South African Pinotage. There are other classic varieties, of course, but Leonard is committed to Pinots and offers many by the glass at just $7 to $8 each.
When I visited, he had Seasmoke available by the glass, though he planned to offer instead Talley's Rosemary's Pinot Noir by the glass (appropriately priced).
During both visits to Ciopinot, once with winemaker pals Lane Tanner and Ariki Hill, we relished several delightful dishes: the impeccably fresh ahi sashimi appetizer; the perfect Dungeness crab cake (98 percent crab!); crispy Mexican prawns stuffed with Monterey Jack cheese and wrapped with bacon; a "no work" cioppino that's conveniently shelled or you can have the traditional version; fresh salmon over classic rice pilaf; and an expertly cooked filet mignon wrapped in honey-cured bacon, with white mushrooms in brandy-cream sauce. Albeit a seafood house, they provide delicious non-fish selections made from the best ingredients available, said Leonard, including the aforementioned filet, and chicken Marsala.
I only had one real complaint, which I told Leonard after my second visit: too bad I waited so long. My server raved about the Greek calamari and scallops, so I had to try it. It was described on the menu as calamari steak strips and large grilled scallops sautéed in olive oil, basil, oregano, garlic, tomato, black olives, and sherry, topped with feta cheese. Not difficult to imagine, since I do this all the time, I missed that "strips" note. So when the dish arrived, loaded with each ingredient, I was disappointed. I wanted the squiggly whole baby squids and tender rings that I love so much, not strips from a calamari steak. But I knew it was my fault so I withheld complaint.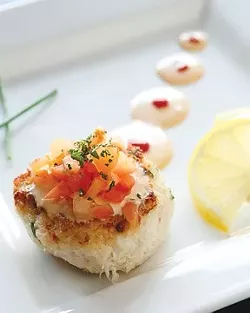 When Leonard heard this he explained that it has been difficult to determine how people want it served. "The first night we opened we served the calamari with the squiggly guys and people didn't like it so we started serving it with strips," he recalled. But his number one objective is satisfying customers, and he said if I had mentioned it, they would have prepared it the way I wanted it. Now he plans to print the daily menu and mention you can have it prepared either way. I commend him for that. Have you noticed lately that many restaurants have a long list of rules and extra charges listed on their menus? The Cohens have noticed, and they don't like it either.
"Wendy and I began dining in every restaurant to get to know our competition," Leonard explained. "We found restaurants have forgotten the age-old adage: are we here for the customers or are they here for us?" He said pointedly: "We will do whatever is possible. If there's something you want, let us know: extra mashed potatoes, squiggly calamari instead of strips, extra dressing, let us know. We're just happy that you chose to dine in our restaurant."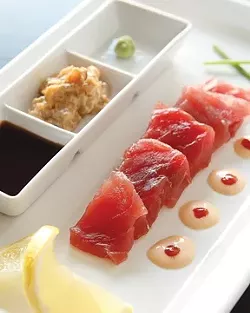 At Ciopinot there's no corkage fee for wines carried in, no automatic tips, no charge for split plates, just the desire to provide everything you hope for in fine dining. "No one's been doing this until now. I sat back for years and watched San Luis Obispo, and a few things dawned on me," Leonard admitted. "SLO should be a wine-oriented place because we have a handful of great wineries making great Pinot Noirs and Chardonnays. Yet no restaurant dedicated to seafood was closer than Avila Beach or Morro Bay."
Fans of Olde Port Inn are happy it's still open; the Cohens have three more years on their lease. "We have a 40-year history in Avila Beach. Why would I give that up?" Leonard stated. "We'll incorporate ideas from Ciopinot and start them at Olde Port Inn when we know what direction we're going in. If I can't renew the lease on Harford Pier, we'll move it into Avila Beach or Pismo Beach." In the past, locals told Leonard they would eat at the Olde Port Inn more often if it were closer.
Leonard is committed to providing the best seafood and wine possible at Ciopinot. While watching the dining scene in SLO he and Wendy began planning for the restaurant of their dreams. They visited San Francisco restaurants and realized they wanted their new place to be urban, with an open kitchen and an old warehouse feel. The old Tortilla Flats space was perfect. "You could easily feel you're on the Embarcadero, but we're saving people a lot of money in gas."
You can reach New Times' Cuisine columnist at khardesty@newtimesslo.com.