For all those who thought that the San Luis Obispo City Council was against new bars downtown, think again.
The council voted 4-0 on Sept. 15 to approve Discovery SLO, a massive entertainment venue slated to occupy the former location of both Copeland's Sports and Sports Authority on Chorro and Marsh. Dan Carpenter, who owns property nearby, recused himself from the hearing. Public comments made during the hearing expressed unhappiness with the city's downtown permitting process, as well as the ire of residents upset with the number of bars in the downtown corridor.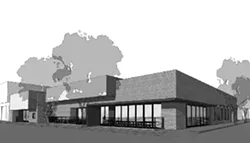 IMAGE FROM SLO CITY STAFF REPORT
NOT JUST A BOWLING ALLEY, MAN!: The Sept. 15 approval of a new bowling alley and nightclub in downtown SLO brought several opinions on what is and isn't appropriate for downtown, and how the city should treat new projects.
The project was initially approved by the SLO Planning Commission in July, and then appealed by both Save Our Downtown—who wanted to see the project denied—and by the applicant—who wanted permitted business hours to be extended from midnight to 2 a.m.
Discovery SLO's plans include several bars, a restaurant, bowling lanes, a nightclub, and lounges on the ground, basement, and mezzanine levels. The project will encompass 25,210 square feet, with a total maximum capacity of 1,118 people. The establishment was proposed by twin brothers Josh and Jeremy Pemberton, owners of Discovery Ventura.
The project drew criticism from some residents, who said that it wouldn't be consistent with the downtown's historic, smaller-scale nature.
"As I heard the description by the applicant of this project, it sounded so much more like Las Vegas than San Luis," said David Brodie, who lives in the downtown periphery on Chorro Street. "We are living in San Luis because it is not Las Vegas."
Supporters saw the value in the bowling alley and the multi-use nature of the project, saying that the recreational options, private party rental space, and late-night food would be a welcome addition.
"I am simply here as a member of the community who's really excited for any kind of entertainment downtown," Whitney Szentesi told the City Council. "I am not excited about a bar, I'm excited about a bowling alley, to be completely frank with you."
Ron Meier, a partner in ASH Management, which owns and operates several downtown bars and restaurants, said he's participated in collaborative efforts between downtown business owners and city officials that focus on addressing issues that stem from the downtown bar scene. He said this project seems to be getting "fast tracked" despite those efforts.
Another ASH Management partner, Bill Hales, agreed.
"My concern is the fact that this has been rifled through," Hales said. "If I came to council with this proposal, I'd be laughed out of chambers."
Josh Christensen, owner of Sidecar, who said he's spent almost a year undergoing the extensive permitting process to expand their bar and restaurant, echoed those concerns.
"What I want to know is why the rules are changing halfway through the game. Why I, as a responsible citizen of this city, a business owner that has been established, is being put through a certain set of circumstances and other people are not?" Christensen said.
Community Development Director Michael Codron addressed some of these concerns, saying that the applicants—who collaborated with the building's owner, prominent downtown property holder Copeland's Properties—were proactive with the permitting applications and were quick to respond whenever an issue arose.
Some downtown property and business owners were supportive of the project, saying that as long as the business is run responsibly, Discovery SLO would be a good addition.
"I think everybody here wants downtown to be a better place. I support the project," said Rob Rossi, who works and lives near the project. "It's something you experience living downtown.
Before the project got the unanimous approval, the four present council members had a frank discussion on specifics, with two members wanting several amendments. Mayor Jan Marx wanted the alcohol presence to be scaled back in the business, and Councilmember John Ashbaugh called the midnight closing time unfair, saying they should be able to stay open until 2 a.m. Those suggestions didn't get far, however, as Councilmembers Carlyn Christianson and Dan Rivoire declined to further tinker with the application or the applicant's business plan.
-- Melody DeMeritt - former city council member, Morro Bay