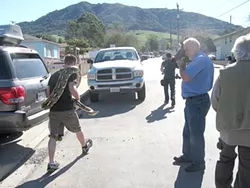 PHOTO BY COLIN RIGLEY
TOGETHER AGAIN : It took Brandon Dennis about five hours to find his 23-foot-long python, Clarice, after she escaped from his San Luis Obispo home. She was found beneath a woodpile in a neighboring backyard.
Brandon Dennis looked like he was trying to hide his face behind the thick, fleshy body of his 23-foot-long python, Clarice, as he carried her home.

It was more like a perp walk than the joyful return of a lost pet. Dennis walked as fast as anyone probably could with 130 pounds of python draped over his shoulders. Reporters and photographers scurried alongside.

In return, Clarice coiled tightly around Dennis like a frightened kid. Her tail wrapped around his left leg to the point where he had to pause and unwind it.

Dennis said he noticed Clarice and another 7-foot python, Norma Jean, had made an escape from his Ramona Drive home in SLO at about 8 a.m. on Feb. 2. Both snakes had escaped through an open sliding glass door. He quickly found Norma Jean tucked under the back deck, but Clarice was still at large. Dennis called County Animal Services, which mounted a brief and unsuccessful search before calling the SLO Police Department.

"I kind of laughed about it," Sgt. Kurt Hixenbaugh said of the call. "I thought, 'No way. We've pretty much seen everything.'"

The police department issued a notice that the snake was somewhere nearby and could be hungry for pets and small children. Dennis laughed out loud at the supposed danger.

Officers also notified the Sheriff's Department. By about 12:30 p.m., the neighborhood was crawling with search crews and media. Searchers wore bright orange shirts and heavy equipment belts as they buzzed around the neighborhood, peeking over fences and examining clues in the grass like crime scene investigators.

It took about five hours to find Clarice, tucked partly under a pile of logs a few houses away from home. Dennis joked that she was about as hidden as a 23-foot snake could be.

He seemed more embarrassed than anything else. When asked about the flood of news coverage, he sighed, "It's interesting."

Dennis and his friend Elliott Barrington slumped on the porch after Clarice was safely back inside.

"What was she thinking?" Barrington wondered.