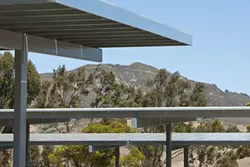 PHOTO BY STEVE E. MILLER
CLEAN AND GREEN: SLO County officials want to make it easier to build renewable energy projects for local clean electricity.
Two solar mega-projects in eastern SLO County have provided more than renewable energy; they've also proved an unexpected boon for local biologists. Dozens of specialized scientists are costing the solar companies millions of dollars as they study whether endangered kit foxes are thriving under the vast expanses of panels, and whether pronghorn antelope still trod their usual migration paths.
To some county decision-makers, it seems a steep price to pay for clean electricity. Now an effort is underway to guide future renewable energy projects into more suitable—and less sensitive—areas of SLO County.
The California Energy Commission recently awarded the county more than $600,000 to pay for a Renewable Energy Streamlining Program, which will identify the best locations for small-scale clean electricity projects and make it easier to get the necessary permits. SLO County was one of just 15 counties eligible for the grant, after state Assemblyman Katcho Achadjian carried a special bill to add the county to the list.
"This is going to give individuals and companies in the county the opportunity to do things with green energy that might not otherwise be available. It will offer a different type of energy mix that ultimately helps ratepayers," said James Caruso, a senior planner with the county and the project manager.
Achadjian explained his involvement: "San Luis Obispo County is a leader when it comes to solar energy production; therefore I was surprised to learn that it was not included in the list of counties available to receive solar planning grants. I am pleased that, as a result of the passage of my AB 2161, the county is now eligible for such grants, and was recently awarded a $638,000 grant to help streamline the process for permitting solar projects."
Unanimously supported by all SLO County supervisors, the streamlining program fits in with renewable energy goals spelled out in county planning documents and state climate protection regulations, Caruso said. It would also facilitate so-called "distributed energy" projects, where locally generated clean electricity would feed into nearby homes and businesses.
The county recently hired Pacific Municipal Consultants to do the work, beginning with extensive mapping of the locations with the most sunlight or the most wind, and the fewest constraints—such as biological resources. Next up will be mapping the electricity infrastructure, including electricity substations and large power lines with available capacity.
This information will be used to come up with a map overlay known as a "combining designation" for renewable energy.
"In this area, renewable energy is the primary use, and any other development has to be compatible with that use," Caruso explained.
If this type of information had been available when large solar companies were looking for suitable land for huge arrays of panels, "less sensitive or constrained sites could have been pursued early on by the solar company and resulted in reduced impacts, reduced conditions, reduced redesigns, and reduced need for monitoring and oversight," the county's grant application stated.
Most of the grant funding will pay for an extensive environmental impact report that will be designed to cover future small-scale renewable energy projects. That way, project developers won't face the time and expense of a project-specific EIR.
The North County holds the most promise for solar projects. "That's where the sun shines," Caruso said. Other areas offer "commercial velocities" of wind, including the ridgetop overlooking Diablo Canyon. Geothermal areas such as Avila Valley and Paso Robles could also be tapped.
Caruso said many decisions must still be made about just how to change the county system to remove regulatory hurdles for renewable energy projects: "What are we going to streamline? Where is the market for distributed generation? What are we going to do about ag land under Williamson Act contracts?" he asked.
Public outreach efforts include consulting with the renewable energy industry, property owners, and electricity users. One idea for a pilot project involves the various government entities along Highway 1, such as the county jail, Camp San Luis, Cuesta College, and the California Men's Colony—all of which have renewable energy policies.
A local group is already applauding the streamlining program: SLO Clean Energy, which is focused on local green electricity for local communities, or "community choice." According to Eric Veium, part of the group's leadership team, they've been meeting with local city council members around the county about the idea of setting up a local clean-energy agency that would buy the renewable electricity for local ratepayers, "keeping local money local."
Streamlining renewable energy will help projects be completed faster, with lower costs, Veium said, noting, "It will create certainty with landowners and project developers, and help banks finance projects with confidence."
Veium has also worked with SLO Renewable Energy Secure Community, or SLO RESCO, to develop what he called a renewable energy atlas for the county, which looks at where the renewable energy resources are and how much there is. Due for completion by the end of the year, the renewable energy atlas will be a public document that will be used in the county's streamlining effort.
"It's really about local economic development and clean energy. Everybody gets excited about clean energy, and everybody wants more of it. This is a real solid step," Veium said.
Contributing writer Kathy Johnston can be reached at kjohnston@newtimesslo.com.