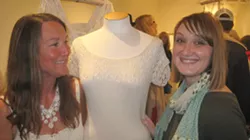 PHOTO BY NICK POWELL
SENSIBLE SEAMSTRESSES : Melinda Forbes and Jennifer Alexander, seen here with a homemade dress and scarf (respectively), will teach people how to reuse old clothes with style on March 12 at SLOMA.
I've lived in this art conscious county for almost three years now. I've taken art classes at its community college, and have even written artsy articles for the art-heavy alternative weekly, but I'll be damned if I ever went to Art After Dark before last Friday. Maybe that says something about me. Maybe it says something about you, America.
Either way, I had the perfect excuse to go, so I finally did. I had to meet Jennifer Alexander to chat about Swap-O-Rama-Rama, an event that takes all your ratty old shirts and turns them into the hippest of threads. Jennifer is organizing the affair, which will take place on Saturday, March 12, at the San Luis Obispo Museum of Art (SLOMA) from 1 to 6 p.m. and will feature several local artists working an arsenal of sewing machines and screen printers.
One such artist is Melinda Forbes, whose work was on display at "The White Gowns" exhibit at SLOMA during Art After Dark. Jennifer was attending to support Melinda and the other dress makers, so we agreed to meet there … if I could find her.
The place was crowded with people hobnobbing about, admiring the main floor's plein air exhibit produced by various artists and featuring detailed paintings of local landscapes. The pictures looked like the things they were supposed to look like, but it wasn't really my glass of cab. I've seen SLO before. Give me a can of soup or a smashed-up barbecue—something that means something.
Upstairs, I found the display of cut-up, crocheted, and sewn dresses, but no Jennifer. It was hot up there, and not just because of the fit older gals in tight gowns. It was mostly the tightly packed people there to scope the goods. The dresses were unique and interesting, but familiar in a simple, classical way. One was accented with pistachio shells. Another was slightly scorched, giving the white dress a touch of color. They were impressive creations, but they were still dresses. Not my mug of Joe.
PHOTO BY NICK POWELL
A CLAASSEN REDEMPTION : I didn't mention the one Art After Dark exhibit that met my rigorous aesthetic demands. This is Hallie Travis with her painting (No. 18) and others by artists in the Cal Poly Architecture Department.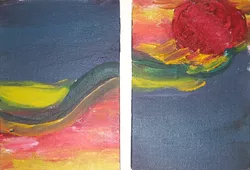 I retreated downstairs, where I called Jennifer and learned that she had been hiding in a secret side hatch of SLOMA with her friend Jen Hall. I peeped into the quiet room and saw that there was food and wine and New Times Arts Editor Anna Weltner, for some reason. Something about Art After Art After Dark … I don't know. I had interviews to do.
"My grandma made it through the Great Depression by making clothes for Hollywood," Jennifer said. "I learned to sew pretty young."
New cloth is surprisingly expensive, so Jennifer started using old shirts as scraps. She heard about Swap-O-Rama-Rama, a world-wide project that enlists local artisans to teach regular schmucks how to "upcycle" clothes. The project originated in 2005 under Wendy Tremayne, who turned it into a nonprofit and has since let it spread through a creative commons license. Jennifer longed for the phenomenon to come to San Luis Obispo.
"It seemed like it would fit perfectly here," Jennifer said. "Eventually I realized no one's going to do it unless someone gets it started."
She said she held the first local event last year by recruiting "sucker" friends to help out (I'm sure she means that in a nice way). The turn-out was impressive, and she expects this year to be bigger. To get in, all you need is a bag of old clothes and $5 pre-sale or $10 at the door. The money will go to helping SLOMA supplement art classes for cash-strapped local schools. The bag of clothes will go into a big pile that everyone can pick from before scampering off to a sewing station to manipulate it into something new and wonderful.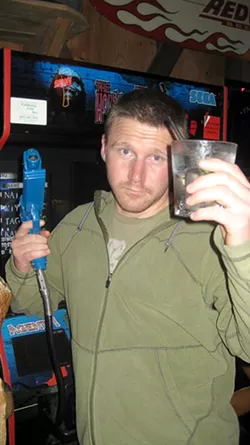 PHOTO BY NICK POWELL
SIMPLER WAYS : What Morro Bay lacks in culture, Jon Weise makes up for in zombie shooting and gin.
"This is really an event for beginners," Jennifer said. "There's plenty of people to help and no pressure to create a masterpiece. You don't even have to sew. You can just mix and match to make new outfits if you want."
Near the end of the event, Jennifer hopes to host a makeshift fashion show, with models flaunting the new outfits. For more information, go to swaporamarama.org or e-mail Jennifer at j.l.alexander18@gmail.com.
I said goodbye to Jennifer and Jen and checked out a few of the other galleries participating in Art After Dark. To be honest, they mostly felt like stores, and I felt like I had been tricked into shopping as if it were an event. So I ditched those wine-swilling cheese eaters and made my way to Morro Bay for good-old-fashioned pizza and beer.
Contributor Nick Powell wears clothes almost every day. Send fashion tips to npowell@newtimesslo.com.