When it comes to automotive detailing, the industry standard five-star rating scale just doesn't have enough stars to describe the kind of quality craftsmanship and attention 7-Star Detail provides.
"We're are obsessed with the perfect shine and won't compromise for anything less. We are committed in making your car look better than the day you first got it," said 7-Star Detail co-owner Logan McKinnon.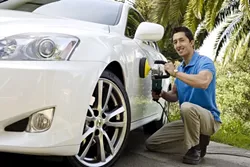 PHOTO BY STEVE E. MILLER
GOD IS IN THE DETAILS : Logan McKinnon of 7-Star Detail wants to make your car look better than new.
The group provides a variety of all-inclusive services ranging from regular washings to advanced weeklong paint corrections. They also perform interior and engine bay work, swirl removal, and headlight restorations.
Prices range from $24.99 for a standard car wash into the thousands for high-end automobile details. But most services average between $150 to $280 and include full interior and exterior cleaning and protection, full engine bay detail, decontaminating the paint (a process in which they pull out containments stuck in the clear coat), polishing out unwanted swirls and scratches, waxing, polishing all the trim, and blackening the tires.
With a detailing session taking up to seven hours to complete, 7-Star Detail offers customers the option of either dropping their cars off at McKinnon's house on Foothill Boulevard and Tassaraja Drive or having the team bring its mobile cleaning system to the customer's home.
McKinnon, 20, and his business partner James Morrison, 19, are both huge car fans. Despite their youth, they can boast years of experience, as both have been detailing for their friends and families for quite some time.
Having met in high school in Humboldt County, these Nor Cal boys made the trip down Highway 101 and settled in San Luis Obispo to study accounting and business at Cuesta College.
Shortly after relocating to the Central Coast, the duo discussed combining their passion for restoring autos with their newfound knowledge from their collegiate courses as a way to help put them through school.
But it wasn't until after the friends detailed Morrison's father's BMW Alpina B7 that they decided to make the venture into the business world.
"His dad compared pictures from other detailers and was blown away with our work," McKinnon recalled. "That's when we really decided to go for it."
Now, only into their first few semesters at the college level, McKinnon and Morrison are already getting a taste of real world business experience. So far, according to McKinnon, 7 Star Detail's services are a "total hit" and their clientele has increased at an "alarming rate." In an effort to better cater to the rising demand, 7 Star Detail plans to expand to surrounding cities this summer.
"We're definitely looking to be a solid business in SLO for a long time," McKinnon said. "We aim to save our customers money by keeping their vehicles looking like new for many years, so they remain happy with the car they have instead of wanting to purchase a new one."
In addition to improving the automobile's appearance, detailing helps to maintain the resale value. For more information, contact 7-Star Detail at (707) 834-2301 or e-mail them at 7stardetail@gmail.com.
Fast fact
The City of Arroyo Grande and the Arroyo Grande Police Department have established a Justice for All in Arroyo Grande fund. Cash and check donations can be mailed to the City of Arroyo Grande at 300 East Branch St., Arroyo Grande, CA 93420. The fund aims to provide a monetary reward for anyone who provides information relating to the cross burning that took place on March 18.

Intern Kai Beech compiled this week's Strokes and Plugs. Send your business news to strokes@newtimesslo.com.