Your mission, should you choose to accept it, is to find a vegan and gluten-free cookie that tastes great. Your target is the Undercover Cookie Company.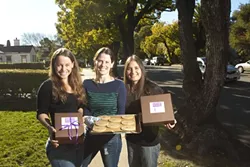 PHOTO BY STEVE E. MILLER
SWEET IDEA : Yoga instructors (left to right) Eva Klembarova, Valerie Mantzoros, and Cindy Toda also make cookies sold as healthy alternatives to everyday dessert or snack fare.
Delivering home-baked cookies that leave you guilt-free, Undercover Cookies is run by three health-conscious yoga instructors. Valerie Mantzoros, Cindy Toda, and Eva Klembarova all work at the Bikram hot yoga studio on Higuera Street in San Luis Obispo where they came up with the idea to create healthy alternative cookies.
"You want to be able to eat well, but you don't want to deprive yourself," Klembarova said.
Mantzoros had been gluten-free for quite a while before this cookie caper began, so they decided to focus on that niche.
"It makes me feel a lot better eating gluten-free, and it was hard to find a cookie that was both vegan and gluten-free," Mantzoros said.
They began by bringing their cookies to the yoga studio, and the popularity grew from there.
"We would give our friend Brian a couple cookies and he would complain that he only got two or three," Toda said. "He said 'I will pay for them,' and the idea took off from there."
They took their cookie company idea to the SLO chapter of Service Corps of Retired Executives (SCORE), which is a nonprofit association dedicated to entrepreneur education. They give free and confidential business counseling to people planning to start a small business.
"We gave some of our cookies to the secretary, and that is where we got the idea about delivering cookies," Toda said.
All they needed at that point was a name.
"I started going through the thesaurus and dictionary, and [the others] were ignoring me as I called out different names," Toda said.
As she painstakingly listed off different options, her partners just continued their work.
"We told her that if we didn't respond, then that meant that we didn't like the name," Klembarova said. "Then she said 'undercover' and we both kind of looked up at the same time."
The name fit with the plans they had for their company, and it matched their cloak-and-dagger approach of delivering cookies to your doorstep.
"We didn't want to be obvious that we are a healthy cookie," Toda said. "[People] get turned off because they think that vegan and gluten-free taste yucky. If we promote it as a healthy cookie, kids and even adults are like, 'No thank you.'"
It sounded like a difficult task, but by offering a wide variety of flavor options, they were able to disguise their cookies long enough for me to take my first bite. They hooked me.
Their website at undercovercookies.com has a section that profiles each of their unique flavor combinations, including espresso double chocolate chip, caramel coconut sea-salt, and even chipotle chocolate chip.
"When Cindy came up with the idea for putting chipotle in the cookie, we thought she was crazy—but it is really good," Mantzoros said.
Undercover Cookie uses Mama Ganache Chocolates and Paso Almonds, both local products.
"We want to try to use as many local ingredients as we can," Mantzoros said.
Interested in purchasing a vegan dozen, a gift box, or even just a grab bag? Order from Undercover Cookies at undercovercookies.com or by calling 602-1778. They usually can get out an order if given at least 24 hours' notice, although they can sometimes meet an emergency order when called in the morning. You can also pick up single cookies at Mama Ganache Artisan Chocolates and Bliss Cafe in SLO.
Fast facts
You, too, can take advantage of the free business services provided by SCORE by going to sloscore.org or calling 547-0779. The group offers no-fee counseling sessions, workshops, mentoring, and e-mail counseling. There's even a workbook available on the website and at the county library called "How to start a business in San Luis Obispo County." …
January is National Mentor Month, so hopefully you don't miss out on the opportunity to help a youth in need. The Big Brothers and Big Sisters of San Luis Obispo are looking to recruit more "bigs" to help with "littles." Contact them at 781-3226 or visit slobigs.org.

Intern Aleksandr Hewitt compiled this week's Strokes & Plugs. Send your business and nonprofit news to strokes@newtimesslo.com.